Kimberly Guilfoyle & Don Jr. Gave Themselves A Couple Nickname That's Not Very Catchy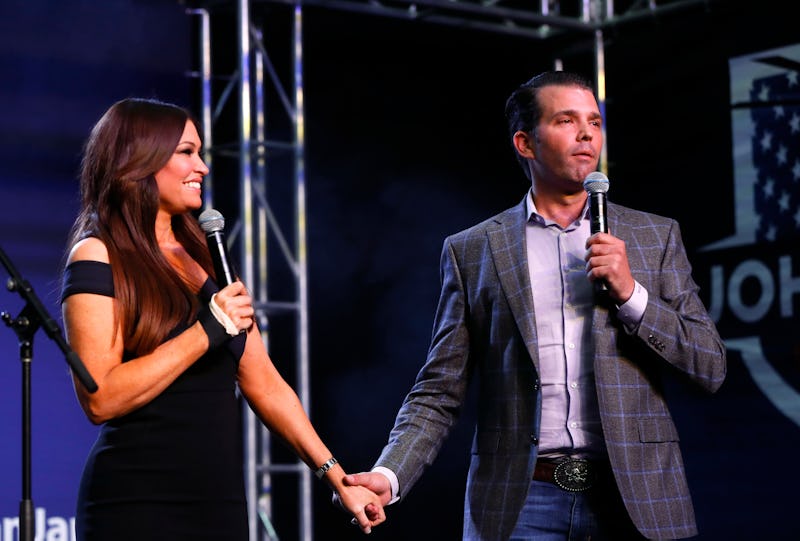 Paul Sancya/AP/Shutterstock
Once, there was Bennifer, then there was Brangelina. Now, it seems, there is Donberly. Speaking at an event hosted by the conservative organization Turning Point USA, Donald Trump Jr.'s girlfriend Kimberly Guilfoyle revealed their couple nickname, according to The Cut.
"Hashtag Donberly," Guilfoyle said while speaking at a campaign event, per The Cut. The nickname combines the beginning of Trump Jr.'s first name with the end of Guilfoyle's first name. However, Guilfoyle didn't make the name up on the spot. The shorthand has appeared sporadically in reports and social media posts for several months.
It's not the first time Guilfoyle has mentioned the name "Donberly," either. In an interview with The Washington Post in August, she said that she wanted the Guilfoyle and Trump families to merge — like The Brady Bunch, except they'd be "The Donberly Bunch."
Trump Jr. and Guilfoyle reportedly began dating in April, according to multiple outlets. They began posting photos together on social media in June, essentially confirming their relationship. Guilfoyle is a former California prosecutor and Fox News analyst, according to Business Insider. After leaving her position at Fox, reports indicated that she would join Trump Jr. on the campaign trail ahead of the upcoming November midterms. She has, indeed, been traveling with President Trump's eldest son since at least early September, appearing at a variety of campaign events around the country.
After the couple went public, Guilfoyle began stumping for congressional Republicans, the president, his policies, and his rhetoric, both on the campaign trail and off of it. "I always get inspired when I see POTUS at the White House," she captioned an Instagram photo set from the White House on Sept. 9 "Nobody works harder to put #AmericaFirst than @realdonaldtrump and great event to #protectthehouse @trumpwashingtondcwith @donaldjtrumpjr#maga🇺🇸❤️."
Social media and snippets from speeches indicate that the pair feed off of each other's energy. "Can someone come up here and take the mic for a few minutes? I don't like following Kimberly," Trump Jr. told one Texas crowd, according to BuzzFeed.
Both of their Instagram feeds are saturated with gleaming photos of themselves standing together, smiling widely at campaign events, as well as social events. Though they are a relatively new pairing, they present as a rather typical political couple, waving at photographers and working together to promote the Republican party.
"We are on path to making America great again," Trump Jr. recently told Breitbart News. "From the Supreme Court to tax cuts and record breaking job creation. We can't let radical liberals stop our momentum or reverse the current course. Keeping Ohio in GOP hands is vital in making America great again."
The nicknames that Guilfoyle and Trump Jr. have for each other have also made headlines recently. Guilfoyle has confirmed, for example, that she sometimes calls Trump Jr. "Junior Mint," according to The Cut, and "Babe," according to The Daily Mail. In turn, Trump Jr. reportedly refers to Guilfoyle, from time to time, as "Pooh Bear," which he also confirmed with the British tabloid.
"I think there's oftentimes, a 'Pooh Bear' gets thrown around," he told the outlet in a recent interview. "This is so embarrassing. My man-cred goes right down."
Whether or not Republicans maintain their congressional majority after the midterms, it's likely that "Donberly" will remain in the spotlight. Because while Nov. 6 will be over before you know it, the 2020 campaign season, for better or worse, is just around the corner.