The 'Crazy Rich Asians' Post-Credits Scene Has A More Powerful Backstory Than You Realized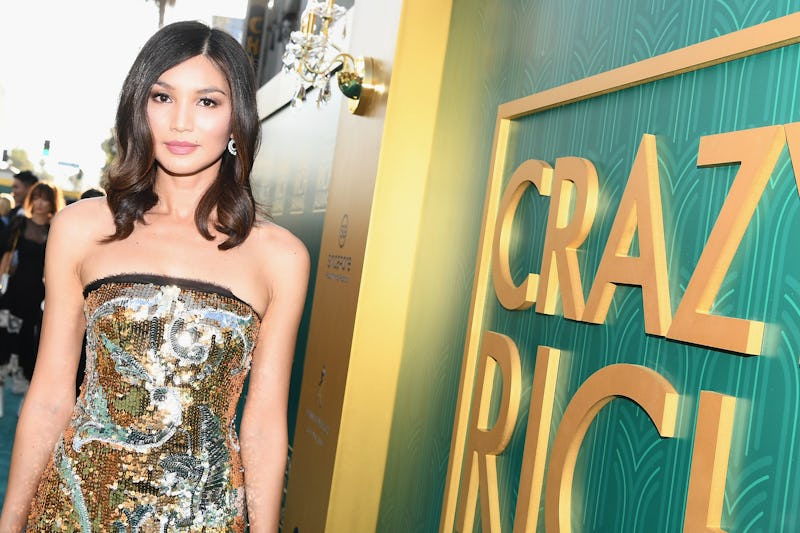 Emma McIntyre/Getty Images Entertainment/Getty Images
Spoilers are ahead for the Crazy Rich Asians movie and novel. Crazy Rich Asians is a groundbreaking film for a number of reasons, especially its all-Asian cast. It's funny, sweet, and moving — and a reminder that more representation on screen is always a positive thing. And based on a fun tidbit director Jon M. Chu shared about the Crazy Rich Asians post-credits scene to Entertainment Weekly, it sounds like the movie is more empowering than fans may even have noticed.
Fans who read Kevin Kwan's novel, on which the movie was based, were likely thrilled to see Charlie Wu, played by Harry Shum Jr., pop up next to Astrid in a mid-credits scene. After going through heartbreak with her husband Michael, Astrid reconnects with Charlie, her ex-fiancé. Book readers will recall that the two of them spend time together at Colin and Araminta's wedding reception. But in the movie, their intimate eye lock at Rachel and Nick's engagement party appears to be the first time they've seen each other in years.
Chu revealed to EW that Charlie originally had a bigger role in the movie, but he cut a scene of Charlie and Astrid at the reception from the film's final version. It wasn't just because there was too much going on, either. The director explained that keeping the focus on Astrid's personal journey made her scenes more powerful.
Speaking to EW, Chu explained that he wanted the movie to showcase Astrid's relationship with herself before adding a new man into the mix. He told the magazine,
"What we put in the movie was great — they actually dance together — and it was so awesome, and Harry's so charming and so lovable. But the problem was, it made Astrid feel like she was leaving Michael for Charlie, and we didn't have enough room to expand on the idea. We just had to stay focused. Ultimately it's about her independence, so that scene was in there all the way until the very end. When we took it out, Astrid's journey became stronger. It was about her, not about her finding love."
Chu's explanation makes a lot of sense for the movie. With everything going on between Nick and Rachel, along with Eleanor and Su Yi, there was only so much screen time for Astrid and Michael's marriage troubles. And fans needed to see a bit of what was going on in Astrid's mind about her future, along with her husband and son. Michael checks out of their marriage before Astrid ever reconnects with Charlie, and cutting the dance scene makes that more clear.
Of course, if the latter two books of Kwan's trilogy are made into sequels to the movie, there's plenty of room for Astrid and Charlie's relationship to be explored more in the future. And considering Crazy Rich Asians' box office success so far — according to Deadline, the movie brought in $5 million on Wednesday, its opening day — the possibility of at least one sequel seems promising. Astrid and Charlie deserve their happy ending, but Crazy Rich Asians introduced Astrid's character in exactly the right way.