The Creative Way New Jersey Is Fighting The Gender Wage Gap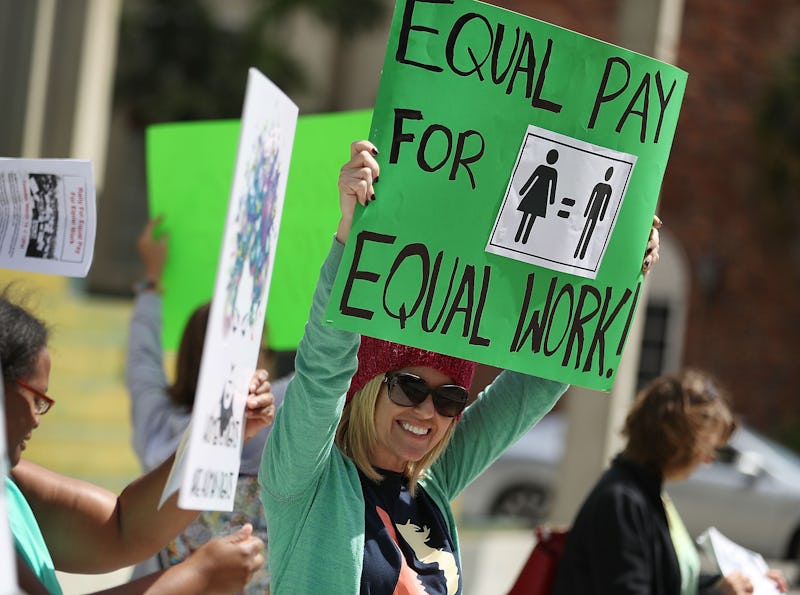 Joe Raedle/Getty Images News/Getty Images
A new bill could soon make asking about salary history illegal for New Jersey employers, in an effort to tackle the gender wage gap. After passing in the New Jersey General Assembly with a 49-19 vote last month, the state Senate approved the bill with a 30-9 vote on Monday.
"Women continue to make less than men for the same work, so basing a hiring salary on someone's previous wages only continues the pay discrimination they may have suffered," said State Senate Majority Leader Loretta Weinberg.
Assemblywoman Joann Downey, who represents New Jersey's 11th District, said the bill would provide a "means of narrowing the wage gap by making it less likely for employers to unintentionally perpetuate the gap by basing salary offers for new hires on their previous salary," a practice that studies have shown have a disproportionate impact on women.
State Sen. Nia Gill referred to research of the state's wage gap conducted by the National Women's Law Center, which estimates that working women in New Jersey, on average, earn 82 cents to the dollar as compared to men; it is also noted that African American women earn 58 cents to every dollar earned by white men, while Latinas earn 43 cents.
"This is a practice that allows businesses to hire at the lowest possible salary and perpetuates the pay disparities that exist for women and minorities, often beginning early in their careers," said State Sen. Gill.
If signed into law, New Jersey will join New York City, Philadelphia, and Massachusetts on the list of locations where asking job applicants about salary history is prohibited. In New York City, the measure will take effect come November, while Massachusetts will have to wait until July 2018. Philadelphia's measure was set to take effect May 30, but is currently on hold due to a lawsuit filed by the Chamber of Commerce for Greater Philadelphia.
Though it passed with arguable ease due to the state's Democratic-controlled legislature, the bill's fate is ultimately in the hands of Republican Gov. Chris Christie.
Gov. Christie's record on passing bills designed to target pay discrimination based on gender is not a promising one for those who would like to see this latest measure become law. In 2016, the New Jersey governor vetoed a bill that would require women to be paid equally to men if they perform the same work but with different titles. This would, for example, close the gap between what maids earn in comparison to janitors. Christie referred to the bill as "very business unfriendly" and "nonsensical." The women's equality advocacy group Ultraviolet has criticized Christie for vetoing three bills meant to close the wage gap.
When asked by the Associated Press for comment on whether Christie would sign the bill into law, a spokesman for his office declined to give a response, claiming that the governor doesn't speak on pending pieces of legislature.