The 'Creed 2' Soundtrack Will Be Your New Favorite Motivational Work Out Playlist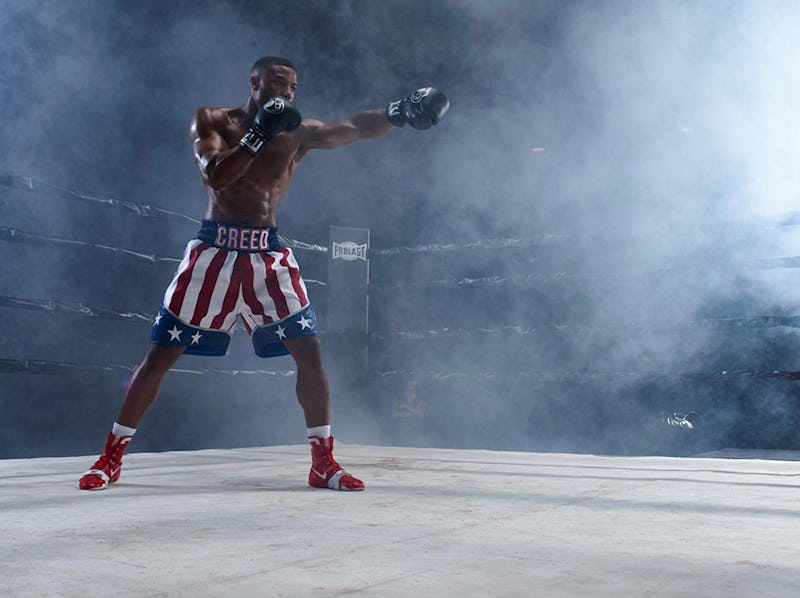 Warner Bros. Pictures
It's hard to live up to Rocky's iconic theme, Survivor's "Eye of the Tiger," but the latest Rocky sequel Creed II shows the franchise still considers music to be very important. The first Creed flick's soundtrack featured a hip-hop-heavy selection, including rappers like Future, Meek Mill, and Joey Bada$$. But this one was curated by superstar producer Mike Will Made-It, who has produced huge tracks for Beyoncé, Kendrick Lamar, Rihanna, Miley Cyrus, and more. So if you loved the Creed soundtrack, you'll want to listen to this one nonstop, too. The Creed II soundtrack is currently streaming on Spotify and Apple music, so you can already check out what Mike Will Made-It picked out for the film.
Much like the previous one, this soundtrack features plenty of hip-hop. Creed II incorporates a great mix of some of the biggest rappers out there, as well as up-and-coming artists who are beginning to generate buzz. If you've been desperately needing new tracks by some of your favorite artists, you won't be disappointed. This soundtrack includes a collaborative track by Pharrell Williams and Kendrick Lamar titled "The Mantra"; an A$AP Rocky, A$AP Ferg, and Nicki Minaj collaboration titled "Runnin"; and "F.I.G.H.T.", a song that brings together Earz, Gucci Mane, YG, Trouble, Quavo, and Juicy J.
The Creed soundtrack featured Tessa Thompson, who plays Bianca, so Thompson's fans will be happy to know that she shows off her singing talents in Creed II and its soundtrack, too. The singer-actor performs two songs in the film: "Time Tick" and "I Will Go To War."
Sadly, the soundtrack doesn't feature either of those. Instead, it includes "Midnight," a collaboration with Gunna. There's a chance that the filmmakers wanted to keep Thompson's songs performed as Bianca under wraps, including her big Rihanna-esque pop song. "When she's singing for Adonis on that exit song, we weren't thinking FKA Twigs anymore," explained director Steven Caple Jr. to Vulture. "We needed a song that says, 'Hey, what's up? I'm ready for war.' So we were thinking Rihanna — not Beyoncé — because Rihanna has that edge to her. We wanted to make sure that even with Tessa's character's transition and growth that she still maintained that edge."
But the best thing about this soundtrack is that it highlights female artists, too. Creed's soundtrack only had two female performers: Tessa Thompson and Jhené Aiko. Besides the aforementioned female artists Minaj and Thompson, this one also includes Ari Lennox, Ama Lou, and Ella Mai, with the latter two having their own solo songs. If you think back at the most memorable songs from Rocky flicks (i.e. "Eye of the Tiger" and "No Easy Way Out"), they're by male artists, so this feels like an important change.
Perhaps the most unexpected artist to appear on the soundtrack is Bon Iver, who performs a song titled "Do You Need Power? (Walk Out Music)." The song is actually more R&B-infused than a typical Bon Iver song, feeling more reminiscent of previous Bon Iver collaborator James Blake.
With all of these exciting collaborations, the Creed II soundtrack feels like an empowering workout mixtape that you'll want to stream over and over again.