Michael B. Jordan Is A Hot Dad In The New 'Creed II' Trailer & It's What We All Deserve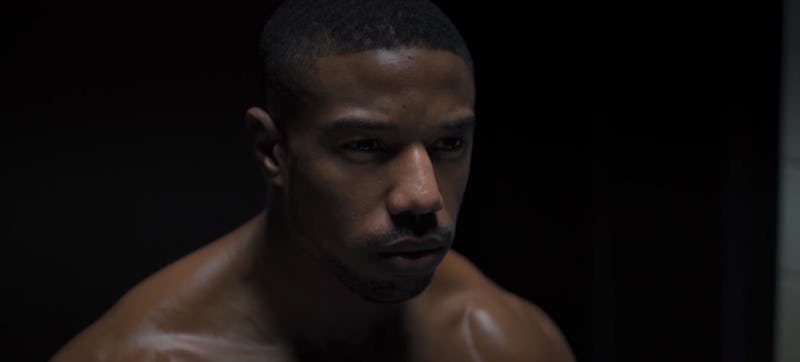 MGM/YouTube
The first trailer for the follow up to 2015's Creed is finally here. The new Creed II trailer sets up a brand new fight for Adonis Creed, as played by Michael B. Jordan, and this time, he has a lot more to lose. A lot has happened since the events of Creed, when Adonis was just an up and coming boxer trying to make it to the big leagues with Rocky Balboa by his side. In the first film, Adonis was fighting to reclaim his name. In Creed II, he's fighting to avenge his father's death.
In addition to bringing back Creed stars Jordan and Tessa Thompson, Creed II will feature Sylvester Stallone reprising the role of Rocky Balboa, Phylicia Rashad as Mary Anne Creed, and Dolph Lundgren as Ivan Drago. Fans of the Rocky franchise will recognize Ivan Drago as the villain in Rocky IV who beat Apollo Creed so viciously, he died in the ring. These events, and how deeply they affected Rocky, were alluded to in Creed, but it looks like the trauma of having a father die in a boxing match will take center stage in Creed II as Adonis accepts a fight with Ivan's son, Viktor Drago (played by Florian Munteanu).
As Adonis faces this new challenge in the ring, he's also got a lot more at stake at home. In the trailer, he is seen spending time with Bianca and holding a baby, who appears to be his daughter. (Yes, everyone's favorite Marvel villain appears to be playing a hot dad in his next film.) If he loses a fight or is seriously injured, it's not just him who is affected. This time around, if he dies like his father, he'd make his daughter fatherless just like he was. The official synopsis for Creed II notes that "Rocky Balboa is there by his side through it all," according to Collider, but in the trailer, it looks like Rocky and Adonis will be at odds about his fight with the younger Drago. Adonis is desperate for the fight, but Rocky is hesitant. He doesn't want Adonis to lose, or worse.
The trailer also teases that Creed II will continue to pay homage to the Rocky films as well as boxing history in general. In addition to continuing to play on the legacy of Apollo Creed, the film also references Muhammad Ali. As noted by writer Priscilla Page on Twitter, a shot of Adonis practicing his punches underwater in Creed II appears to reference a famous photograph by Flip Schulke of Ali training in a swimming pool.
It certainly looks like Creed II will carry on the familial theme of the first movie, despite having a new writer and director. Creed was the second film written and directed by Ryan Coogler, who recently made history with Black Panther, but the blockbuster director was unable to return for the sequel. Instead, Coogler stayed on as executive producer, and Creed II enlisted Cheo Hodari Coker (Luke Cage) to write the script and Steven Caple Jr. (Grown-ish) to direct. This will be Caple's first major studio film, so just as Creed was an introduction to the studio system for Coogler, so Creed II will be for Caple. "It's an honor to be a part of such an iconic franchise and to work with such great collaborators," Caple said in a statement when he was announced as director, via Variety. "Mike, Sly, and Tessa are extraordinarily talented and bring something special to today's culture."
Caple even earned Stallone's approval. The actor and Rocky creator was once rumored to be directing Creed II, but he appeared nothing but supportive of the new director in his statement, as reported by Variety. "We are extremely lucky to have the talented young filmmaker Steven Caple Jr. step up and accept the role of director. I am confident that he and Michael B. Jordan will hit it out of the park," he said. Based on the first Creed II trailer, it definitely looks like a home run is not out of the realm of possibility.