'The Crown' Season 2 Trailer Shows Princess Margaret's New Love & You'll Definitely Recognize Him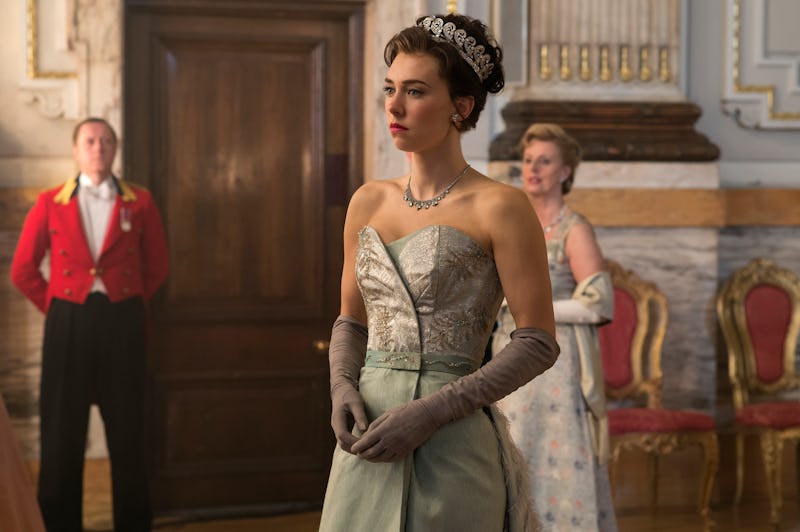 Netflix
If you're a fan of The Crown, you're probably already counting down the days until the new season premieres on Netflix on Dec. 8. Luckily, a trailer for Season 2 of The Crown was recently released that will certainly tide fans over until the premiere. The trailer showcases all of the drama that Queen Elizabeth (Claire Foy) and her family will be dealing with over the course of the season. It also shows Princess Margaret's (Vanessa Kirby) new beau. And after Margaret's heartbreak during Season 1, she could really use a win in the romantic department.
Margaret was the wilder one between her and her sister, Elizabeth (seeing as though Elizabeth is the respectable Queen, after all). By the looks of the trailer, she definitely isn't letting go of that wild side just yet. She says at one point, "I know who I am: a woman for the modern age. Free to live, to love, and free to break away." That freedom includes sparking up a romance with a certain photographer, Antony Armstrong-Jones (played by Matthew Goode). Goode was previously announced as having joined the cast of the Netflix drama. Now, fans are finally getting a glimpse of his character and the relationship between Margaret and Armstrong-Jones.
In case you forgot where Margaret's character left off at the end of Season 1, she was forced to end things with Peter Townsend (Ben Miles) after Elizabeth refused to give her permission for the two to wed. Margaret tearily broke the news to Townsend and even promised that she would never marry anyone else. It was a heartbreaking but seemingly inevitable end to the two's relationship.
Of course, since the events of The Crown are based on real events, we know that Margaret's declaration doesn't exactly hold true. In real life, she does marry another man, none other than Armstrong-Jones. The couple's love affair lasted for years and they were married from 1960 to 1978. They had two children together, David and Sarah. Based on the trailer, Season 2 of The Crown is going to show how this love story started.
Margaret and Armstrong-Jones are getting quite cozy in the trailer. Armstrong-Jones, a photographer, is seen taking photos of the Princess and the two later look to be riding off together on the back of a moped (which is sure to capture Elizabeth's attention).
Based on a teaser for the series that Netflix released in August of 2017, it looks like Margaret and her love life will once again tabloid fodder in Season 2. So, the wild Princess and her photographer beau's romance will certainly be an interesting storyline for the upcoming season.
While Margaret's new relationship with Armstrong-Jones seems to be heating up, elsewhere in the trailer it looks like the relationship between Elizabeth and Prince Philip (Matt Smith) is cooling down. The Queen and the Prince dealt with issues within their relationship throughout almost the entirety of Season 1. It doesn't sound as though things are going any better for the pair in Season 2. Elizabeth says in the trailer that, "There is no possibility of my forgiving you." And, if she is directing that towards her "wild spirit" husband, these two are going to have an incredibly rocky road this season.
Based on the trailer, fans can also expect Elizabeth to not only face some conflicts within her personal life but to also attack issues head-on in her professional, royal life, as well. To check out what The Crown has in store during the last season with the original cast, fans will have to check out the drama when it returns on Dec. 8.