This Spooky New Netflix Show Could Get Even Creepier In Season 2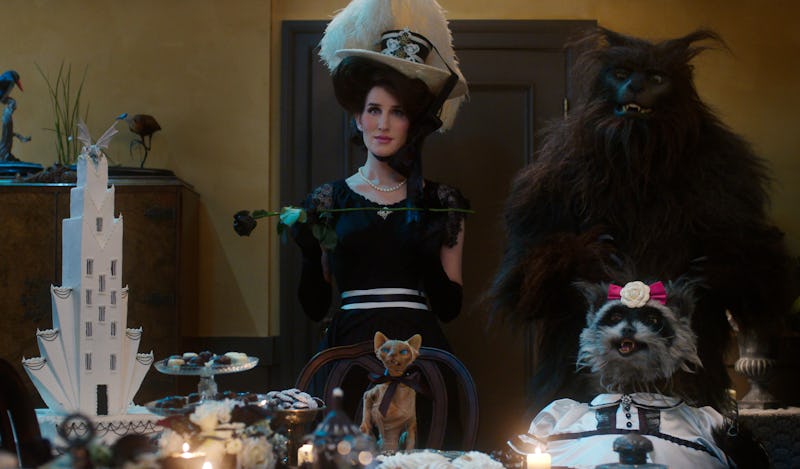 Netflix
Netflix' The Curious Creations Of Christine McConnell is unlike anything else you could find on the streaming platform, and possibly unlike anything else on television. An eclectic cross between Tim Burton and Martha Stewart, it features creepy crafting and macabre baked goods that make it perfect for Halloween. But does that also mean it has an expiration date? Will a Curious Creations Of Christine McConnell Season 2 arrive in time for next Hallow's Eve, or is it just a festive one-off?
According to its star, there's no word yet, but she'd love to keep the series going. In fact, she's already dreaming up more plans. "I have a new idea every 2 seconds," McConnell tells Bustle over the phone. "For me, The first season was a learning experience and I feel like there was so much that we just didn't have time to do that could be amped up so much bigger for another round, so I'm crossing my fingers."
But while there's no confirmation on whether or not The Curious Creations Of Christine McConnell will continue, the show's mere existence is indicative of a trend that's been happening all over television — a demand (or, some might say, a hunger) for more crafting and baking programming.
The existence of such shows is not new: celebrity chefs like Julia Child, Martha Stewart, and, let's not forget, Ina Garten have all made a lasting mark on television. But in recent years, the interest has transformed into obsession, and in a world where people can't stop talking about shows like The Great British Bake-Off and Making It, The Curious Creations Of Christine McConnell falls right in line.
"I think the fascination with food and art is sort of cyclical," McConnell says about the recent avalanche of baking and crafting-based series. "I think in the '70s people got really fun with food, and then it waned, and [now] I think we're in the middle of a big movement back to that and I sort of latched onto it because I'm a huge fanatic of deserts and things like that and I turned it into this really fun medium."
But Curious Creations also adds a new dimension to the genre. Nothing that's already out there comes close to the creepy thrills found in McConnell's playhouse of horror — which comes outfitted with a cast of friendly monster puppets created by the Jim Henson Company. Whereas many cooking series can be serious and competition-focused, McConnell is more interested in connecting with her audience and making the DIY experience fun.
"[The projects in Curious Creations are] playful for people to do at home. If there's a disaster, it's usually funny, as opposed to more intense art where you're sculpting something out of stone and it's not quite as attainable for everybody," McConnell explains.
So The Curious Creations Of Christine McConnell may still be awaiting its fate, but don't be surprised if, come next Halloween, it crawls back from the dead with even more spooky creations.