Oil Could Soon Flow Through The Dakota Pipeline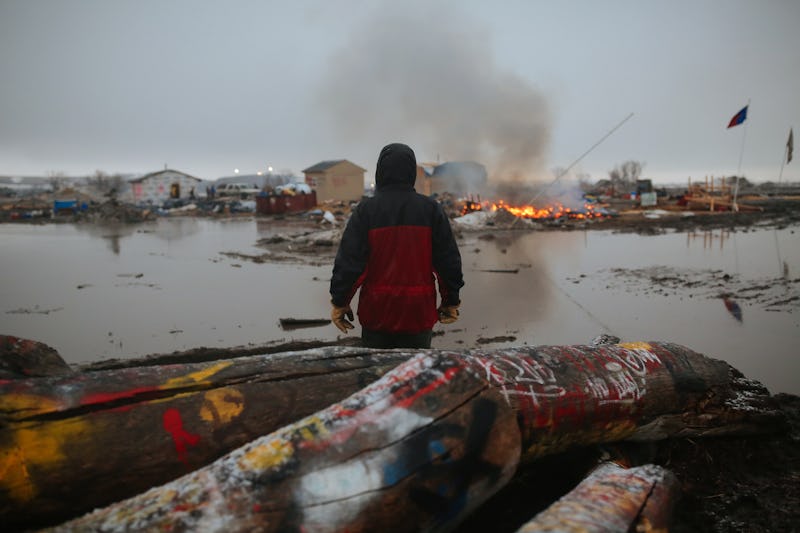 Stephen Yang/Getty Images News/Getty Images
After a little more than a year of debate, controversy, protest, and legal challenges, oil may flow through the Dakota Access pipeline in less than two weeks, according to the pipeline's developer. Court documents filed in U.S. District Court in Washington, D.C. earlier this week by Energy Transfer Partners LP claimed the controversial pipeline could be operational as early as March 6. Once completed the Dakota Access pipeline is expected to transport roughly 470,000 barrels of crude oil across four states in the Midwest each day.
"Dakota Access estimates and targets that the pipeline will be complete and ready to flow oil anywhere between the week of March 6, 2017, and April 1, 2017," the Associated Press reported William Scherman, an attorney for Energy Transfer Partners, said in documents filed Tuesday.
The March 6 to April 1 timeframe noted in the company's recent filing represents a marked change from a date in May which the developer had initially presented to the court as its "best-case scenario" for being operational, Standing Rock and Cheyenne River Sioux tribes' attorney Jan Hasselman told the Bismarck Tribune. "What's disappointing is that this [date] is a couple of weeks earlier than it told the court was its best-case scenario," Hasselman said. "Time is of the essence, but, as the judge said, the lawsuit doesn't become irrelevant if they turn on the tap, because he can always direct them to turn it off."
According to the latest update on the pipeline's status – which a federal court order mandates the developer file weekly while lawsuits involving the Standing Rock and Cheyenne River Sioux tribes continue – Energy Transfer Partners has completed its drilling under Lake Oahe in North Dakota and will begin laying pipe under the Missouri River reservoir. The work under the Missouri River reservoir will reportedly complete the $3.8 billion roughly 1,200-mile pipeline, allowing oil to begin flowing from North Dakota to Illinois via Iowa and South Dakota.
News of the Dakota Access pipeline's new potential flow date came a day before police began clearing the Oceti Sakowin protest camp in North Dakota. Opponents of the pipeline argue it threatens the safety of the Standing Rock and Cheyenne River Sioux tribes' drinking water and cultural sites.
Just days after taking office in January, President Donald Trump, who claims to have sold all of the Energy Transfer Partners stock he owned, signed an executive memorandum ordering the Army Corps of Engineers "to review and approve in an expedited manner" construction of the Dakota Access pipeline that it had, under President Barack Obama, blocked from passing underneath a section of the Missouri River which was used as a water source by the Standing Rock tribe.
Both the Standing Rock tribe and the Cheyenne River Sioux tribe have vowed to continue to fight the pipeline in court.