The Dakota Access Pipeline Is Already Leaking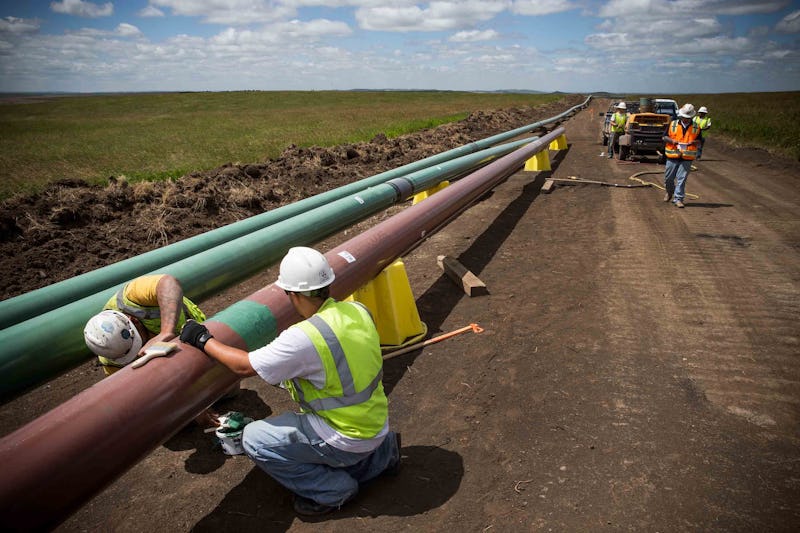 Andrew Burton/Getty Images News/Getty Images
Remember how great it seemed when the Obama administration finally took heed of tribal leaders, environmentalists, and progressives who fought long and hard against the Dakota Access Pipeline? The White House declared it would not be built across Sioux land, endangering their water and sacred burial grounds. But then President Trump was elected, and even though these protestors endured freezing winter temperatures and violent local police to stop it, the project was ordered to move forward. Well, now many activists' nightmares are already here — and the pipeline isn't even finished yet. The Dakota Access Pipeline is already leaking oil, 84 gallons thus far.
According to local news reports from Dakota Media Group, the problem stemmed from a pump that connected the pipeline to a crude oil storage tank at the site, about 100 miles from the native tribes' fresh water source. Brian Walsh, an environmental scientist with South Dakota's Department of Environment and Natural Resources Ground Water Quality Program, officially explained what happened to The Independent, painting it as routine:
Size-wise, an 84-gallon release is pretty small relative to a lot of other things we work on. I would characterize it as a small operational spill that was cleaned up right away.
His agency didn't do more than put up a report on their website, and thus the first media reports only came out this week. The leak occurred on April 4.
There's not an immediate risk to the area's drinking water; the pump site has a plastic lining to control spills. It was cleaned up by the company, with most of the oil going back into the pipeline and some contaminated gravel going to the landfill. That land belongs to the company that owns the pipeline, and therefore these pump stations tend to have more back-ups for a leak.
According to one pipeline expert, Richard Kuprewicz, that's a good thing. A leak on the main line would be much more dangerous with regards to contaminating the environment. But Kuprewicz, who spoke to Dakota Media Group, said this is still very serious. "As far as this happening during the start-up, I don't want to make it sound like a major event, but the fact that you had oil leaving the tank says there's something not right with their procedures. They might have been trying to hurry," Kuprewicz explained to the media group.
The Native tribes who have been fighting the pipeline are also extremely worried. Jan Hasselman, a lawyer for the Standing Rock Sioux tribe, claims to The Guardian that this shows why the courts should intervene. "They keep telling everybody that it is state of the art, that leaks won't happen, that nothing can go wrong," he said. "It's always been false. They haven't even turned the thing on and it's shown to be false."
A court intervention would be the only thing to stop the pipeline at this point. The oil pipeline's developer, Energy Transfer Partners, told Dakota Media Group that the pipeline is in the process of being filled and will be operational on June 1.
Of course, any hope of the federal government intervening evaporated with Trump's election.
Native leaders were right all along. Throughout this administration, they'll need your solidarity.