The 'Dawson's Creek' Cast Still Keeps In Contact In A Completely Modern Way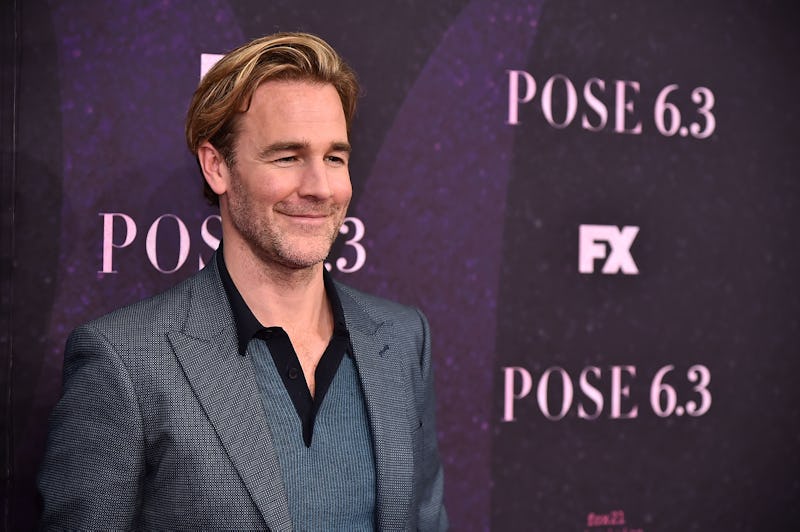 Theo Wargo/Getty Images Entertainment/Getty Images
The students at Dawson's Creek's Capeside High didn't have smartphones in their day. Thankfully, it's much easier for the show's cast to stay in touch now, more than 20 years after the show's 1998 premiere. The Dawson's Creek stars have a group text, actor Meredith Monroe told Entertainment Tonight. And it sounds super fun, too.
Based on what Monroe told ET, it sounds like the cast's recent reunion, combined with technological advances, have helped them stay in touch recently. They didn't always have a group text, apparently, but after getting back together for a 20th anniversary feature in Entertainment Weekly, the Dawson's Creek cast decided it was time to re-open the lines of communication.
"James, Josh, Katie... we're all in a group text," Monroe, who played Andie McPhee on the show, told ET. "We reconnected and now we have a group text going again, so that's been nice." The reconnection was at the EW photo shoot, and it sounds like the reunion was fun for the whole cast. Speaking of the recent reunion, Monroe told ET,
"It was like we didn't even skip a beat and a day hadn't even gone by. It was a blessing. Throughout the years we would go in and out of touch [depending on] whatever was going on with people's lives, but we definitely did reconnect with the reunion, so it's been great."
During the EW interview, which was published in March, Katie Holmes told the magazine that the Dawson's Creek 20-year reunion was the first time all of the main actors had been together at the same time since the show wrapped. "I think we've all sort of seen each other over the years, but not everybody all together," Holmes told the magazine.
Kevin Williamson, who created Dawson's Creek, was also at the reunion, and he shared with the magazine how special the show and its cast are to him, after all these years. "I run into James and Josh, Katie, Michelle, and I just get a big smile on my face. It's just a very, very special time in my life," Williamson told EW.
Of course, just because this year was the first time the cast and Williamson had all gotten back together doesn't mean the stars haven't stayed close over the years. Michelle Williams and Busy Philipps are close friends, with Philipps sharing some sweet words about her pal for Vanity Fair's recent feature on Williams. Philipps told Vanity Fair of Williams,
"She's one of the strongest people I know — one of the toughest bitches around. She's still here, she's still working, and not only is she still working, she's like the best there is."
Monroe didn't share what kinds of things the Dawson's Creek stars talk about in the group text. But based on the cast's positive words about the show, and each other, it's safe to guess the thread is filled with support for one another's endeavors. Staying close friends for decades is tough for anyone, let alone celebrities, but it sounds like the Dawson's Creek cast have found a great way to make it work.