Why The Day Kamala Harris Chose To Announce Her Candidacy Is So Historically Significant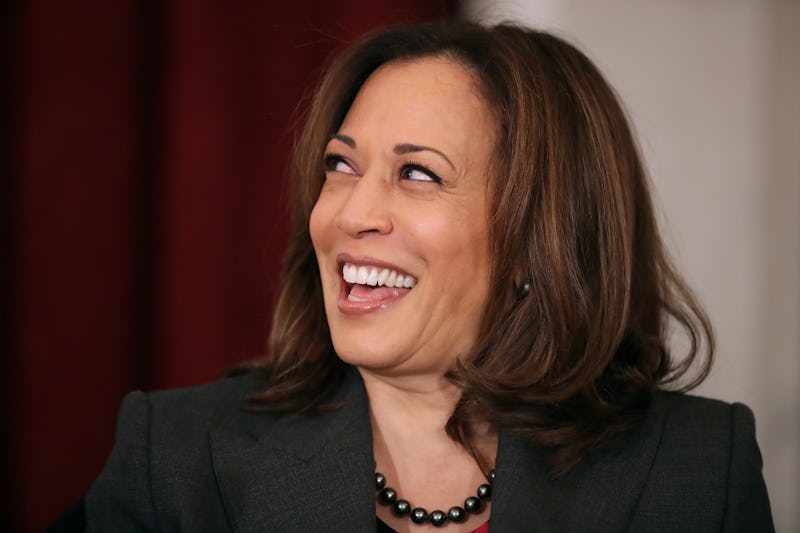 Chip Somodevilla/Getty Images News/Getty Images
The latest Democrat to throw her hat into the ring for the 2020 presidential nomination did so in a way that underscores the historical significance of her candidacy — namely that she would be the first black woman ever to be nominated for president by a major political party. Sen. Kamala Harris announced her run on Martin Luther King, Jr. Day, paying homage to that fact.
The choice of date was just one of the ways that she paid homage to her identity as a woman of color. She explained why she chose it on Good Morning America on Monday, when she announced her candidacy while speaking with Robin Roberts and George Stephanopoulos.
Her parents — both activists — met at the University of California at Berkeley during the civil rights movement. Harris' mother even met Dr. King, making her choice of his holiday for her announcement, she said, "very important" because the country is at its best when it fights for the ideals that King espoused.
"The thing about Dr. King that always inspires me is that he was aspirational. He was aspirational like our country is aspirational. We know that we've not yet reached those ideals. But our strength is that we fight to reach those ideals," Harris told Roberts and Stephanopoulos. "So today, the day we celebrate Dr. King, is a very special day for all of us as Americans and I'm honored to be able to make my announcement on the day we commemorate him."
Dr. King is not the only person Harris honored in her announcement on Monday. She also recognized Shirley Chisholm, who was the first black woman in Congress and to run for president. Chisholm announced her campaign 47 years ago, this week. That homage will continue well into the campaign as Harris picked the colors yellow and red for her campaign logo, evocative of Chisholm's red and yellow campaign buttons.
These are not the only ways that Harris is acknowledging the significance of her candidacy; she is the daughter of two immigrants, a mother born in India and a father born in Jamaica. One more way she will set herself apart is where she runs her campaign from, CNN reported. She'll have an East Coast office in Baltimore and a West Coast office in Oakland (her hometown). Both are very racially diverse.
Harris has not shied away from questions about her race before — or about "identity politics," which have come under attack since Hillary Clinton's loss to Trump in 2016. At Netroots Nation last year, Harris said that the term has been weaponized to "diminish and demean" the "issues that will define our identity as Americans."
She went further in criticizing the critics of the term, suggesting that the party hasn't been as inclusive in the past as it should be — particularly when it comes to women of color. "The folks who helped build the Democratic Party and have been the backbone of the Democratic Party have not always been given equal voice in the Democratic Party," she told the crowd.
The country, though, is another story. Harris says it is "absolutely" ready to elect someone like her. "We need to give the American public more credit ... we have so much more in common than what separates us," she said on Good Morning America earlier in January.
Harris' choice to announce on King's holiday is very much a signal of what's to come as she seeks the Democratic nomination.