The Deck Of Scarlet Subscription Service Delivers Palettes To Your Door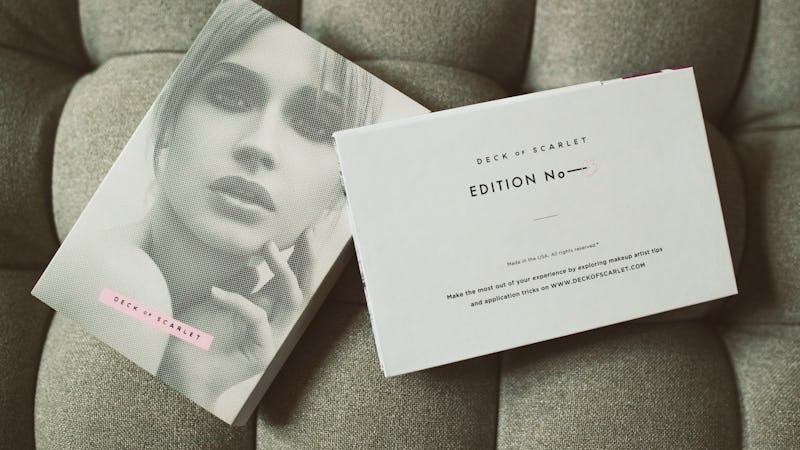 Dario Ortega
If you're of the mindset that you can never have too many palettes, you're certainly not alone. Plenty of beauty lovers have expansive collections of eye shadows, cheek colors, and more all wrapped up in convenient packages. The Deck Of Scarlet Palette Subscription service is just the kind of thing you need to make sure your palette collection never stops growing.
Deck Of Scarlet's bi-monthly subscription service costs just $29.95 every two months. When you sign up, you'll receive a full-face palette at your doorstep six times a year. Not a bad deal, huh? According to a press release, this is the first full-face palette service of its kind, and it's great news for all of the makeup-obsessed folks out there. You can also skip a month, if you don't like the palette.
The July/August palette is dubbed Edition No. 03 and was created in partnership with beauty guru and YouTuber Nazanin Kavari. The brand collaborates with someone new for every palette to create the most must-have seasonal options. Their summer-ready creation houses three eye shadows, a blush shade, a highlighting hue and two lip colors. As if that wasn't enough, the package also comes with a liquid eye liner. The pink and peach-y colors couldn't be more perfect for the summer season and it can be yours for less than 30 bucks. Beauty steal, much?
I was sent a sample of the Edition No. 03 palette, and let me just say — I could get used to the idea of receiving shipments like this every couple of months. To start, the packaging is absolutely gorgeous.
The products the palette holds inside are equally impressive too. The two lip shades are on the left-hand side, eyeshadows on the top row, and below you'll find the blush and highlighter. As you can tell, I'm a fan of the terra cotta "Birthday Suit" shade.
The palette has a magnetic closure, so you have the option of opening the side that holds the shadows and cheek colors or the lip colors separately. It's perfect for keeping the cream and powder products separate. Pretty nifty, huh?
Here, you can get a sense of what these shades look like IRL. From top to bottom: liquid liner called Koko Kavari, eye shadows — Sho Cute, Taj, and Feeling Peachy — Yasmin highlighter, Baby Doll blush, and lip shades — Majesty and Birthday Suit.
As I mentioned, Birthday Suit is one of my personal favorite shades. I mainly like it because it pairs with my sunnies so well. We all have our reasons for loving lippies, am I right?
For this look, I gave the Birthday Suit lippie and the Yasmin highlighter a spin.
The highlighter gives a very natural-looking glow, which is summertime makeup goals.
You can visit the Deck Of Scarlet website to sign up for the subscription service to have this palette and others shipped straight to you throughout the year. But, if you want to purchase this palette on its own, you can take advantage of their a la carte option and purchase it without a subscription for $44.95. Your makeup addiction just got way more convenient.