Jodie Whittaker's 'Doctor Who' Waxwork Is SO Lifelike & You Are Not Prepared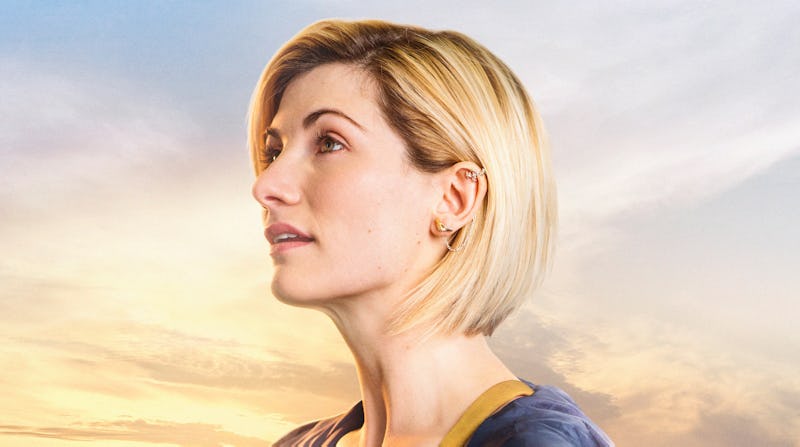 Steve Schofield/BBC
There's a few tried and tested methods of meeting the Thirteenth Doctor herself, Jodie Whittaker. Snag a highly coveted Comic Con ticket and hope to catch her wandering around after a panel, for instance. Or hover for hours outside a suspected filming location in the off chance she'll pop out between takes. Alternatively, for the slightly less committed but still deeply enthusiastic fan: visit the Doctor Who exhibit at Madame Tussauds in Blackpool, which features a startlingly lifelike waxwork of Jodie Whittaker as well as the actual Tardis used to film the eleventh series.
The new Doctor Who exhibit will open this Friday, October 18, and it's not just limited to the Thirteenth Doctor's waxwork. According to Madame Tussauds, the exhibit will offer Whovians an entire immersive experience. It's the "ultimate Doctor Who fan's dream, featuring plenty of photo opportunities," the wax museum says. "Venture into the forest and search for the Doctor's trusty sonic screwdriver, before coming face to face with the Doctor and the Tardis."
According to the Radio Times, Jodie Whittaker sat for her wax replica in person; what's more, she's pretty delighted with the finished result. "It's an incredible honour to become part of the Madame Tussauds family, they've done such an amazing job!" Whittaker said. During a sitting, the wax makers take up to 200 measurements of their subject, while photographs are taken from every angle. "Their eyes, hair, and skin are also all colour matched from samples," the museum says. In short: Jodie Whittaker is a woman of superhuman (extraterrestrial, even?) patience.
Despite the meticulous process behind each celebrity waxwork, it's fair to say not every replica is a roaring success. So what's the verdict on the Thirteenth Doctor's immortal waxy form? Does it do the history-making Time Lord justice? I'd like to offer an emphatic yes — at first (and second, and possibly third) glance, you might think you're looking at Jodie Whittaker herself. A hearty round of applause for those eyebrows, please.
The waxwork doesn't skim over the details, either, as a series of close-up photos on the Madame Tussauds Blackpool Instagram reveals. The Doctor's signature earrings are perfectly accurate, for instance. The costume is correct, from the striped t-shirt to the blue culottes and right down to the piping on her coat pockets. And the eyes — often the aspect of a wax figure that plunges it deep into the uncanny valley — are strikingly accurate too (look at that shading on the lower lash line!)
Thinking of paying a visit, Whovians? The exhibit is included in the overall ticket price for Madame Tussauds Blackpool (no sneaky extra costs); that means £18.00 for adults, or £15.50 if you book your tickets online (children pay £15.00, or an online price of £13.00, in case you want to plait your hair, leave your pimples unconcealed, and attempt to pass as 14.) And for those who can't make it to Blackpool? Doctor Who returns this Sunday at 18.55 on BBC One, when the Doctor meets civil rights hero Rosa Parks.