If You Care About The Earth, You Need To Watch This Doc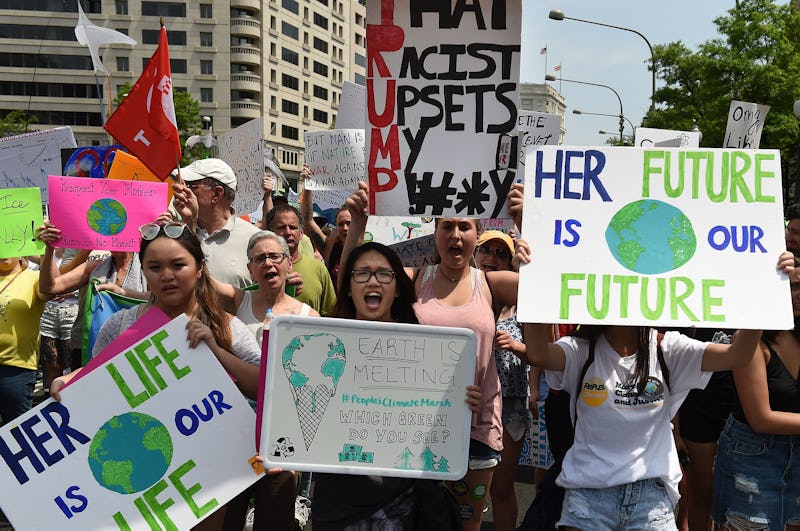 Astrid Riecken/Getty Images News/Getty Images
When it premiered in 2006, An Inconvenient Truth delivered some hard pills to swallow in regards to climate change and global warming. Mostly following former Vice President Al Gore as he delivered a lecture about these important topics, the film became a primary source for anyone looking for incontrovertible, scientifically-based proof we needed to take measures to protect our environment. Now, An Inconvenient Sequel demonstrates the work in protecting the environment that still needs to be done. And with climate change a more timely topic than ever, this doc is truly a must-see for audiences everywhere.
On top of the film discussing the various altruistic reasons to protect the environment, a big reason we should check the doc is because the future well-being of the environment in the United States is in limbo. President Trump's recent declaration that the U.S. would withdraw from the Paris Climate Accords was troubling to many Americans who felt that being included in the landmark international environmental policy was a step towards preserving our own portion of the planet we inhabit. Because decisions are being made by some that impact us all, like Trump's decision, it's vital that we watch An Inconvenient Sequel if only to understand why those Accords are important and why we should work to preserve our environment as if the U.S. was still acting in accordance with the Paris guidelines.
It's also evident from the Inconvenient Sequel trailer alone that this movie intends to combat anti-global warming rhetoric which Americans are still inundated with and could potentially confuse us about whether climate change is real. The trailer opens with an example of this: then-presidential candidate Trump joking that climate change wasn't real because of the temperature outside. It speaks to a larger issue of climate change denial being spouted at all levels, including from people within Trump's own cabinet. An Inconvenient Sequel opposes this denial, presenting reasons why climate change is indeed real and must be recognized.
It may feel scary to watch An Inconvenient Sequel if only because some of the images may give you the feeling that our situation is hopeless, but take heart: this film also provides hope and solutions to our current environmental crises. In light of this, and in light of the very real fact that steps are being taken that go against initiatives that would be good for the environment, it's crucial we all see this film so we can, in turn, take action ourselves.