This Trump Emo Song Will Bring You Back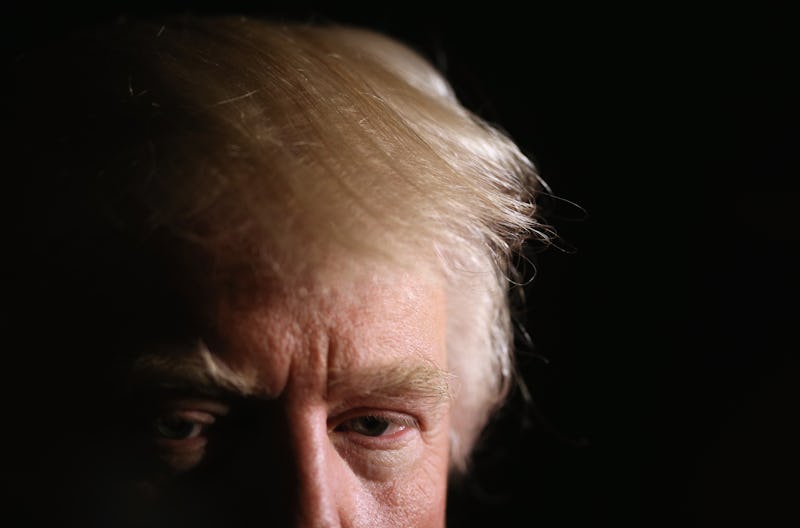 John Moore/Getty Images News/Getty Images
The first few weeks of President Donald Trump's leadership in America have been quite a doozy. Whether he's signing executive orders and memorandums that people are unhappy about or just lashing out at a variety of people and institutions, Trump is very clearly unlike any other president the U.S. has seen so far. His Twitter feed alone sets him apart as the President who has the most negative things to say about those who disagree with him. But finally, his social media habit has resulted in some comedic relief. Super Deluxe turned Trump's tweets into an emo song, and it's perfect.
The resulting video takes actual tweets from Trump's feed and sings them in the mode of an early '00s emo group, with lots of crooning and even some yelling when Trump gets into the all-caps habit. Electric guitars and synths provide the melody behind the whiny lyrics. Some of the recipients of the 45th president's complaints in the song include Meryl Streep, SNL, the election protestors, and voter fraud.
The song does a great job at really capturing the angst prevalent in the emo scene of the early '00s. And by using actual tweets from Trump, it makes an accurate comparison to how childish and angsty his Twitter feed actually is.
When Trump complained about Meryl Streep, whose speech at the Golden Globes derided Trump for being a bully during his campaign, it was mildly annoying, but still kind of ridiculous that a president felt the need to attack an actress who felt that he was being a poor example to the country. However, when Trump started tweeting claims about massive voter fraud, even going so far as to say he would have won the popular vote had voter fraud not taken place, it was actually pretty disgusting. Trump had and has no actual data to suggest that any voter fraud occurred, yet still felt the need to talk about how the election wasn't fair to him, despite the fact that he won.
This kind of creative artistic expression is certainly necessary when facing a leader of the country such as Trump. In order to keep from getting too upset about everything that's happening, it's healthy to take a break with some comic relief every once in a while.
If you're finding yourself frustrated by the president's frequent use of social media to complain in the future, just try imagining what it would sound like if the tweets were sung by a 20-something man with long, black dyed hair sweeping over his eyes.