The New Dr. Jart+ Mask Is Wonderfully Strange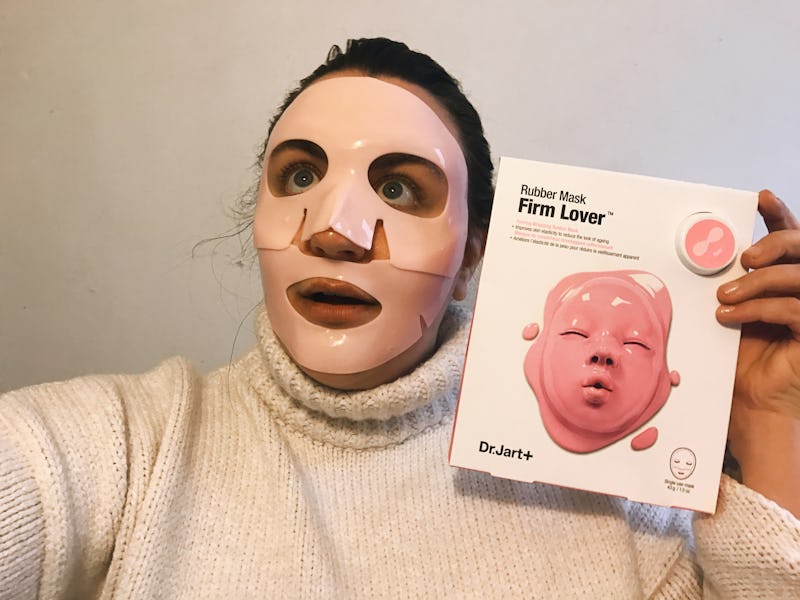 Simply put, I live to mask. My position as a beauty editor affords me the privilege of trying out as many masks as my free time allows, and though I haven't technically tried every mask, I've dabbled in dozens. That said, The Dr. Jart+ Lover Rubber Masks are unlike anything I've ever used before — and I say that with nothing but love in my colorful, rubber-draped heart.
They're available in four different types depending on skin care concern — dryness, dullness, breakouts, and fine lines and wrinkles. The four types are the Hydration Lover Rubber Mask, the Clear Skin Lover Rubber Mask, the Bright Lover Rubber Mask, and my personal favorite in both formula and designation, the Firm Lover Rubber Mask. The world needs more Firm Lovers, IMO.
Hydration Lover Rubber Mask, $12, Sephora; Clear Skin Love Rubber Mask, $12, Sephora; Bright Lover Rubber Mask, $12, Sephora; Firm Lover Rubber Mask, $12, Sephora
The Dr. Jart+ Lover Rubber Masks offer all the benefits of traditional rubber modeling masks — the type made popular by K-beauty brands like Glow Recipe — but in a convenient two-part ampoule and sheet mask package. The first step involves an ampoule that's packed with panthenol (which is essentially Vitamin B5), hyaluronic acid, and other active ingredients. The second is the rubber sheet mask, which includes various types of marine algae, depending on which mask you're using.
The masks are $12 each, and are available at Sephora.com.
Don't be alarmed by the slightly terrifying "baby suspended in goo on a spaceship" effect that the packaging conveys — the Lover Rubber masks are actually far less immersive.
As mentioned, the first step involves an ampoule. I used the Firm Lover Rubber Mask, so the ampoule includes extracts of strawberry, blueberry, and raspberry. The formulations are different for each mask: The Clear Skin ampoule has green tea, grapeseed, and permisson, the Bright ampoule has grapefruit, absorbic acid, and folic acid, and the Hydration mask has hydrolyzed corn and wheat proteins along with hyaluronic acid.
On a clean face, you spread the entire contents of the ampoule in a thin layer. It looks like this:
The smell is nonspecific, and the sensation is typical of gel-based hydrating mask. Still, step one is not exactly the profound experience I'd expect a Firm Lover to provide. Luckily, this only step one — in step two, you get to experience the true beauty of the Lover Rubber Mask: The two-piece rubber sheet that you wear for 40 minutes. It's a material unlike any I've experienced, and as my roommate expressed, it's like "watching someone try to put bologna on their face."
Behold:
Clearly, when my Firm Lover and I are together, the chemistry is frightening.
In all seriousness, these masks have the cooling effect of hydrogels, but are packed with various kinds of algae, all of which have scientific names so complicated it's not worth getting into (if you're into that kind of thing, check out the product descriptions on the Sephora website).
The other remarkable thing about these masks, in addition to feeling amazing, is that they actually stay on your face — unfortunately, some sheet masks almost seem like they can't wait to slide off of your face. I puttered around the house in this one, and it didn't move an inch.
It's difficult to convey firmness in a photo, but rest assured that when I removed this bad boy after 40 minutes, my skin was firmer, more supple, and felt amazing — in other words, the perfect mask to use once a week to spice things up. For someone who uses masks at the startling rate that I do, it's hard to find a product that feels new and refreshing. The Dr. Jart+ Lover Rubber Masks are just that, and totally deserve a spot in your mask routine.