These Dr. Pimple Popper-Approved Face Masks Are As Pretty As They Are Effective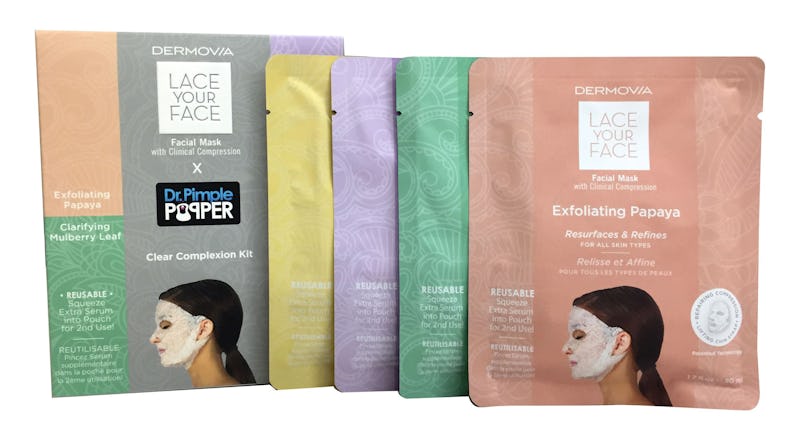 Courtesy of Dermovia
Face masks are one of the biggest skin care trends of the moment. And while a simple clay mask has been around for what feels like forever, sheets masks, bubble masks, and other fun variations have been taking over as of late. The Dr. Pimple Popper x Lace Your Face mask collaboration is going to be everyone's new face mask obsession.
The Lace Your Face x Dr. Pimple Popper 4-Week Clear Complexion Kit consists of four different face masks that work to clear your complexion of your least favorite skin conditions, like acne, dry skin, scars, and uneven skintone. It's a four week program in which you use each mask twice a week. That's right — you can reuse these sheet masks.
The first mask works to unclog pores and remove dead skin cells, thanks to its exfoliating papaya formula. The second mask, made from a clarifying mulberry leaf, eliminates acne causing bacteria and removes impurities from your pores. The third week's mask diminishes redness and blemishes as a result of its healing yogurt formula. And the fourth week's mask is packed with antioxidants to fight against dark spots and hyperpigmentation. In a month, you'll have beautiful, glowing skin thanks to the serum each mask leaves behind.
The Lace Your Face x Dr. Pimple Popper mask kit is available online and costs $55.
So grab this mask kit and in no time (well, one month, to be exact), you'll have the complexion of your dreams.