How Some Of Your Favorite 'Drag Race' Queens Put Their Mark On 'A Star Is Born'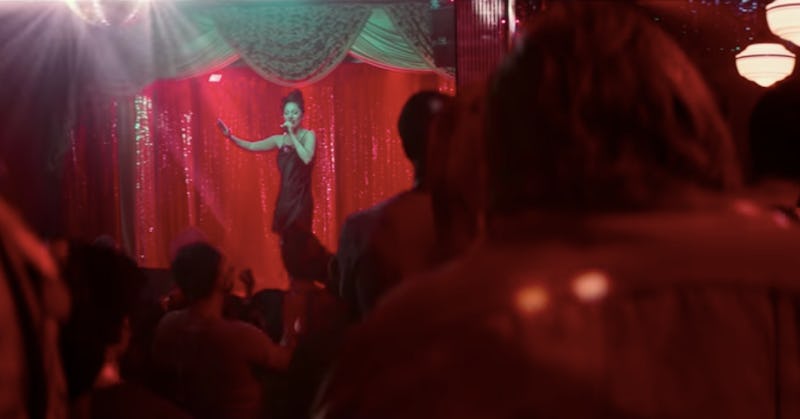 Warner Bros. Pictures
Every movie romance needs a magical first meeting. And in A Star Is Born, Bradley Cooper's Jackson and Lady Gaga's Ally come into each other's lives when he stumbles into a drag bar and sees her perform. The drag bar scenes in A Star Is Born are absolutely critical to the rest of the movie, while simultaneously being heartwarming, inclusive, and hysterically funny. That all comes down to the freedom that Cooper as a director gave to the queens cast in the roles of Ally's friends and fellow performers and what they did with it. Willam Belli, who you may also know from Season 4 of RuPaul's Drag Race and some hilarious and catchy YouTube videos, plays Emerald in the film, and he can't gush enough about what a rewarding process it was.
"Bradley was really cool. He said, 'You guys know what goes on in a drag dressing room better than me, do your thing,'" Belli recalls, speaking over the phone in September. "He just let me go off and do a bunch of jokes. And if you saw it, I got some OK laughs, right?"
More than that — Emerald has my favorite line the whole movie. I won't spoil it for you here, but let's just say she's a tad starstruck to meet a legend like Jackson.
"It was so f*cking cool" to work with a director who did his job by "trusting his performers," Belli says. And he and co-star D.J. "Shangela" Pierce — another beloved Drag Race alum — made sure that they weren't just behaving like they do backstage at a club, but that the dressing room itself looked as authentic as possible.
"I remember at one point, Shangela and I saw something that was a makeup product that we were like, 'That would never be in this dressing room,'" Belli explains with a laugh. "So we just set it behind a wig head a little bit."
And, of course, these costars were right at home with Lady Gaga, and vice versa. Belli says he recounted a story to the pop star that put them together at a gay bar where he worked about a decade ago, when her star was just on the rise. "I handled all the go-go boys and the strippers, and I had to tell the strippers, 'Hey, get down, we have this girl performing,'" he says. "I remember thinking, 'Whoa, she was good!' And just being able to tell her that and now [being] on her movie ... it's the ultimate. It's everything."
At the Toronto International Film Festival press conference for the movie, Lady Gaga acknowledged, per Variety, that the setting of the couple's first meeting was chosen in part to pay tribute to her deep connection to her LGBTQ+ fans. "I really wouldn't be here without the gay community, what they have taught me about love and acceptance and bravery," she said. But Belli takes something of an issue with that.
"She is our community," he says passionately. "It's not that she's taken from us in any way, she celebrates us everyday." In fact, the last time he'd seen the performer before A Star Is Born filming began, they — and a plethora of other queens — were shooting the lyric video for her single "Applause." ("I remember her saying, 'I can't wait until this part's over, I just want to go dance and be normal,'" Belli says of the shoot. "And I was like, 'Girl, that's never gonna happen!'")
While only a fraction of A Star Is Born takes place in the drag bar, those few minutes are hugely impactful. They don't just establish Ally as "the real thing," but they provide another opportunity for a massive audience to enjoy and connect with drag.
"I think any mainstream exposure of drag always increases the eyes upon it. It makes people go, 'Oh, let me try that, which is good,'" Belli says. "And I think that people that might not appreciate drag might appreciate it after seeing when Gaga and Katy Perry and Beyoncé and these [other] girls are inspired by us. And they celebrate us and give us credit."