The 'Dynasty' Reboot Will Be Modernized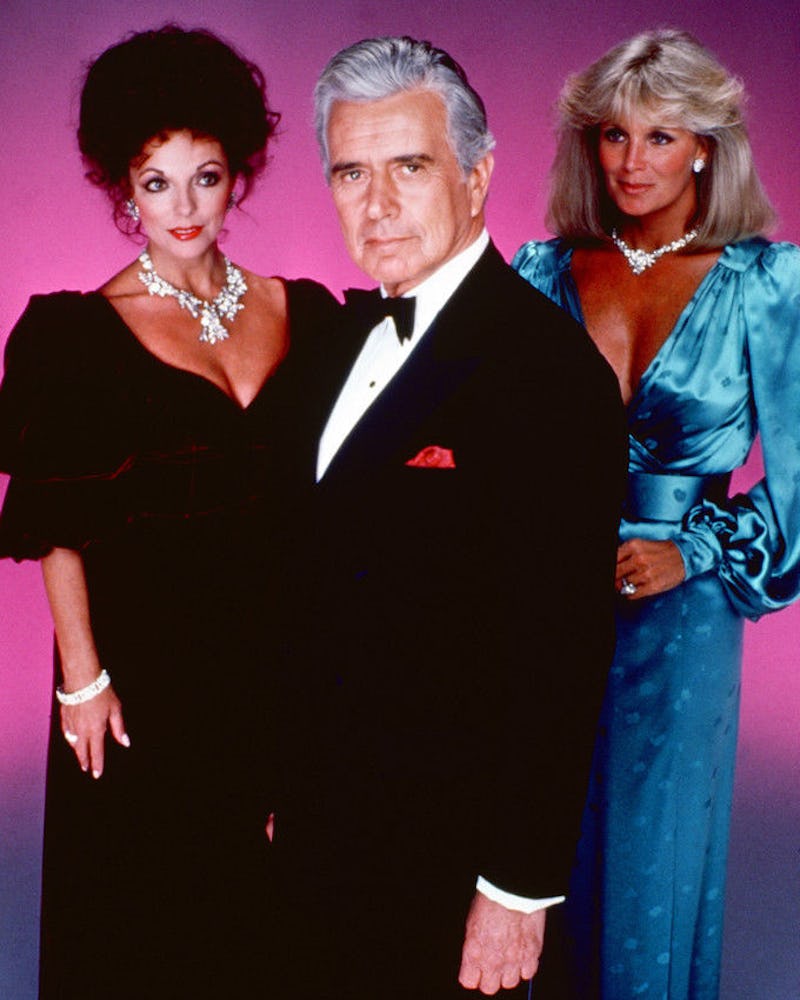 ABC/Aaron Spelling Productions
Stop what you're doing. If you miss the glory days of Gossip Girl, Melrose Place, or 90210, I have some news for you: Dynasty is getting rebooted at The CW. Wait, do you not know what Dynasty is? C'mon, now. Dynasty was one of the biggest soaps on television, leaving fans spellbound week after week, as they followed the exploits of the impossibly wealthy Carrington family in the mid-'80s.
Now, Deadline is reporting that the the creators of Gossip Girl, Josh Schwartz and Stephanie Savage, are bringing Dynasty back to The CW and this time, they're switching up the dynamics. As Deadline describes it,
[T]he new Dynasty follows two of America's wealthiest families, the Carringtons and the Colbys, as they feud for control over their fortune and their children. The series will be told primarily through the perspectives of two women at odds: Fallon Carrington, daughter of billionaire Blake Carrington, and her soon-to-be stepmother, Cristal, a Hispanic woman marrying into this WASP family and America's most powerful class.
What makes this refreshed perspective on Dynasty so intriguing (other than the drama, because duh) is the active creation of a female protagonist of color. In the context of Dynasty, this is doubly interesting: Seeing how 2017 social, political, and gender dynamics have shifted greatly in the last 30-odd years, bringing Cristal, a woman of color, into the fold with provide opportunity for Schwartz and Savage to plumb new topical depths.
Characters of color were few and far between on Gossip Girl, the previous project of Schwartz and Savage. It's certainly not indicative of their personal leanings that Gossip Girl was relatively lily white, but taking this new direction with another notably lily white show is an excellent move on their part.
There have been no updates about who has been cast, despite the push to get a pilot put together for fall 2017's fresh crop of shows. That just means that we'll have to keep an eye out to see who comes on board. Let the fantasy casting begin.