1 Person Has Died From The Romaine Lettuce E. Coli Outbreak, The CDC Reported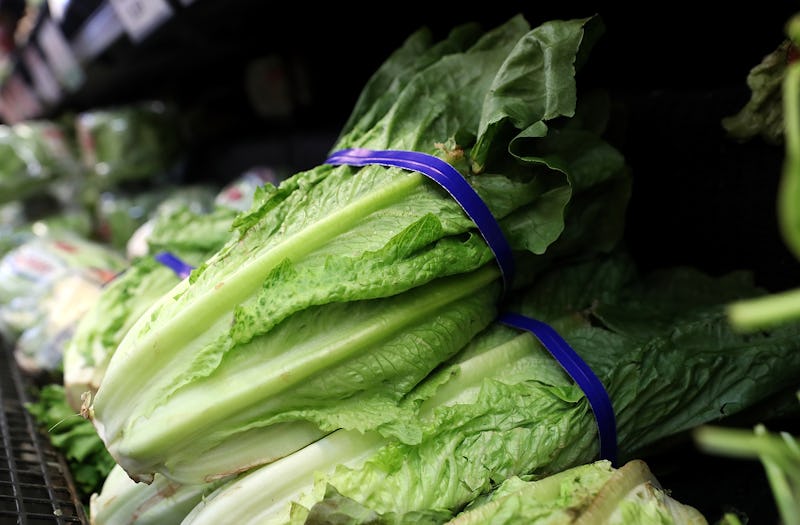 Justin Sullivan/Getty Images News/Getty Images
The Centers for Disease Control and Prevention (CDC) has announced the first death related to the current E. coli outbreak linked to romaine lettuce grown in the Yuma, Arizona, area. According to the CDC's May 2 announcement, there have thus far been 121 cases in 25 states, with 52 hospitalizations and 23 new cases since the CDC's last update on April 27. Fourteen of the affected people have developed "a type of kidney failure called hemolytic uremic syndrome," the CDC also announced. Despite this, no recall for romaine lettuce has yet been issued, but the CDC is cautioning people not to consume or purchase romaine lettuce unless you can be absolutely sure it is not from the Yuma area.
According to CBS News, this outbreak is the worst multistate outbreak since 2006, and it's reminiscent of that outbreak, which was "linked to 238 illnesses and five deaths." That outbreak and the current one are both caused by a particularly nasty E. coli strain that "tends to cause more serious illnesses," CBS reported.
The CDC also confirmed that the outbreak has been reported to have affected three new states since its last update: Kentucky, Massachusetts, and Utah. The confirmed death was reported out of California, and according to TIME, the California Department of Public Health "was not immediately able to provide details about the deceased person, or the circumstances around the death."
If you're concerned you may have consumed romaine lettuce, you should know that people who are infected with E. coli generally start feeling sick three to four days after exposure, according to the CDC, though "illnesses can start anywhere from 1 [sic] to 10 days after exposure." In its May 2 announcement, the CDC says the most recent case of romaine lettuce-linked E. coli being tracked began on April 21, but "[i]llnesses that occurred in the last two to three weeks might not yet be reported" because it can take time for an official illness report to make its way to the CDC.
According to TIME, an E. coli infection usually causes "gastrointestinal issues that clear within about a week." Specific symptoms can vary for each person, the CDC reports on its website, but generally include severe stomach cramps, often bloody diarrhea, vomiting, and occasionally a fever. TIME added that this outbreak is especially virulent, "resulting in unusually high rates of hospitalization — roughly half of the sickened individuals have been hospitalized, as opposed to around 30% [sic] in typical E. coli outbreaks." TIME also reported that this outbreak has a higher-than-average rate of complications.
Hemolytic uremic syndrome is a particularly severe E. coli complication the CDC says affects about 5 to 10 percent of people who are diagnosed with E. coli, so folks who think they may have contracted E. coli from this outbreak should keep an eye out for its symptoms. The syndrome tends to appear around seven days after a person is infected, just when gastrointestinal symptoms appear to be letting up. "Clues that someone is developing [hemolytic uremic syndrome] include decreased frequency of urination, feeling very tired, and losing pink color in cheeks and inside the lower eyelids," the CDC explains.
If you believe you're developing hemolytic uremic syndrome, you should check yourself into a hospital, the CDC says, because your kidneys can stop working. Most people who get hemolytic uremic syndrome do recover, but that recovery often takes weeks, and even with treatment can "suffer permanent damage or die."
For the foreseeable future, you can protect yourself from this outbreak by, as stated previously, not buying or consuming romaine lettuce unless you can be completely sure it's not from the Yuma area. The CDC cautions in its May 2 announcement that this advice "includes whole heads and hearts of romaine, chopped romaine, baby romaine, organic romaine, and salads and salad mixes containing romaine lettuce." If you're not certain whether the lettuce in a salad is romaine or not, the CDC says to err on the side of caution and toss it.