Trump's Election Commission Won't Try To Collect Your Personal Info Anymore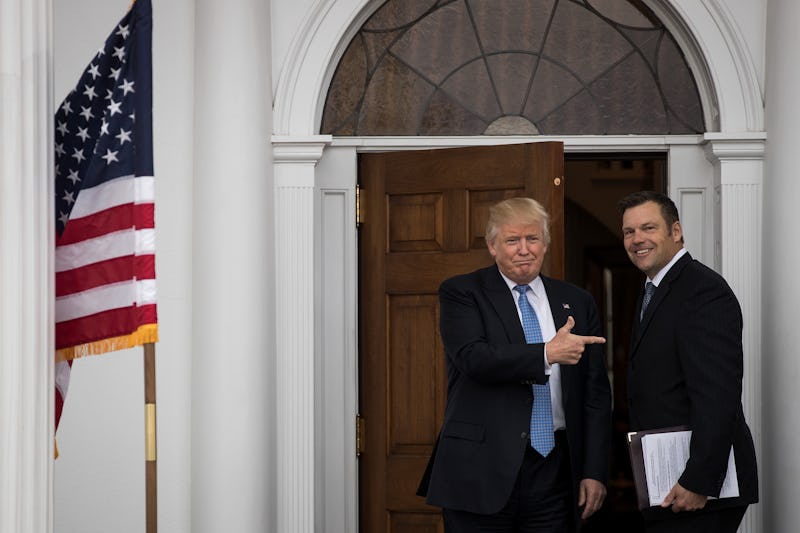 Drew Angerer/Getty Images News/Getty Images
Just two weeks after requesting voter information from election officials in all 50 states, President Trump's election commission is halting its data collection initiative entirely, thanks to a lawsuit filed by the Electronic Privacy Information Center. The commission, led by Vice President Mike Pence and Kansas Secretary of State Kris Kobach, had asked for detailed information on the registered voters in each state, but a representative said in a court filing Monday that it will pause the effort until the lawsuit is resolved.
EPIC claims that the commission broke federal law when it asked state election officials to submit all "publicly available voter roll data" as allowed by state law. Under the E-Government Act of 2002, the federal government must take specific safeguards while collecting personal information to ensure the security of that information. Before collecting any such information, agencies are required to write and release what's called a Privacy Impact Assessment, a document that explains how the data is stored, transmitted, and managed.
According to EPIC, the Trump commission didn't conduct a Privacy Impact Assessment before requesting the data. The watchdog group also said that the commission planned to transmit the voter data via an unsecured Army website. Incidentally, this issue is at the center of another lawsuit that's been filed against the election commission by the watchdog group Public Citizen.
EPIC asked a federal judge to block the commission from collecting any more data until it complies with the E-Government Act. But the commission opted to do so voluntarily: In court documents filed Monday, the commission said that it has sent an email to state officials telling them to "hold on submitting any data" about its registered voters.
Kobach sent his original letter on June 28, asking state secretaries of state to turn in publicly-available voter information, which in some states could include names, addresses, voting history, party registration, and the last four digits Social Security numbers. But many state officials rejected this request, either in full or in part — including Kobach himself, who announced that, in his capacity as Kansas' Secretary of State, he won't send voters' Social Security numbers to the commission that he himself leads. In another notable response, Mississippi Secretary of State Delbert Hosemann, a Republican, said that the commission "can go jump in the Gulf of Mexico, and Mississippi is a great state to launch from."
On Monday, two additional organizations — the ACLU and the Lawyers' Committee for Civil Rights Under Law — also sued the election commission. Both groups are claiming that the commission has violated the Federal Advisory Committee Act by failing to hold public meetings or make records of its meetings publicly available.