You'll Laugh At How The "Explain TV Shows Badly" Hashtag Describes Your Favorite Series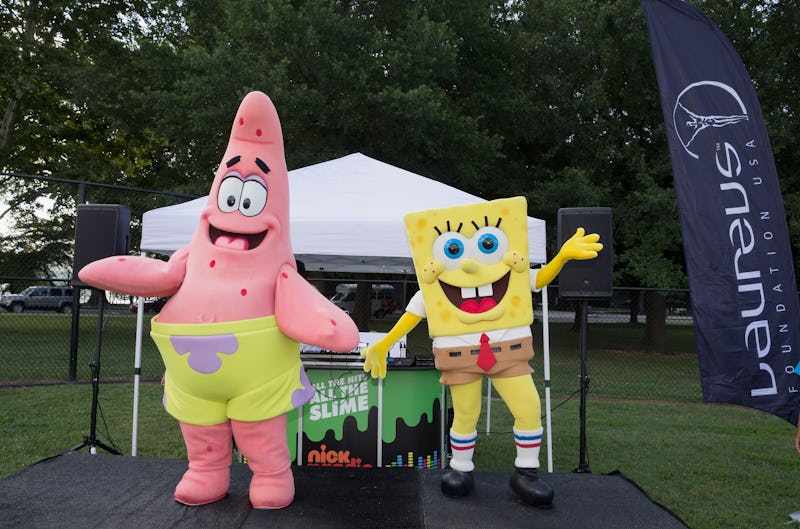 Tasos Katopodis/Getty Images Entertainment/Getty Images
Move over, #NFID18, because there's a new hashtag in town. It's the #ExplainTVShowsBadly hashtag on Twitter, and it's here to change your perspective on TV 140 characters at a time. What's most fun about the trending #ExplainTVShowsBadly hashtag is the creativity Twitter brought to it. Participants used a liberal interpretation of "badly", which meant they took an interesting approach of explaining a popular show — but, just as often, it led to a beloved series described through an entirely new lens. To scroll through the hashtag is like having your friend describe her new favorite TV show after she's had two cocktails, or asking the same of your mom pretty much ever. From kids' shows to '80s prime time TV, the result of #ExplainTVShowsBadly is a gleeful mash.
It's still happening, so feel free to jump in with your own brief description of television. Or, just sit back, relax, and scroll through dozens of Tweets that may or may not change the way you look at binge-worthy TV. Whether you think they sound so much better or impossibly worse, there's no denying that the #ExplainTVShowsBadly hashtag on Twitter makes your favorite TV shows sound hilariously different. One thing is for sure: You won't watch Sesame Street the same way again.
When A Long-Running CW Show Gets A Makeover
Like, yeah, Supernatural is spooky fun, but we'd absolutely watch that version of it, too.
#ExplainTVShowsBadly Makes 'The Voice' Sound Even More Entertaining
Please let this be in development at NBC. Friday nights, maybe at 8 p.m.? Call us.
This Could Describe Literally Every Crime Show
To be fair, this is a pretty accurate description of every Law & Order episode. And all of their spinoffs. This is basically just Law & Order. It's not even a bad job of explaining it.
When Children's Shows Get Dark
If Internet memes didn't kind of ruin SpongeBob SquarePants for you, maybe this nihilistic view of Bikini Bottom will.
'Sesame Street' Was Educational Until #ExplainTVShowsBadly
Oh, okay, come on! This is a program for children.
When 'Looney Tunes' Meets Reality
This one's pretty true. Amazon should probably pay royalties to Hanna-Barbera.
When 'Spider-Man' Gets Weird
Justice for Peter Parker, fam. He didn't ask to be a superhero!
We'll Take #ExplainTVShowsBadly For $400, Alex
This is Jeopardy! It's weird; we never noticed Alex Trebek's love of overpronouncing until now. Hopefully, this doesn't change anything.
Maybe Ted Mosby Isn't The Guy We Thought
Uh, yeah. But, if you haven't watched it, a lot of other things happen too. How I Met Your Mother is actually really sweet! If you don't think about it like that.
Even Celebrities Like To #ExplainTVShowsBadly
Honestly, Alyssa Milano's Twitter is a joy every day. Of all of the TV shows she could have referenced, she went with Who's The Boss?, and we love her for it.
Remember When Patton Oswalt Was On 'The King Of Queens'?
He sure does!
When Topanga Played #ExplainTVShowsBadly & Won
Well, when you put it that way, Topanga, what was even happening on Boy Meets World?
#ExplainTVShowsBadly will definitely change the way we watch the best TV shows out there. Some of the hashtag's entries are so perfectly vague, it's hard to even tell what they're explaining. Some have put a spin on '90s can't-miss TV that will definitely alter how we watch late-night reruns.
The #ExplainTVShowsBadly hashtag is still going strong. If you need a break from bingeing, but don't really want to leave your TV behind, we heartily recommend a scroll. If you think of any hilariously weird ways to condense a classic series into 140 characters, you can definitely jump in on Twitter.