The 'Fast & Furious' Cast Paid Tribute To Paul Walker At The MTV Movie & TV Awards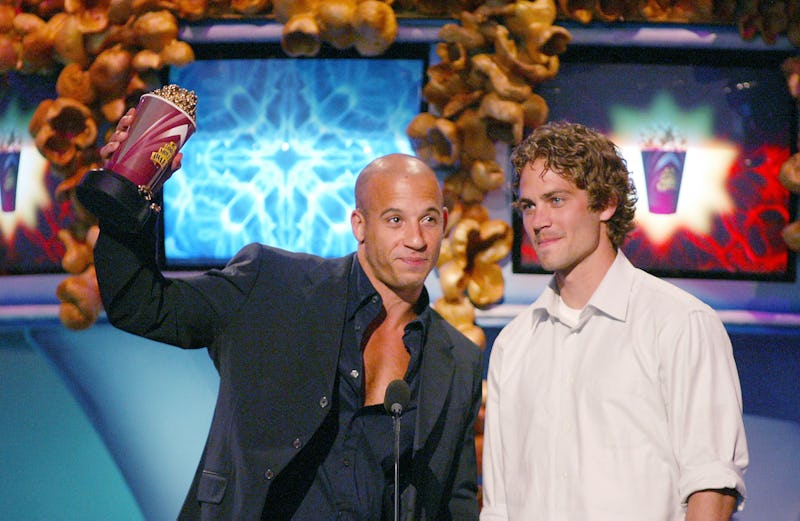 Kevin Winter/Getty Images Entertainment/Getty Images
Hope you're ready with tissues and a full tank of nitrous oxide, because MTV packed one heck of an emotional punch into their annual, and generally silly, awards show. The Fast and Furious franchise received the Generation Award at the MTV Movies and Television awards and the cast used the opportunity to celebrate and pay tribute to Paul Walker, and of course, the power of family. Even Gal Gadot was there to present and introduce the celebration, which began with a performance by Pitbull, J Balvin, and Camilla Cabella of "Hey Ma" from the Fate of the Furious soundtrack.
The Generation award has in previous years gone to an individual. Sure, most of the Avengers cast showed up to honor Robert Downey Jr., but other recipients include Reese Witherspoon, Will Smith, and Mark Wahlberg. So this is a little different. However it is definitely deserving, if you ask me. This franchise is everything. Though The Fast and the Furious was released in 2001, the series kicked it into high gear with Fast Five and has become a global phenomenon. Paul Walker's tragic death in 2013 has given the franchise an unfortunate added layer of legend.
An epic clip show followed the musical performance. Every member of the Fast family got their Furious moment. Then Vin Diesel got up to accept the award on behalf of the franchise, and brought on Jordana Brewster, Tyrese Gibson, and Michele Rodriguez to share the stage with him. He thanked the franchises' various directors and mentioned the fact that years ago, he and Paul Walker won Best Duo at the MTV Movie Awards — so much has happened since then.
"Most importantly," he said, "I gotta thank this generation." He praised the fact that young people have readily accepted such a multicultural and diverse cast without blinking an eye. "When you're family," he said. "You're family." Diesel also thanked his "brother Pablo," referring to Walker.
The Fast and Furious franchise seems to have grown exponentially in the past 16 years, and for good reason. It truly speaks to the best of a generation, and deserves this kind of recognition.