The Love Triangle In Emma Stone's Outrageous New Period Drama Isn't For The Male Gaze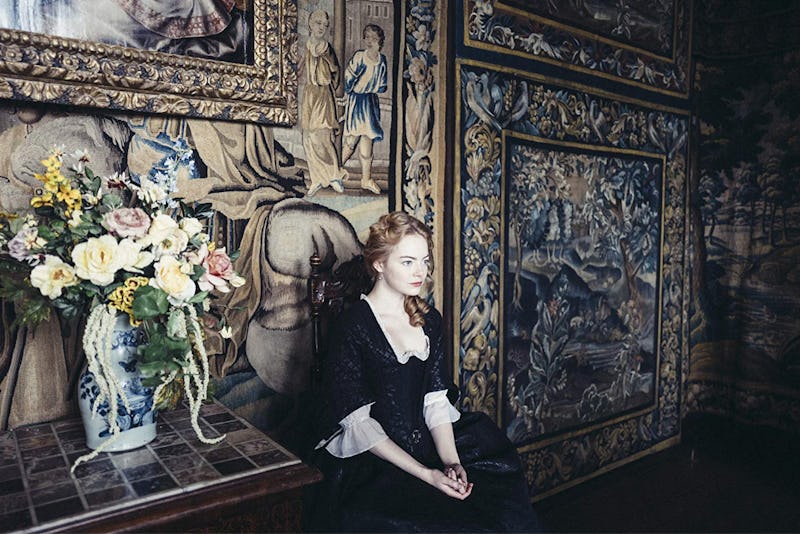 Fox Searchlight Pictures
Emma Stone is no stranger to period dramas. The actor solidified herself as one of Hollywood's most talented stars with 2011's The Help which was nominated for Best Picture at the Academy Awards that year. But Stone's latest film The Favourite, out Nov. 23, is far unlike any other period drama you've seen. It's helmed by Yorgos Lanthimos, the co-writer and director of critically acclaimed absurdist comedy The Lobster. And naturally, his latest film is just as delightfully strange, giving a fresh spin on the real Queen Anne's (Olivia Colman) complex, close relationship with Sarah Churchill (Rachel Weisz) and Sarah's cousin Abigail (Stone), resulting in an intense rivalry.
The women aren't just grappling for power and influence; Queen Anne's relationships with Sarah and Abigail are sexual and even romantic, and they are portrayed in a rare fashion, according to one of the movie's stars.
"It doesn't feel like male gaze-y at all," notes Stone when we chat at the Whitby Hotel in New York City. "It doesn't feel like, 'Ooh, there's something sexy about this because it's women together.' There's something so great about it because it just feels legitimate, and it is. It's just their sexuality and relationship."
The film is loosely based on Queen Anne's real dynamic with Sarah and Abigail, which Winston Churchill documented in a four-part biography, according to Awards Daily. The women all share a complex dynamic where they're trying to gauge what they can gain from Queen Anne, as well as what they can reciprocate to her. Sarah is portrayed as an antagonist of sorts, manipulating Queen Anne into doing what she believes is best for the country politically, as well as bullying her with a discomfiting love-hate dynamic, leaving viewers wondering how she can take so much advantage of the Queen's naiveté. But we also get to see how though Abigail treats the Queen in a more soft and loving way, there might be some ulterior motives for her, too.
Abigail faces the challenge of not being part of the noble family. After her family lost their wealth, she finds herself having to work as a servant for Queen Anne. She quickly rises through the ranks as she wins the Queen's trust, much to Sarah's dismay, resulting in the cousins torturing each other in their fight to win Queen Anne's unwavering affection.
"For Abigail, the fact that she is a survivor and needs to be safe and secure, and what becoming close to the Queen will do, and her knowledge of Sarah and Anne's relationship, and how she can use that to her own benefit, but also how empathetic she feels for the queen and her losses... I think it's all really layered and great, and I also love that it's not very sensational in any way," explains the actor.
Both Weisz and Colman appear in The Lobster, but this film marks the first time that Stone worked alongside the actors and director. But their dynamic on set felt very natural, with the women fully immersing themselves into the outrageous scenes. "We all just became comfortable with being embarrassed in front of each other, silly with each other, and then we sort of walked onto the set three weeks later, like, with our arms linked," remarks Stone. "It feels really good when you love the people you're working with, especially when there's cruelty involved on screen, the dynamics in the relationship are a little more... difficult, potentially."
There are so many layers to the characters' dynamic onscreen that'll leave viewers conflicted about who to root for — or if it's even worth rooting for anyone at all. The film has plenty of humorous moments, but Stone notes that it also carries a powerful, harrowing story that'll make you want to watch it more than once to take it all in.
"I've seen it three times now, and the first time I saw it, I was like, 'Oh, it's very funny,' and the second time there was a bit more heartbreak, and by the third time I was like, 'There's just a lot that breaks my heart in it,'" explains The Favourite star. "I love that [the filmmakers] were able to bring that together in a really powerful way. This is a very sad story, as well as being a very funny one and a very fascinating one about the power dynamics of these three women."
For Stone, playing a complex character like Abigail was also a vital experience, taking her to new heights as an actor. "On a daily basis, just getting to nail down the journey of Abigail was fantastic for me as an actor because she's endlessly fascinating, and there was just so much there with such a rich character, and I think Rachel and Olivia felt the same about their characters," notes the actor. "Just getting to play with those dynamics of — in one moment — Olivia's screaming and crying on the floor and being super petulant, and then she's telling my character about how [her] rabbits are the children that she's lost, and it's devastating."
The film already won over critics when it was shown at this year's Venice International Film Festival, taking home the jury prize. It's also bound to be becoming a top contender for several Academy Awards. But even if the film doesn't get the accolades it merits, Stone is incredibly proud of it.
"It's a great gift to read a script that has roles like this for women, and at any time period, especially when there's more than one — when there's three — it's pretty fantastic, and I think we all feel very proud of that," explains Stone. "That said, I don't know what will happen with it going forward, and we'll have to wait and see, but just to speak for today, it feels really good to get to be part of something like this."
With a powerful, incredibly talented trio of women being the focus of the film, The Favourite will surely win over audiences with its entertaining-yet-unsettling story, simultaneously proving why period dramas shouldn't be confined to any one box.