This Letter From Ford's Lawyers To The FBI Casts Confusion Over The Kavanaugh Probe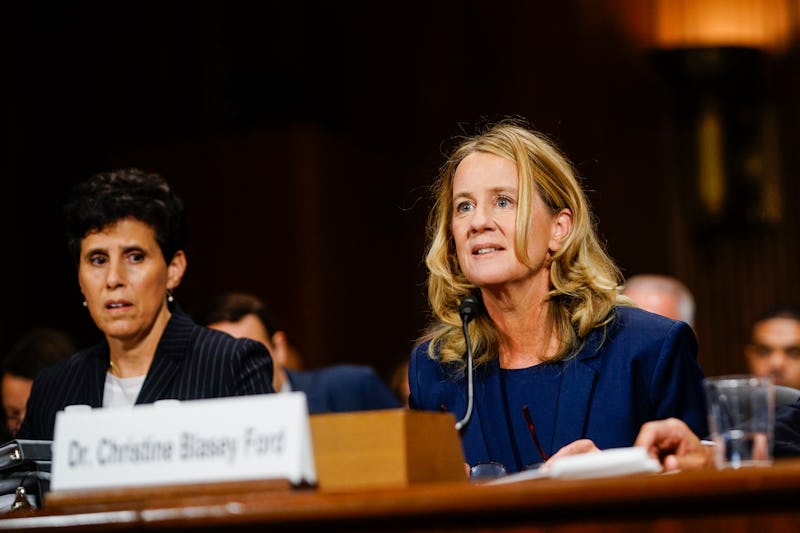 Pool/Getty Images News/Getty Images
Just a few days ago, the White House ordered an investigation into sexual assault allegations against Supreme Court nominee Brett Kavanaugh, all of which he has denied. But as reports indicate that the investigation is wrapping up, the FBI hasn't interviewed Christine Blasey Ford about Kavanaugh at all, according to her lawyers.
On Tuesday, Ford's lawyers, Debra Katz and Michael Bromwich, wrote a letter addressed to FBI Director Christopher Wray and FBI general counsel Dana Boente, which was swiftly released to the public. In it, they insist that the FBI's investigation could not have been thoroughly executed if Ford, Kavanaugh's first accuser, was not interviewed. But Ford isn't the only person the FBI has reportedly neglected to contact. According to media reports, neither Kavanaugh nor a long list of witnesses submitted by Democrats have been interviewed as part of the investigation, either. Bustle has reached out to the FBI for comment.
"This afternoon, we learned of media reports that the FBI does not intend to interview either Dr. Ford or Judge Kavanaugh," Ford's legal team wrote, per a copy of the letter shared online. "We hope that this reporting is inaccurate. It is inconceivable that the FBI could conduct a thorough investigation of Dr. Ford's allegations without interviewing her, Judge Kavanaugh, or the witnesses we have identified in our letters to you."
Ford' lawyers also say that the FBI has not been open to their requests to maintain communication with investigators. Per the letter, requests to be connected with key investigators have yielded no response.
"On Friday evening, after a telephone conversation with Mr. Boente, we sent an email offering Dr. Ford's full cooperation, including her willingness to be interviewed by FBI agents," Ford'a lawyers wrote. "We have repeatedly asked you to identify the Supervisory Special Agent responsible for this investigation, so that we could contact him or her directly. We have received no response."
On Tuesday, multiple news reports indicated that the FBI's renewed and expanded investigation into Kavanaugh could end as soon as Tuesday night or Wednesday morning. That would be days ahead of the Friday deadline. To be clear, as of Tuesday evening, there is no public information available regarding their findings. Still, many critics already believed that one week was not enough time to appropriately investigate the claims made against Kavanaugh.
While the FBI has reportedly not interviewed Ford, they have interviewed Deborah Ramirez, Kavanaugh's second accuser, according to Ramirez's lawyer, John Clune. Clune shared this via a series of tweets on Tuesday:
Debbie Ramirez spoke to the FBI for over two hours this past Sunday. It was a detailed and productive interview, and the agents were clearly motivated to investigate the matter in any way they were permitted. Ms. Ramirez identified a number of witnesses, and, at the end of the interview, her lawyers provided the FBI the names and known contact information of additional witnesses (totaling more than 20) who may have corroborating information.
But while Ramirez has reportedly spoken with the FBI, Clune expressed concerns about the investigation as a whole. "Though we appreciated the agents who responded on Sunday, we have great concern that the FBI is not conducting—or not being permitted to conduct—a serious investigation," he said via Twitter.
Whether or not the FBI will wrap up its investigation so quickly has not been verified. But the investigation has been characterized by confusing communications from the very start, including the Senate Judiciary Committee's initial decision to request that it take place. As with all else, the investigation's outcome is, as of yet, a wait and see.