FBI Agents Raided Paul Manafort's Home & It's A Sign They're Not Messing Around In The Russia Investigation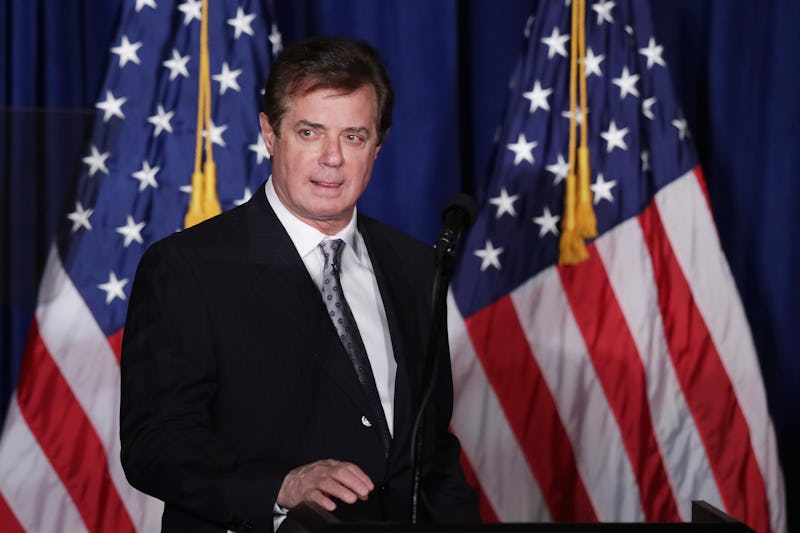 Chip Somodevilla/Getty Images News/Getty Images
The Washington Post reported Wednesday that Paul Manafort's home was raided by FBI officials last month in connection to the investigation into Russian influence in the 2016 presidential election. The raid came on July 26, the day after Donald Trump's former campaign chairman voluntarily met with and gave documents to the Senate Intelligence committee. The search warrant used to raid Manafort's home indicates that investigators were able to present enough evidence that the former political operative could not be trusted to hand over all information relevant to the investigation. Manafort's spokesperson, Jason Maloni, told CNN that "FBI agents executed a search warrant at one of Mr. Manafort's residences. Mr. Manafort has consistently cooperated with law enforcement and other serious inquiries and did so on this occasion as well."
Manafort was one of the earliest members of the Trump campaign to be discovered with financial connections to the Russian government. In the mid-2000s, Manafort worked closely with Vladimir Putin ally Oleg Deripaska intending to influence "politics, business dealings and news coverage inside the United States, Europe, and the former Soviet republics to benefit the Putin government." He retroactively registered as a foreign agent with the Justice Department, a federal requirement of lobbyists working in the United States on behalf of foreign governments. It's unclear whether the raid on Manafort's home is related to potential charges regarding his failure to register on time, or part of a larger fact-finding mission in the probe.
This is the first report of law enforcement-assisted searches in the Russia investigation, suggesting forward movement in the inquiry into the events surrounding the election. Former FBI director Robert Mueller was appointed special counsel for the Russia probe in May, a relatively short time in the potential lifespan of this probe. However, the physical raid on the house, and the ability of the special counsel to obtain a search warrant from a judge, may mean that Mueller and his team are zeroing in on criminal activity in relation to the campaign.
There's no news yet as to whether any other raids have been conducted as part of the investigation, nor any indication as to why the Manafort raid was announced today. The raid may have been in connection to a June 2016 meeting at Trump Tower, which was attended by Donald Trump Jr., Jared Kushner, Manafort, and a Russian lawyer who claimed to have incriminating evidence related to Hillary Clinton's presidential campaign. News of the meeting broke just one week before the raid on Manafort's home.