The FBI Confirmed A Disturbing Trend In Hate Crimes In The US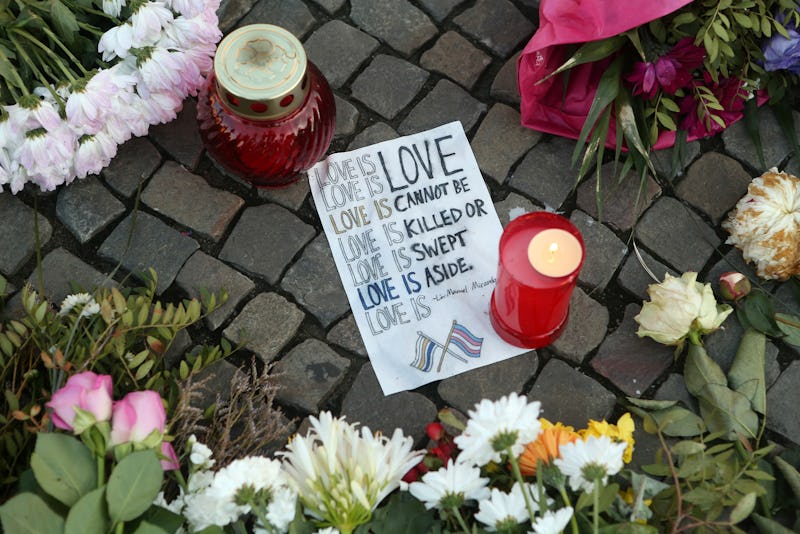 Adam Berry/Getty Images News/Getty Images
Hate crimes in the United States are certainly having a moment in the news, but it's not just a media trend. The FBI released its annual Hate Crime Statistics report, and the numbers show a disturbing trend: the number of hate crimes committed in 2017 rose by 17 percent compared to the number committed in 2016.
In its press release on the subject, the FBI noted that 1,000 more agencies reported hate crime data in 2017 compared with 2016, so that contributes to the rise in numbers. However, the numbers are still stark. Across the country, law enforcement agencies reported 7,175 hate crimes to the FBI's Uniform Crime Reporting Program (UCR), compared with 6,121 in 2016. That averages out to almost 20 hate crimes in America, every day of the year.
Before counting hate crimes, though, it's necessary to define them first. The FBI defines a hate crime as "a traditional offense like murder, arson, or vandalism with an added element of bias." The bureau even defines exactly what kind of bias that refers to; specifically, a hate crime is a "criminal offense against a person or property motivated in whole or in part by an offender's bias against a race, religion, disability, sexual orientation, ethnicity, gender, or gender identity."
In the same definition, though, the FBI also makes it very clear that "hate itself is not a crime—and the FBI is mindful of protecting freedom of speech and other civil liberties." There's nothing illegal, then, about the existence of the groups that regularly show up on the Southern Poverty Law Center's (SPLC) Hatewatch blog, or the speech of the people in those groups — as long as that speech doesn't turn into acts that violate other people or their property.
As the report makes clear, though, more and more people have indeed let hate speech lead to hateful acts. According to the report, about 60 percent of the hate crimes came from a bias against race, ethnicity, or ancestry. Another 20 percent came from a religious bias, and about 16 percent were about sexual orientation. Almost 50 percent of those in the race category were committed against black people; about 60 percent of those in the religion category were committed against Jews.
After the spree of what appeared to be hate crimes in late October — the mail bombs sent to Trump critics, the Pittsburgh synagogue shooting, and the attack on two black people at a grocery store in Kentucky — numerous critics claimed that President Donald Trump's often violent rhetoric had contributed to the actual violence, according to The Washington Post. Trump has brushed those claims aside, and the FBI's report makes no attempt to figure out the cause of the rising number of hate crimes — but expert opinions keep coming back to Trump.
"The hateful rhetoric spewed by President Trump during his campaign and presidency has translated into real world violence against the communities he has targeted," says Heidi Beirich, director of SPLC's Intelligence Project, in a statement emailed to Bustle. "With rhetoric like this, it's not surprising that we continue to see a rise in hate crimes under this president."
Whatever the cause is, though, the problem is unlikely to disappear any time soon. While Politico reported in October that the Justice Department was putting together a website to make reporting hate crimes easier in response to the Pittsburgh shooting, that doesn't change the fact that it can be very difficult to prove motive in a crime. Thus, it can be very difficult to prove that any given crime was a hate crime, according to CNN. The Washington Post wrote that this is the third year in a row that hate crimes have gone up — so at the very least, it's something that the FBI is putting more and more work into.