Here's Why The FCC Just Temporarily Shuttered Alex Jones' Main Radio Station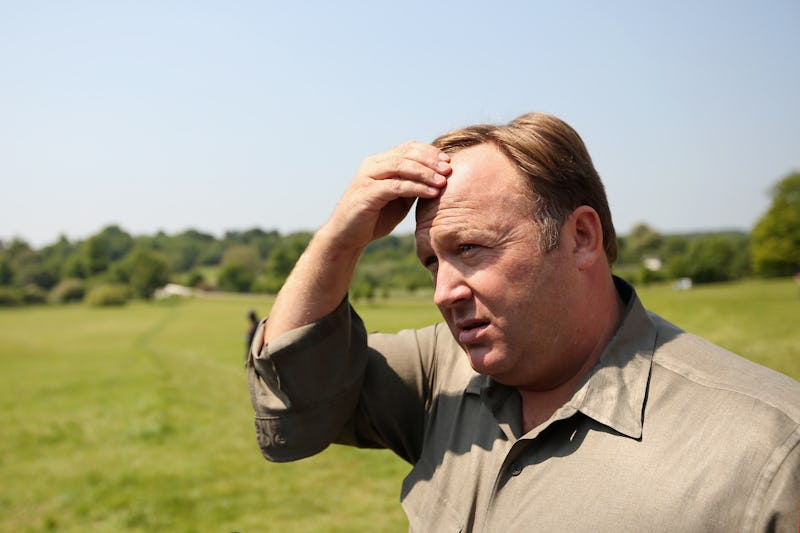 Oli Scarff/Getty Images News/Getty Images
The legal trouble surrounding InfoWars doesn't seem to stop at conspiracy theories. This week, according to the Austin American-Statesman, the FCC shut down Liberty Radio, Alex Jones' flagship station — at least temporarily — for apparently operating at 90.1 FM without federal consent, starting in 2013. The FCC also dropped a $15,000 fine on the station operators, which they are reportedly refusing to pay. The defendants have maintained they're not subject to FCC jurisdiction.
Liberty Radio actually stopped broadcasting on the air in December, according to its website. It still posts a weekly schedule of The Alex Jones Show, and other programs belonging to InfoWars contributors likeWar Room with Owen Shroyer and Real News with David Knight. Listeners can tune in through the online stream, or via a call-in listen line. "We are committed to spreading the word of truth," reads the Liberty Radio website.
An FCC investigation found that Liberty Radio was allegedly being operated without a license since at least 2013, out of an apartment building owned by an entity linked to Walter Olenick and M. Rae Nadler-Olenick. Both Olenick and Nadler-Olenick are listed as defendants in the suit. When the FCC first sent them a warning letter to stop broadcasting in September, 2013, the pair "asserted without any support that they are not subject to the jurisdiction of the FCC," according to court documents.
The letter, which Olenick and Nadler-Olenick apparently sent to the FCC as well as other federal and state officials, asked investigators to "kindly never bother us with your harassment under color of law and office again." It also warned that any FCC agents found at the apartment complex in the future would be considered trespassers.
In 2014, the FCC issued the Liberty Radio operators a forfeiture order, which levied a $15,000 fine for "repeatedly and willfully" operating a pirate radio station. The order gave them 30 days to pay, but according to court documents, Olenick and Nadler-Olenick responded, "We decline your offer, as we have from the outset, and we will forever decline your offer."
Left with little choice, the FCC reportedly turned the case over to the Justice Department and filed to sue Liberty Radio this month in federal court. No trial date has been set.
Recently, Jones has been banned from Facebook, as well as multiple streaming platforms including Youtube, Spotify, and iTunes, for peddling fabricated, and often incendiary conspiracy theories. All of the sites he was banned from cited violations of hate speech policies in Jones' content. Reports highlighted Jones' dehumanizing language against Muslim immigrants and transgender people, and user complaints of Jones' "glorifying" attitude toward violence.
Then on Wednesday, Jones received a temporary suspension from Twitter, one of the last social media holdouts against censoring Jones' content. Twitter revoked his ability to send tweets or retweet for one week, as a punishment for breaking its rules on abusive behavior.
Last week, facing criticism for not banning Jones, Twitter CEO Jack Dorsey said, "He hasn't violated our rules. We'll enforce if he does."