The Website Shipping Abortion Pills To The US Is Already Under Investigation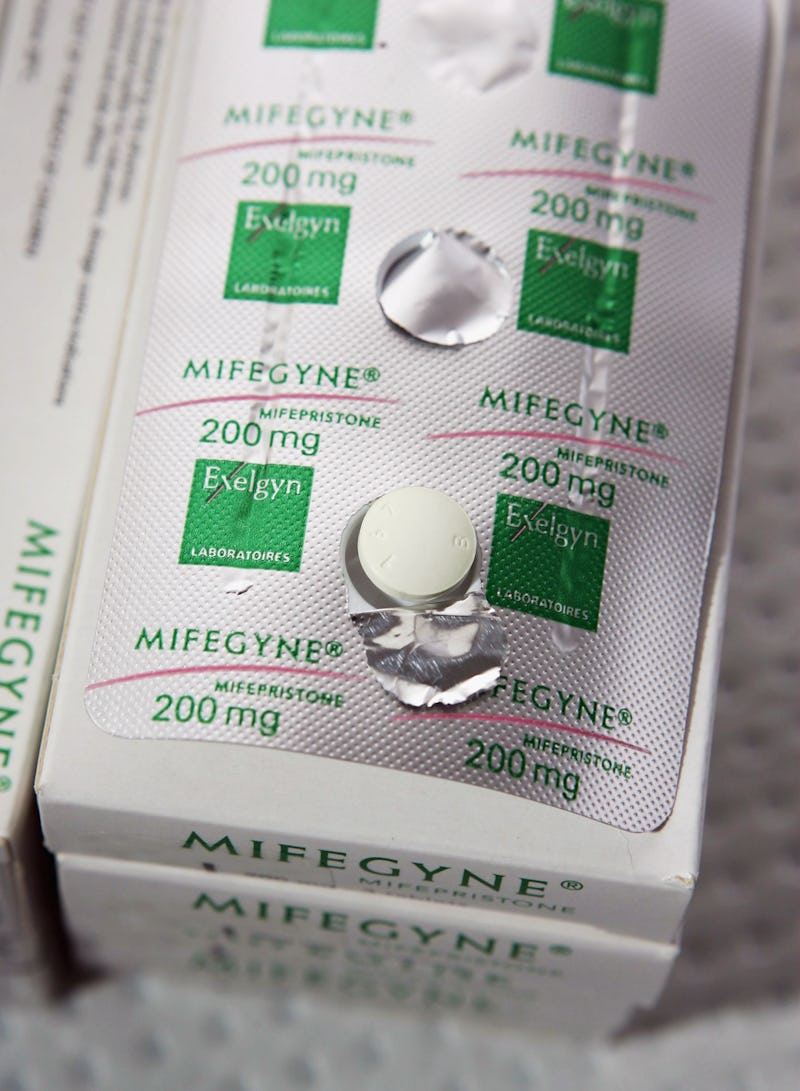 Phil Walter/Getty Images News/Getty Images
Earlier this month, it was reported that a website had quietly launched with the intention of selling abortion-inducing medication to women in the United States six months ago, after receiving what the website's founder called an "overwhelming" number of requests from women unable to access the drugs on their own. But now, the Food and Drug Administration (FDA) launched an investigation into Aid Access, The Daily Beast reported on Monday.
As Bustle previously reported, Women on Web founder Dr. Rebecca Gomperts began Aid Access with little fanfare in April. Women who pass the site's online screening process are then able to purchase misoprostol and mifepristone, two drugs used in conjunction to facilitate a medication abortion, for $95 and to Skype with Gomperts or call a help desk if they have questions.
What's more, Gomperts said that Aid Access consultation and distribution process is completely legal. In fact, she told The Atlantic that the FDA allowed medications to be imported for personal use. But the FDA tells Bustle that mifepristone is not legally able to be sold online in the United States, and that they take reports of a potential violation seriously.
"The agency takes the allegations related to the sale of mifepristone in the U.S. through online distribution channels very seriously and is evaluating the allegations to assess potential violations of U.S. law," the FDA says in an emailed statement. Bustle has reached out to Aid Access for comment.
In an effort to ensure a medication's benefits outweigh its risks, the FDA sometimes establishes a safety program that they call a "Risk Evaluation and Mitigation Strategy (REMS) for certain drugs. These programs are, according to the FDA, "designed to reinforce medication use behaviors and actions that support the safe use of that medication."
The FDA tells Bustle that it had previously determined that a REMS was necessary to ensure the safe use of mifepristone, sometimes known as Mifeprex, the drug's brand name. "These REMS restrictions have been in place continuously since the U.S. approval of Mifeprex in 2000," the FDA says.
According to the FDA, Mifeprex's REMS included certain distribution restrictions, such as the condition that it be supplied directly to qualified health care providers only. "As required by the REMS, Mifeprex is only available to be dispensed in certain health care settings, specifically, clinics, medical offices and hospitals, by or under the supervision of a certified prescriber," the agency tells Bustle. "Mifepristone, including Mifeprex, for termination of pregnancy is not legally available over the internet."
On its website, the FDA has a bold warning, urging visitors not to buy Mifeprex over the internet as they "bypass important safeguards designed to protect your health (and the health of others)" in doing so. "Drugs purchased from foreign Internet sources are not the FDA-approved versions of the drugs, and they are not subject to FDA-regulated manufacturing controls or FDA inspection of manufacturing facilities," the agency warns.
But a number of medical groups and reproductive health experts have disagreed with the restrictions and conditions the FDA has put on mifepristone, according to The Daily Beast. Experts gathered as a Mifeprex REMS study group called the drug "over-regulated" in a New England Journal of Medicine column and urged the FDA to "unburden" it.
Although a medication abortion typically involves both mifepristone and misoprostol, abortions can be induced by misoprostol alone without the mifepristone, which stops the production of progesterone — making the induced abortion more successful. (Per the International Women's Health Coalition, the use of misoprostol alone to induce a first trimester abortion is 75-85 percent successful.) A 2017 study published in Obstetrics & Gynecology found that there was no difference in safety between women who received medication abortion with a doctor in-person versus women who received it through telemedicine. A 2015 study also published in Obstetrics & Gynecology found that the major complication rate for medication abortion was 0.31 percent, putting it at about the same complication rate as a routine colonoscopy.
It's unclear exactly what stage the FDA's investigation into Aid Access is currently at, or how the investigation might immediately impact the service. As of Monday, visitors were still able to begin a consultation for abortion pills on the Aid Access website.