The FDA Just Issued A Major Warning To Juul Labs & Other E-Cig Companies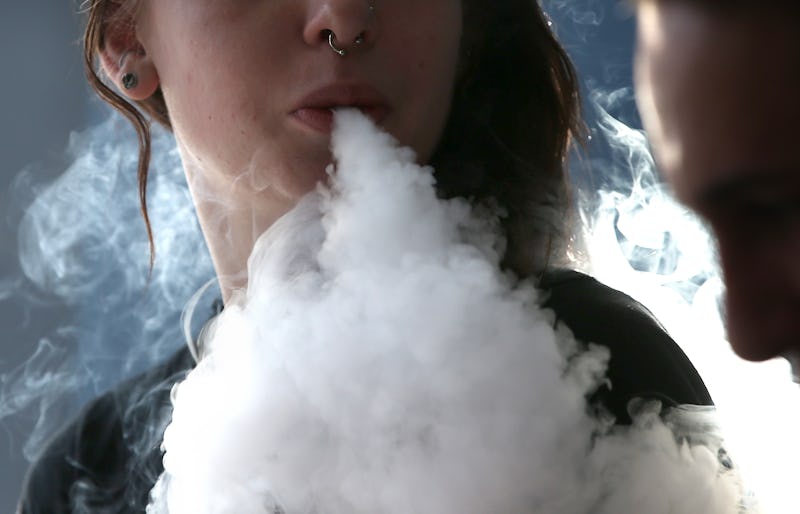 Justin Sullivan/Getty Images News/Getty Images
Federal regulators may pull vaping devices off the market if manufacturers don't do more to stop minors from using their products. The FDA warned Juul labs and other e-cigarette makers that children and teenagers continue to use their popular vaping devices, and the problem has reached "epidemic proportion," Bloomberg reports. According to The New York Times, the FDA on Wednesday told Juul Labs and four other e-cigarette makers they have 60 days to prove they can keep their products away from minors, otherwise the agency will pull the products off store shelves. This summer, the FDA sent the warning letter to both makers and sellers of e-cigarettes, says The New York Times, including 1,100 retailers such as 7-Eleven stores, Walgreens, Circle K convenience shops, and Shell gas stations, and issued 131 fines for selling e-cigarettes to minors.
"E-cigs have become an almost ubiquitous — and dangerous — trend among teenagers," FDA Commissioner Scott Gottlieb said in a statement to CNBC. "The disturbing and accelerating trajectory of use we're seeing in youth, and the resulting path to addiction, must end. The FDA cannot tolerate a whole generation of young people becoming addicted to nicotine as a trade-off for enabling adults to access these products."
E-cigarettes have been marketed as an alternative to "combustible cigarettes," Bloomberg reports. E-cigarette users don't inhale as many toxic chemicals as cigarette smokers do, says The New York Times, but they can sometimes take in higher levels of nicotine. Traditional cigarette-smoking kills 480,000 people annually in the U.S., and Gottlieb has stated numerous times that he believes e-cigarettes might be an effective way for adults to curb their nicotine cravings while they stop smoking, The New York Times reports.
According to CNBC, the FDA was poised to embrace e-cigarettes as a smoking cessation tool for adults. However, says The New York Times, in light of teen e-cigarette use data, FDA support of the products has waned. The agency is reporting that more than two million middle and high school students regularly vaped last year, The New York Times reports. According to Bloomberg, the CDC supports that figure at 2.1 million teen e-cigarette users last year. "I have grown increasingly concerned around what we see as rising youth use in these products," Gottlieb said in an interview with Bloomberg, "and I'm disappointed in the actions the companies have taken to try to address this."
Gottlieb said he believes e-cigarette flavors "are one of the principal drivers" of teen use, CNBC reports. "We know that the flavors play an important role in driving the youth appeal," Gottlieb told CNBC. "And in view of the trends underway, we may take steps to curtail the marketing and selling of flavored products. We are actively evaluating how we would implement such a policy."
A Juul spokesperson told CNBC that they would work proactively with the FDA to respond to its request to keep its products out of the hands of minors. "Our mission is to improve the lives of adult smokers by providing them with a true alternative to combustible cigarettes," Juul said in a statement to Bloomberg. "Appropriate flavors play an important role in helping adult smokers switch. By working together, we believe we can help adult smokers while preventing access to minors, and we will continue to engage with the FDA to fulfill our mission."
The other four companies facing the 60-day deadline are RJR Vapor Co.'s Vuse, Altria Group's MarkTen, Imperial Grand's blu, and devices made by Logic.
Ultimately, it appears the FDA's goal is simply to keep minors from getting addicted to nicotine at an age when their bodies are highly susceptible to addiction. If manufacturers can work with federal regulators to ensure children and teens stay safe from addictive substances, then adults can still have access to their vaping devices.