'50 Shades Darker' Mid-Credits Scene Is A Must See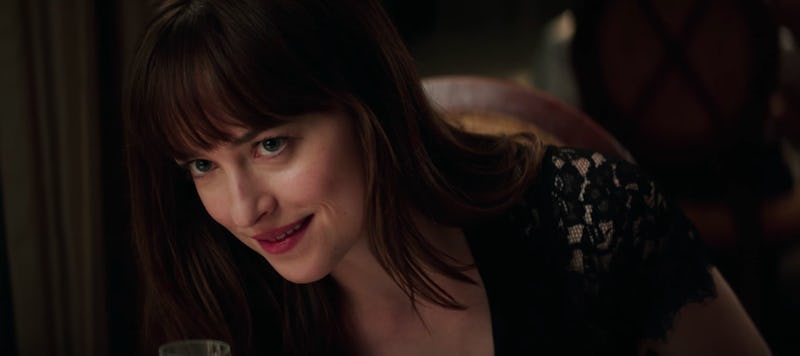 Universal Pictures
When I think mid-credits scene at the movies, I think of big superhero franchises. Made popular by the films of the Marvel Cinematic Universe (MCU), mid- or post-credit teases are now a staple of many Hollywood franchises, but most commonly associated with action films or superhero movies. Some, like Marvel's most recent film Doctor Strange, have two scenes hidden in the credits teasing at future films. Alas, Fifty Shades Darker, the sequel to the hit Fifty Shades of Grey, is not a superhero movie. The film has no reason for a post-credit scene to tease possible spin offs or future villains. What it does have is an upcoming sequel to complete the trilogy, and so Fifty Shades Darker has a mid-credits scene you won't want to miss, especially if you already can't wait for Fifty Shades Freed.
Stay in your seats during the credits of Fifty Shades Darker, and you'll see a sneak peek at Fifty Shades Freed, the third and (as far as we know) final film in the Fifty Shades series. Fifty Shades Darker and Fifty Shades Freed were filmed simultaneously, so the teaser actually has brand new footage from the upcoming film. The teaser is short and a bit choppy, so it's tough to piece together an actual narrative. What I can tell you is that (spoiler alert) the teaser includes close ups of Ana putting on her wedding veil (looks like Christian and Ana actually make it to the altar), what looks like a luxurious European vacation (perhaps a honeymoon?), and a menacing figure grabbing Ana (Jack Hyde?). One assumes, based on the ending of Fifty Shades Darker, that Jack is the one attempting to kidnap Ana, but knowing Christian Grey's past, it could be anybody. Fifty Shades Freed is set for release on Feb. 9, 2018, the trailer teases.
Before you mark your calendar for next year's Valentine's Day movie outing, here's what you need to know so that you don't miss the teaser when you head out to see Fifty Shades Darker. The teaser is very much at the mid-credits point, but if you don't like sitting through credits, don't worry, they made it fun for you. The Fifty Shades Darker end credits song is ZAYN and Taylor Swift's "I Don't Wanna Live Forever," and they let the entire thing play before the teaser. So, when Fifty Shades Darker ends, just sit back, relax, and enjoy a hit pop song to the fullest.
By the time "I Don't Wanna Live Forever" is over, you'll be watching a teaser for Fifty Shades Freed. February 2018 cannot come fast enough.