The 'Everything, Everything' Trailer Is Here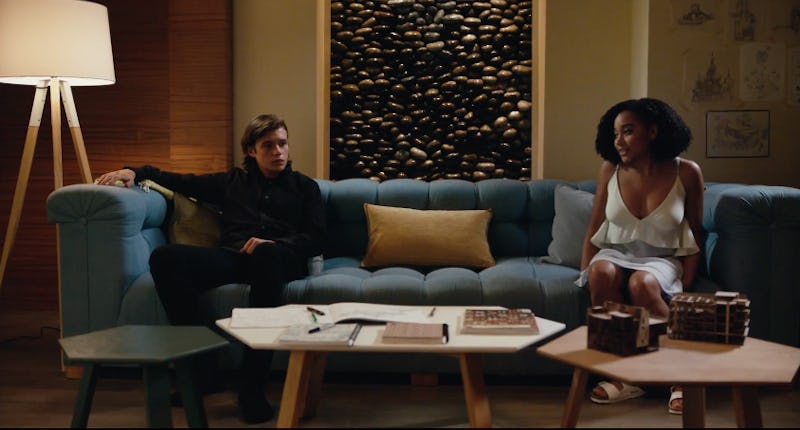 YouTube
The first trailer for the film adaptation of Nicola Yoon's Everything, Everything is here, and it's looking primed to induce swoons and tears alike. It has all the workings of a modern teen romance, including the fatal, tragic acknowledgement that life is too short to not embrace... like, literally, because half of our couple is sick. But there's a beauty in this sneak peak that really shines through in their courtship, and that yearning to experience one perfect day.
Amandla Stenberg (Hunger Games' Rue all grown up) portrays captive heroine Madeline Whittier, a teenage girl confined to her home because of an immunodeficiency. One day a dreamy, long-haired bundt-wielding new neighbor moves in, ready to change her world. His name is Olly, and, despite Madeline's mom's disapproval, he begins to pursue her. It all starts with a series of flirtatious texts, and then the game changes when Maddy's nurse Carla lets him into the nearly-quarantined house. Though it progresses to actual kissing and recreational hanging out, Maddy's mom tries to put a stop to it. So what's bound to happen next?
Well, Maddy basically takes control of her life and tries to run away with Olly. Driven by her desire to see the ocean, the two fly off and do a deep dive into some seriously picturesque aquamarine waters. But, as to be expected, Maddy's illness rears it's ugly head, making us wonder if it's all really worth the risk?
Everything, Everything seems to argue loudly "yes."
Seriously, even from this snippet and all the glass dividing them, you can see the cuteness and chemistry between Maddy and Olly. This dude pastes a multitude of oceans to her wall just so she's not deprived of that sight. If you want anyone to break you out of your shell (or new-age anti-germ house), it's that guy.
But really it seems to work as a good coming-of-age-story, because Maddy has to find it within herself to pursue her fantasies of exploring the world, of knowing what it actually is live your life... even if it kills her. Again, the tragic Romeo and Juliet undertones are definitely there, but you'll still find yourself rooting for this couple and really rooting for Maddy to become her own person.
The movie hits theaters May 19, and you can check out the exclusive photo above and watch the sweet but slightly sad trailer for yourself below.