Rashida Tlaib & Ilhan Omar Are Officially The First Two Muslim Women Elected To Congress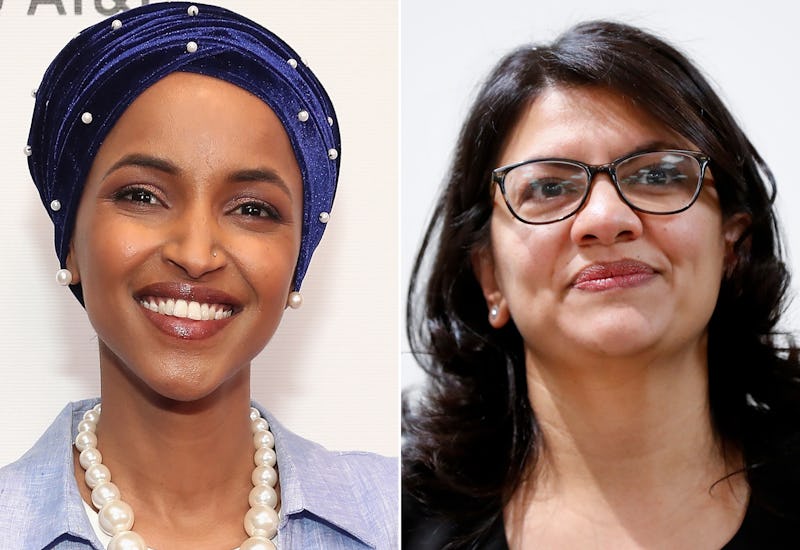 Astrid Stawiarz/Getty Images for Tribeca Film Festival / Paul Sancya/AP/Shutterstock
The 2018 midterm elections brought voters some of the most diverse candidates they've ever seen. In Georgia, Texas, and Virginia, for example, gubernatorial races included a black woman, a lesbian, and an openly transgender individual, respectively. Meanwhile, all across the country women ran for local, state, and Congressional offices in record numbers. Among the historic firsts brought to us by the 2018 midterm elections are Ilhan Omar and Rashida Tlaib, two Democrats who will become the first Muslim women in Congress come January.
In Michigan, Tlaib beat Detroit City Council President Brenda Jones to win a seat representing the state's 13th Congressional District. Although Tlaib, who is also the first Palestinian woman to have won a seat in Congress, was initially running unopposed, Jones challenged her by launching a last-minute write-in campaign just one week before Election Day.
Further west, Oman bested Republican Jennifer Zielinski in Minnesota to win Rep. Keith Ellison's seat representing the state's 5th Congressional District. Along with being one of the first Muslim women to serve in Congress, Oman is also the first Somali-American woman to have ever been elected to Congress.
Both women are set to be sworn in come early January.
Rashida Tlaib
Tlaib's win was the first to come in Tuesday night, making her technically the first Muslim woman in U.S. history to be elected to Congress. Representing Michigan's 13th Congressional district, she will be replacing Rep. John Conyers.
Conyers, also a Democrat, announced his resignation last December, in the wake of multiple sexual harassment allegations (Conyers denied the allegations.)
Ilhan Omar
Omar's successful bid for Congress was confirmed by the AP shortly after 8:30 p.m. She acknowledged her win shortly before 10 p.m. in a tweet. "We did this, together," she wrote. "Thank you!"
Omar's win is significant, but it's important to note that this isn't her first foray into politics. In 2016, she was elected a Democratic–Farmer–Labor Party member of the Minnesota House of Representatives, making her the first Somali-American, Muslim legislator in the United States.
After her victory was announced, Omar also congratulated Tlaib, tweeting, "Congratulations to my sister @RashidaTlaib on your victory! I cannot wait to serve with you, inshallah. 🙏🏾"
There were a number of contentious races in November's midterm elections, many of which garnered national attention. But regardless of the turnout, history was made only several hours into the evening.
At a campaign event earlier this week, Tlaib framed the election as an opportunity to combat Trump administration policies, according to The Detroit News.
"This is the time that we get to vote out hate," she said, "and the way we do it is by electing people like us into places where we make decisions right now, to push back."
Morgan Brinlee contributed to this report.