An Ex-USA Gymnastics CEO Was Arrested On Charges Related To Larry Nassar's Abuse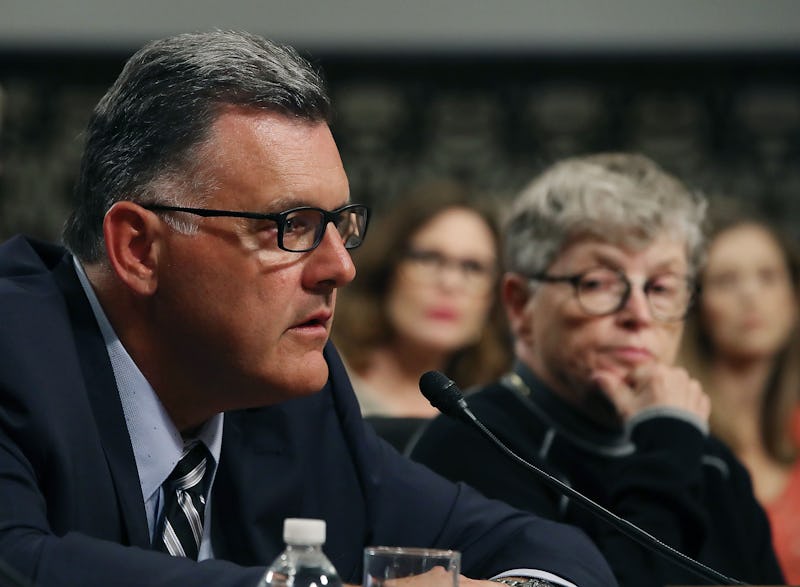 Mark Wilson/Getty Images News/Getty Images
The bad publicity for USA Gymnastics just keeps rolling in. A day after the organization's interim CEO resigned, former USA Gymnastics CEO Steve Perry was arrested on felony charges while on vacation with his family in Tennessee.
Perry stands accused of having tampered with evidence in relation to the case of former team doctor Larry Nassar. According to The New York Times, a grand jury in Texas indicted Perry at the end of September, and he was only just arrested when a team of U.S. marshals showed up at the home where he was vacationing with his family.
"Mr. Penny was arrested when a team of armored marshals suddenly arrived at a vacation cabin while he was sitting with his wife and three children," a lawyer for Penny said in a statement to Bustle. "If Mr. Penny had any idea he was sought in Texas, this would have been appropriately handled through counsel without terrifying his family. Mr. Penny has not and would not have attempted to avoid the service of process."
While the authorities are currently holding Perry in Tennessee, they will soon extradite him to Walker County, Texas, where the grand jury indicted him on the third-degree felony charge of evidence tampering, according to USA Today. Walker County is the location of the Karolyi Ranch, the gymnastics training facility owned and run by legendary gymnastics coaches Bela and Martha Karolyi.
According to the indictment documents, Penny is alleged to have removed documents related to Nassar and his work from the Karolyi Ranch, ABC News wrote.
"The indictment further alleges that the removal of the documents was done for the purpose of impairing the ongoing investigation by destroying or hiding the documents," the U.S. Marshals wrote in a press release, according to ABC News. The New York Times wrote that Penny had been informed about a coach overhearing a gymnast claiming that Nassar had sexually abused her, but that he didn't immediately pass the information on to the FBI and instead only carried out an internal investigation.
"Mr. Penny is confident that when all the facts are known it will be shown that he did nothing criminal," the statement from Penny's lawyer said.
Penny resigned as the CEO of USA Gymnastics in March 2017, after the organization had already been accused of negligence surrounding Nassar, according to The Indianapolis Star. The publication's monumental report on alleged rampant sexual harassment and assault of young, female gymnasts claimed that executives at USA Gymnastics knew about the problem, but failed to report it or act strongly to stop it. According to a separate IndyStar report, at least 358 gymnasts reported having experienced sexual misconduct over the previous two decades.
"USA Gymnastics has a long and proactive history of developing policy to protect its athletes and will remain diligent in evaluating new and best practices which should be implemented," Penny said in a statement to The IndyStar in 2016, when the paper released its first report. "We recognize our leadership role is important and remain committed to working with the entire gymnastics community and other important partners to promote a safe and fun environment for children."
Penny's arrest is far from the end of the story, as the fallout from the Nassar scandal still dogs the organization. Perhaps, however, it will come as a form of relief or vindication to survivors.