'The Fosters' Star Garrett Clayton Comes Out As Gay In A Powerful Instagram Post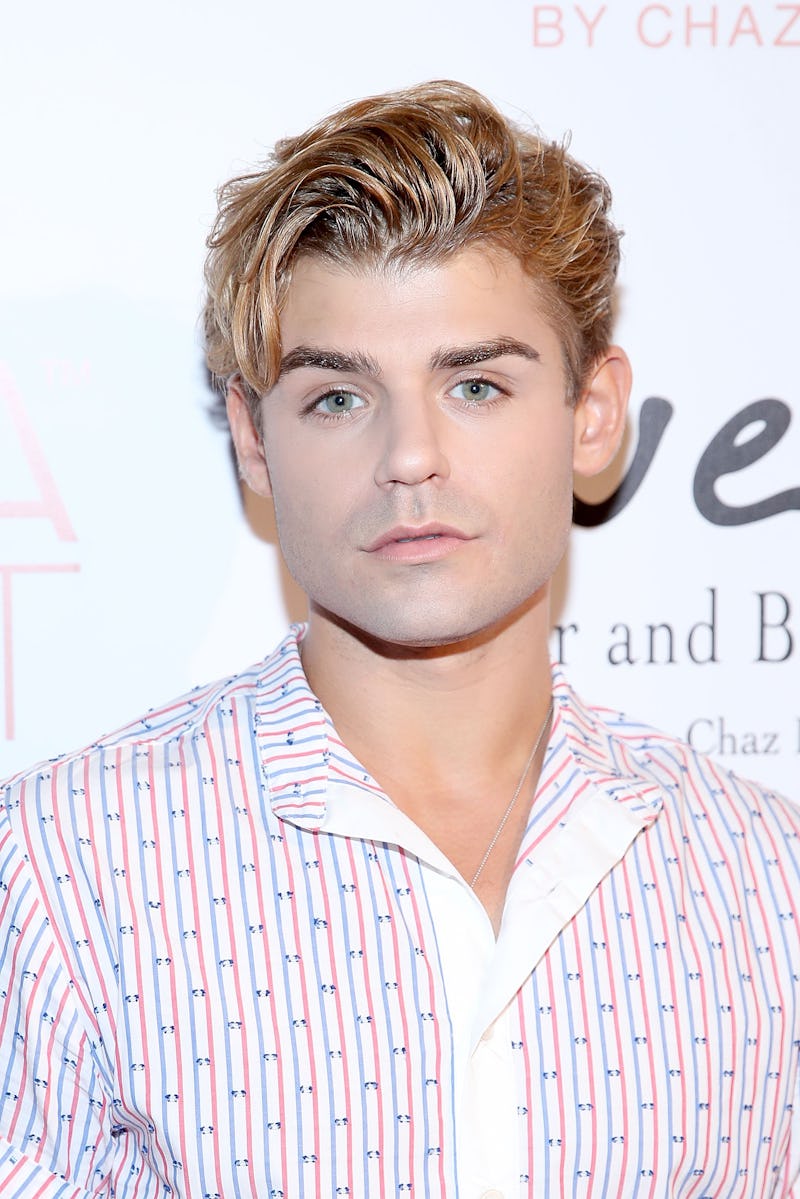 Randy Shropshire/Getty Images Entertainment/Getty Images
In an emotional Instagram post shared on Wednesday, Teen Beach Movie and The Fosters star Garrett Clayton came out as gay, and revealed to his fans that he is in a long-term relationship. The actor said that he was inspired by his role in the upcoming film Reach, in order to be open about himself and his personal life, as a way to hopefully help other people who are dealing with the film's themes of bullying and suicide.
Per People, Clayton plays teenager Steven Turano in the film, who is struggling with thoughts of suicide and is being bullied at school. Reach chronicles his growing friendship with his classmate Clarence (Liv & Maddie star Joey Bragg). In his Instagram post, Clayton wrote that the movie's themes were deeply personal to him and his partner, writer Blake Knight.
"When I read the script for REACH, I immediately knew it was a film I had to be a part of," Clayton — who played Chase in the first season of The Fosters — wrote. "I have personally dealt with suicide within my own family, intense bullying in high school, and — on top of it all — myself and the man I've been in a relationship with for a long time (@hrhblakeknight) have both experienced shootings within our hometown school systems, and have witnessed the heartache that takes place in affected communities after such tragic events."
The actor continued: "These topics — not always easy to discuss — are all close to my heart, and, knowing how serious they are, I wanted to share this with you all. This film has come from the perspectives of people who care deeply about these issues, and if watching it helps even one person... then it was all worth it."
Clayton also wrote in his post that he preferred to talk about these issues (and to reveal that he is in a long-term relationship with a man) on Instagram rather than in a formal interview setting as a way to get his message directly to his fans.
"I also prefer to share things that are particularly important for me here on my IG ... because you are the ones that have been rooting for me and following me on my professional and personal journey in life," he wrote.
Clayton also shared a photo of himself and his costars in costume on the set of Reach, alongside a snap of himself sitting in a car that looks a lot like the one that is featured in the film's trailer.
Shortly after Clayton shared his post on Instagram, his boyfriend, Knight, shared his own message of support on his social media accounts, praising Clayton's courage and talent, and sharing some adorable photos of the actor.
"So proud of @garrettclayton1 today! He's overcome a lot, and still has one of the biggest hearts of anyone I've ever met. Handsome, talented, hilarious, kind… what's not to love?!" Knight wrote about the Hairspray Live star. "It's been an awesome journey all over the world together so far, and I'm looking forward to many more years and trips and puppies and movies and naps and dinners and friends! I love you, Gary!"
Clayton also shared his moving post on Twitter, where he has also received a lot of love from fans. From The Fosters to Reach, fans are just excited to see what he does next.