The Founder Of Whole Women's Health On The Lasting Damage Of The Supreme Court Case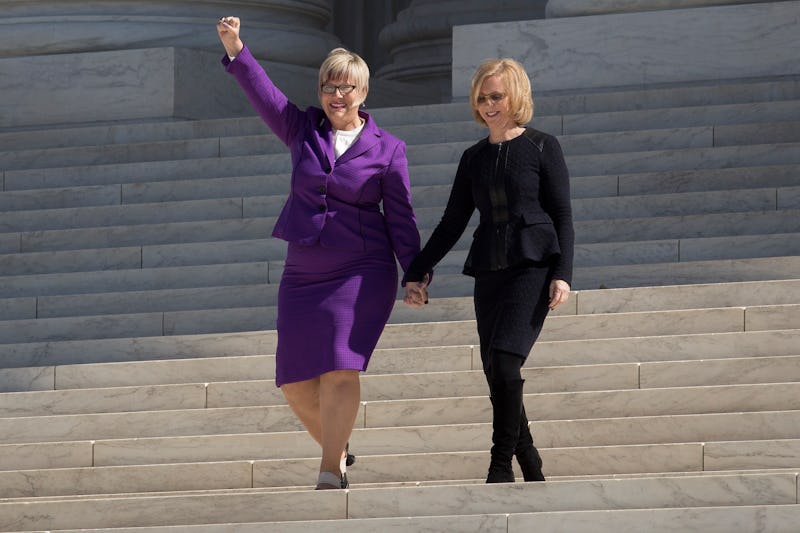 Drew Angerer/Getty Images News/Getty Images
Texas House Bill 2 (HB2) was signed into law by then-governor Rick Perry in 2013 in a blaze of national controversy after then-State Senator Wendy Davis famously attempted to block the legislation through a filibuster. HB2 required abortion providers to meet the same standards as ambulatory surgical centers and required doctors to have admitting privileges at nearby hospitals. These restrictions posed significant obstacles for existing Texas clinics, half of which closed after HB2 was passed. But in June, HB2 finally met its end with the Supreme Court's ruling in Whole Woman's Health v. Hellerstedt.
Justice Stephen Breyer, who wrote the majority opinion, argued that the new restrictions failed to provide "any benefit to women's health capable of withstanding any meaningful scrutiny." And on Thursday, in a symbolic victory for the plaintiffs, Whole Woman's Health announced its plans to reopen its flagship clinic in Austin, Texas.
Problem solved, right? Unfortunately, it's not quite that simple. The mass closure of women's health clinics in Texas is a significant problem, one that cannot be solved simply by the Supreme Court's decision.
After the Whole Woman's Health decision was released, the ACLU cautioned that many clinics may never reopen. "This law was litigated for three years, and in that time, we saw a lot of damage," ACLU Legal and Policy Director Rebecca Robertson said at a press conference. "Some of those clinics are likely not coming back. It sometimes takes years to rebuild access that we had before."
Moreover, after the law went into effect, the number of abortion clinics in Texas plummeted from 40 to 19. The small number of remaining providers is "absolutely not adequate" to provide care for the approximately 14 million women who live in Texas, Whole Woman's Health CEO and founder Amy Hagstrom Miller tells Bustle.
Unlike most hospitals, Whole Woman's Health clinics are both small and narrow in focus, providing comprehensive and holistic gynecological services to local women, according to their website. Being a small, localized clinic made adherence to HB2's hospital-level standards difficult, explains Miller. "For so many women and so many abortion providers," she says, "[HB2] was just the straw that broke the camel's back. There was no way that as a small, independent, community-based clinic that we could build a mini-hospital."
"Over the course of three years since HB2 passed, we had to let our leases go. ... We had to sell our buildings, our staff got different jobs. ... It's gone, so you're basically building from the bottom up."
Whole Woman's Health had to close clinics in Beaumont and Austin; reopening them is not merely a matter of showing up to work again on Monday.
"Over the course of three years since HB2 passed, we had to let our leases go," Miller says. "We had to sell our buildings, our staff got different jobs. ... It's gone, so you're basically building from the bottom up." The costs of rebuilding, which include hiring an entire staff and purchasing medical equipment, can be as much as $500,000, Miller says.
Because of the difficulties Miller mentions, the damage of HB2 is still arguably being felt. The fact that so many clinics in Texas remain closed, according to the Texas Tribune, perhaps permanently, is a sign that even overturned legislation can still cause lasting damage.
In the years since HB2 passed, maternal mortality (death caused by childbirth or by complications from childbirth) soared. Texas now has the highest maternal mortality rate in the developed world, according to the Guardian, which also notes that about half of Texas women lack access to OB-GYN care.
For people fighting to restore abortion access in Texas, the reopening of the Austin Whole Woman's Health clinic is cause for hope. But even with this positivity, it's clear there is so much more needed to undo the impact of HB2.