5 Awesome 'Fresh Prince of Bel-Air' Crossover Episodes You Totally Forgot About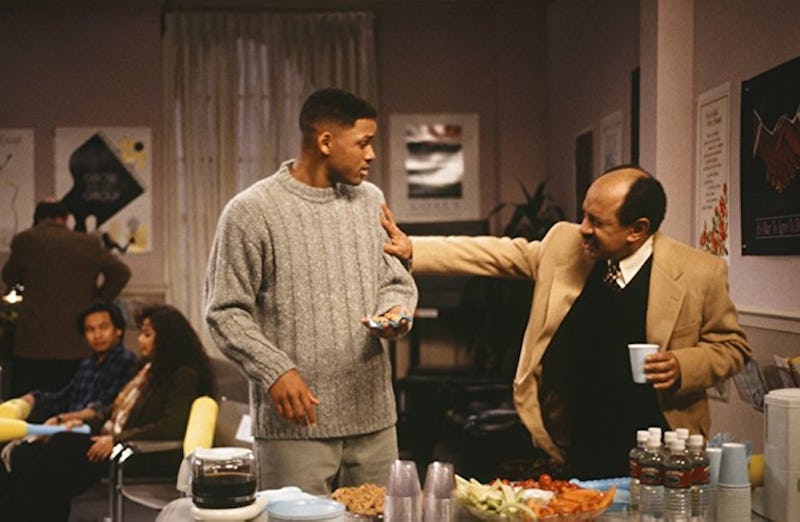 NBC
Who doesn't love a good TV show crossover? There's nothing sweeter than seeing fictional friends in new settings and interacting with characters from other shows. And whether they were an episode-long team-up or just incorporated a subtle nod to another series, The Fresh Prince of Bel-Air crossover episodes were always events to look forward to. Sitcom crossovers were popular in the '90s — just think of all the times TGIF characters met up — but chances are you don't remember or maybe didn't realize that all the Fresh Prince episodes technically fall into that category.
Whether he was in West Philadelphia or with his cousins in Bel-Air, Will is funny, charming, and always finds his way into — and then out of — some pretty zany adventures. The perfect complement to his eccentric personality were those of his wealthy extended family members, which include the nerdy, but lovable Carlton, the high-maintenance, shopaholic Hilary, the quintessential carefree black girl Ashley, his together Aunt Viv, and the always-wise Uncle Phil. (And who could forget their sardonic butler, Geoffrey?)
And together this Bel-Air bunch formed one of the most influential black TV families of the '90s. So it's no surprise that plenty of other sitcom shows got involved with the spirited California characters back in the day. Here are five throwback Fresh Prince of Bel-Air crossover episodes you may have forgotten about.
1. The Fresh Prince Meets Blossom
In her '90s NBC series, Mayim Bialik starred as Blossom Russo, a highly intelligent and sassy teenager living with her divorced musician father and two brothers. During Season 2 of the show, Will appears in an episode titled "I'm with the Band" under his rap stage name, The Fresh Prince, much to the delight of his biggest fan, Blossom. Additionally, Hilary (Karyn Parsons) scores a date with Blossom's brother Tony in that same season.
2. Hilary Banks Goes Out All Night
Though the show only lasted one season, Out All Night starred legendary soul singer Patti Labelle as a former singer named Chelsea Paige, who opens a Los Angeles nightclub named "Club Chelsea." Parsons, appearing as her Fresh Prince character Hilary, guest-stars on the show in a episode titled "The Great Pretender."
When the immature Vidal, one of Club Chelsea's surrogate employees (played by Duane Martin) spots Hilary at the club, he makes it his mission to ask her out. But after he discovers that she's sick of dating immature, vapid men, he passes himself off to Hilary as a successful businessman and manager of the club, much to the amusement of Chelsea.
3. Carlton & Ashley Were In The House
In The House and Fresh Prince were both executive produced by Winifred Hervey, David Salzman, and Quincy Jones. The show starred LL Cool J as Marion, a former professional football player who goes broke and is forced to rent out the rooms in his house to newly divorced single mother Jackie Warren (Debbie Allen) and her two children, Tiffany (Maia Campbell) and Austin (Jeffery Wood).
Fresh Prince's Carlton (Alfonso Ribeiro) and Ashley (Tatyana Ali) appear in the Season 2 crossover episode titled "Dog Catchers," which finds friends Marion and Carlton discovering that a boy is dating both Tiffany and Ashley at the same time. Later that same season, Carlton and Ashley's father, Uncle Phil (James Avery), appears as a legal mediator to one of the characters in the episode "Love on a One-Way Street."
4. It's Will Vs. The Jeffersons
A Season 5 episode of Fresh Prince brought soon-to-be-newlyweds Will and Lisa (Nia Long) face-to-face with The Jeffersons' Sherman Hemsley and Isabel Sanford, reprising their roles from the 1970s hit. The crossover leads to plenty of "yo mama" jokes between the Will and Hemsley's George Jefferson. Fortunately, that appearance isn't the last the two would see of each other. In the Fresh Prince series finale, The Jeffersons return to buy Uncle Phil and Aunt Vivian's house, leading to another comedic exchange.
5. Diff'rent Strokes For Bel-Air Folks
The series finale of Fresh Prince also featured another dose of crossover power. When the family decides to move, Will shows the Banks' home to plenty of prospective buyers, including Arnold Jackson (Gary Coleman) and Mr. Drummond (Conrad Bain). Of course Will is a scatterbrained sales person, and his wacky sales pitches lead Arnold to give a variation of his classic Diff'rent Strokes catchphrase, "What'chu talkin' about, Will?"
Unfortunately, the The Fresh Prince of Bel-Air's finale in 1996 marked the end of the self-proclaimed California "prince" and the Banks family appearing on other series. But that shouldn't stop fans from celebrating all of the magic that once was The Fresh Prince of Bel-Air creative crossovers.