The 'Game Of Thrones' Spinoffs Won't Actually Happen For Years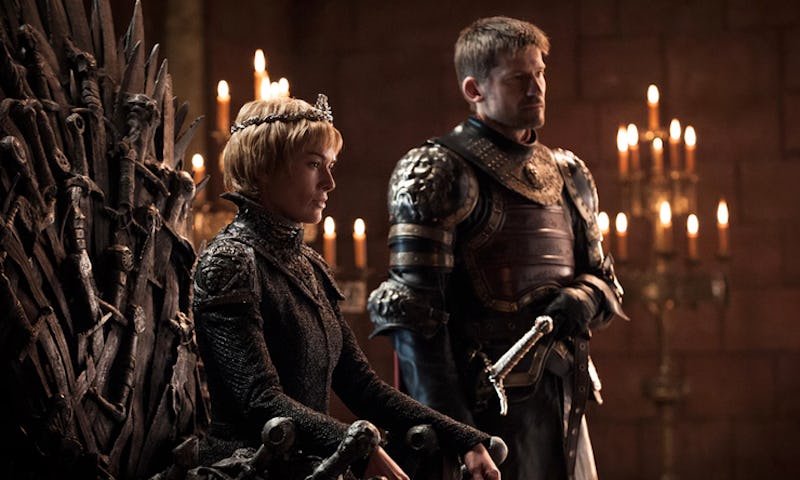 Helen Sloan/HBO
Game of Thrones' final two seasons are set to air within the next two years, but don't expect to be watching those Game of Thrones prequel spin-offs right after that. HBO's president of programming, Casey Bloys, recently spoke to The Hollywood Reporter and revealed that none of four prequel series will be coming until long after the hit HBO show wraps. Yes, long after.
When asked if any of these other works will be making their way to the small screen in the next few years, Bloys responded, "No way." He went on:
"The only thing that will be Game of Thrones related on the air will be season seven and season eight, and then it will be a good long while if and before anything [new] gets on the air. Again, I say that only because I think when we confirmed the [prequels'] existence — that we were exploring this — that read to the general public that, 'Wow, these are far along.' We were just confirming it so people didn't speculate."
THR reported back in May that writers from the show claimed to have at least four different follow-up series for Game of Thrones in the works, but it's pretty clear now that they won't all make it to production. And that even the ones that do won't immediately be available to fill the television void the finale will leave behind.
Then again, since it will tough not getting to watch some of our favorite character deliver epic one-liners all while duking it out for the Iron Throne, a break from the show isn't exactly the most devastating thing in the world. Not to mention that Game of Thrones has set a pretty high bar for itself, and it'd be pretty disappointing if any spinoff doesn't live up to that, which is another point that Bloys made.
He compared the show to Who Wants to Be a Millionaire, saying,
"I think overdoing it — like having multiple shows — there's a risk of diluting the quality and driving it into the ground. I have no interest in doing that. But it would be nice if we got one of these off the ground and it ran for multiple seasons."
So don't hold your breath to see more of Jon Snow after Season 8 — or even more of Westeros at all. Game of Thrones has more stories left to tell, but we'll need the time between the series and the spin-offs to deal with our emotions, apparently.