How To Take Your Activism To The Next Level, According To The Organizers Of The "Gayest Bake Sale Ever"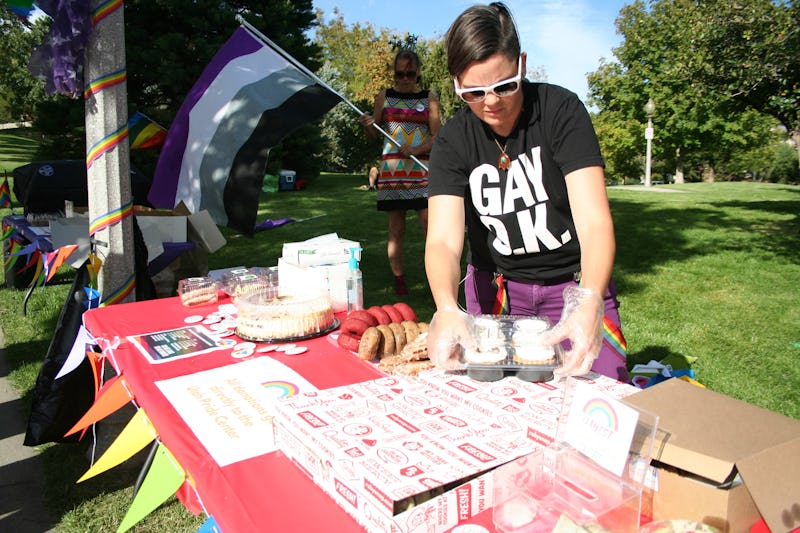 Courtesy of Kyli Rodriguez-Cayro/Bustle
Another freedom of religion versus civil rights debate has resurfaced in national news, due to yet another anti-gay discrimination case making its way to the Supreme Court. A Colorado judge determined that bakery owner Jack Phillips violated state law by refusing to create a custom wedding cake for two gay men in 2012. However, Phillips appealed to the high court, and will have his case heard by the Supreme Court this fall. Not only did the Trump administration file a friend of the court brief backing the baker, but so did the prominent Church of Jesus Christ of Latter-day Saints (aka the LDS or Mormon Church).
In response, queer Utahan activists Hillary McDaniel and Kat Kellermeyer organized the "Gayest Bake Sale Ever" in Salt Lake City to raise money for the Utah Pride Center, a non-profit organization that provides extensive services to Utah's LGBTQ community. The event shows how activism can go further than marches, and serves as a reminder that community is key to any social justice movement.
Taking cues from the "Queer Dance Party" held on Ivanka Trump's front lawn last spring, the Gayest Bake Sale Ever quickly transformed into an outright celebration for the LGBTQ community. People lined the side of the road with rainbow and LGBTQ-themed flags during rush hour traffic, and danced to a playlist chock full of iconic classics from Cher to Queen. "I think we are all exhausted from going out to rallies and marches," McDaniel tells Bustle. "Everything is under attack right now, and this is a light-hearted way to raise money for a very, very important issue."
Kellermeyer and McDaniel, who are both former members of the LDS church, strategically applied for their protest permit at City Creek Park, directly in the line of sight of the LDS Church office building. Salt Lake City is the Mecca of Mormonism and also, though it may seem contradictory, a popular hub for the LGBTQ community. There has been some contention between the LGBTQ community and LDS church, but activists like Kellermeyer and McDaniel are resiliently challenging the church's beliefs about the LGBTQ community, and fighting for their basic rights. When Bustle inquired as to why the organizers took up the fight against the church's actions, Kellermeyer says, "A couple weeks ago there was a huge [Love Loud] music festival ... The LDS Church came out in support of [the festival] and it was all to raise awareness about youth suicide in the LGBT community. We tried to encourage community and bridge-building."
But the support from the LDS church was short-lived. She tells Bustle, "...two weeks later, [the church] say 'yes, you have the right to live, but maybe not to cake'" in signing the friend of the court brief in support of the Colorado baker. "We set up [in front of the LDS church] because we really wanted them to know if they won't be here for the queer community, then we will be here for each other."
Kellemeyer says, "[These donations are] going to help fund a program for suicide survivors between ages 16 to 20, but we want to raise enough to give the Utah Pride Center a lockbox to expand the program, something they have already planned to do eventually for kids 10 to 15 years old." Kellermeyer tells Bustle she will publicly challenge the LDS church to match her and McDaniel's donation to the Utah Pride Center. She says, "Please take this opportunity to show the queer Utah youth that you care enough to do more than make solidarity statements at concerts, and offer prayers."
The queer activists hope their bake sale will inspire grassroots activists to hold "solidarity" bake sales across the United States. McDaniel tells Bustle, "We called it the 'Gayest Bake Sale Ever' because we wanted people to challenge us. So far, it's the gayest bake sale that's ever happened, but I think we can be outdone..." Hopefully, in the coming weeks, we will see LGBTQ communities rise to the challenge, and host a bake sale of their own to support at-risk queer youth.
The organizers of the bake sale show that activism doesn't have to take the form of a march or rally; it can be as simple as an organizing old-school bake sale. But if a bake sale is not your thing, try attending a panel discussion focused on civil rights, or even find a local concert that's fundraising for organizations you support. You can still take your activism to the next level without jeopardizing your mental and physical wellness by constantly marching or protesting.
You can make your own donation to the Utah Pride Center here.