Even Allowances Are Subject To The Gender Pay Gap, A New Report Suggests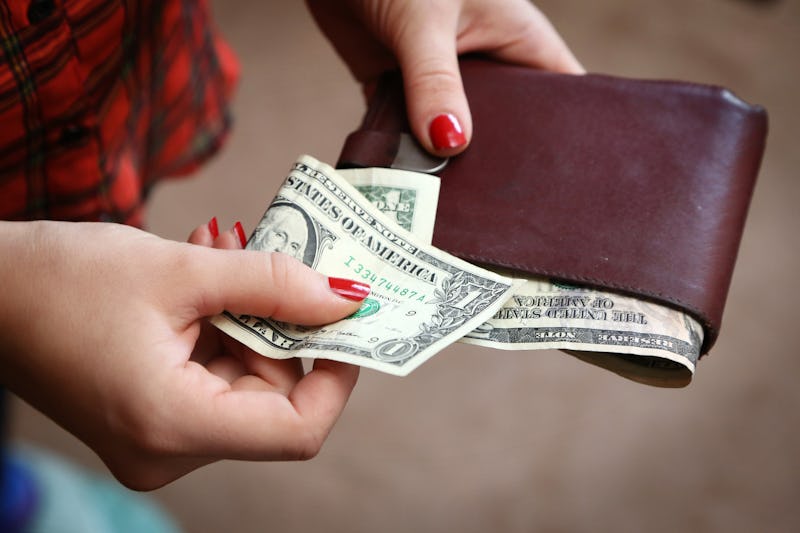 triocean/Fotolia
It's no secret that the gender pay gap is stubbornly persistent on a global scale. According to the Institute For Women's Policy Research, the gender pay gap in weekly earnings for full time U.S. workers was pretty static between 2016 and 2017, and improvement is slow to non-existent at this point — white women make about 20 percent less than their male counterparts on average, while women of color make even less, according to CNN Money. And now, new data from BusyKid, a mobile app and web-based platform that parents can use to track and distribute allowances for their kids, shows that it's possible that the gender pay gap might start in childhood.
CNN reports that, according to BusyKid, the average boy earned $13.80 in weekly allowance while girls only earned $6.71 — less than half of what boys earned each week. BusyKid CEO Gregg Murset told CNN that while parents probably don't intend to pay their kids unfairly, BusyKid's data shows that, at least via that platform, boys are earning more than girls. BusyKid also notes that boys are being given more opportunities to earn money than girls are, and that parents are placing a higher financial value on chores that are traditionally given to boys than those given to girls. According to BusyKid's analysis of how allowances are earned, spent, and saved, boys are earning more and spending more on themselves, while girls are earning less, and sharing more with charities.
Mursett also said via BusyKid's blog that "It was interesting and shocking to see how much of a difference in pay there was between boys and girls in our network." As a father of both daughters and sons, Mursett noted that "this is an important wakeup call for parents to be cognizant of what they are paying to make sure they are being as fair as possible."
HelloGiggles reports that in terms of bonuses awarded to kids for chores and projects completed, boys receive an average of about $17.01, while girls earn a total of two dollars less at about $15.54. This pretty stark discrepancy in how kids might be earning allowances and bonuses shows that the wage gap is entrenched pretty deeply in our collective psyche — and the impact of that inequality can be felt from even our earliest days.
It should be noted, of course, that this data just comes from people who are using the BusyKid app, so its findings may not be applicable to people who give their children cash allowances, for example. But it does provide some food for thought about how allowances are meted out, and who benefits from them.
CNN further notes that this centuries-old "de facto occupational segregation," — or how society views and values work typically carried out by men versus women — may be at the root of why parents, however unintentionally, might be upholding the gender pay gap at home. Murset said that there's "a difference when it comes to the types of chores that boys and girls typically do. Let's say cleaning the bathroom versus mowing the lawn." And chores that might be deemed more "difficult", like boys mowing the lawn, as opposed to girls cleaning the house or babysitting are rewarded with higher pay. But it could be argued that even qualifying mowing the lawn as more difficult than childcare, betrays a bias in how we view work, and what kinds of work are deemed most valuable, challenging, and thus deserving of greater financial reward.
On a positive note, Murset remarks via the BusyKid blog that "These findings can [...] be a great conversation starter for parents who might be looking for an opening on how to discuss the financial world with their kids." Murset encourages parents to open up a dialogue with their children — as given the fact that it's 2018 and we're still dealing with rampant wage gap inequality, there has never been a better or more urgent time to address the issues of fair pay, equal opportunities for women, and fair treatment in the workplace.