The Georgia Election Was A Victory For Democrats Before It Even Ended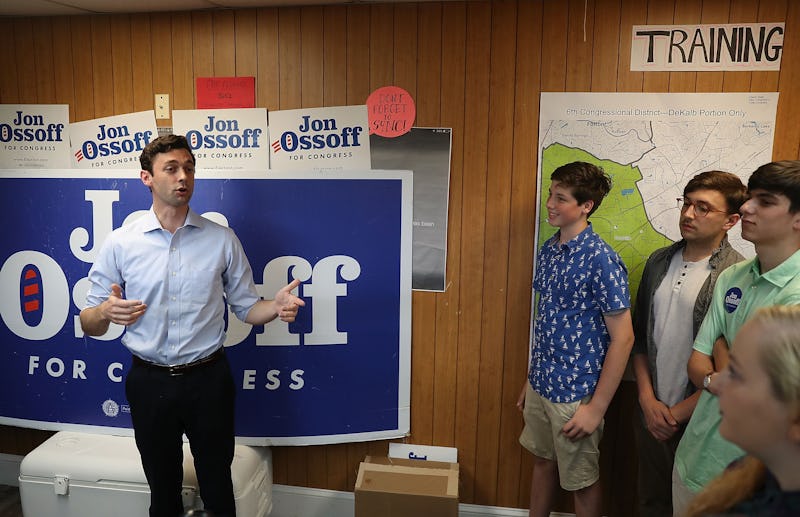 Joe Raedle/Getty Images News/Getty Images
Democrats saw a golden opportunity to transform Americans' increasing dissatisfaction with Donald Trump and Congressional Republicans into an electoral victory in Georgia's 6th district. But regardless of the outcome, Democrat Jon Ossoff's campaign provided a long-term model and new wave of hope for grassroots activists who are looking to 2018 and beyond.
Tuesday marks a special election to fill the Congressional seat previously held by Trump's Secretary of Health and Human Services, Tom Price. The seat has been reliably Republican for decades, but the district seemed less-than-enamored with Trump in the 2016 election. Although it went for Mitt Romney over Barack Obama by 23 percentage points in 2012, Trump only beat Hillary Clinton by a bit more than one point. And it's the most college-educated district in the country held by a Republican, which matters for what could be a Democratic plan for taking back power. (Clinton did especially well with well-educated voters.)
According to election experts, the race is far too close to call at the time of writing. Ossoff, the 30-year-old first-time candidate running as a Democrat, has been barely leading in some recent polls, though not by margins that anyone thinks are decisive. Both he and Republican Karen Handel have raised enormous amounts of money to the point of making this the most expensive House election in U.S. history.
Still, regardless of whether Ossoff snags the win, Democratic grassroots activists see it as an encouraging sign for the future of the party — and a model for how enthusiasm could be turned into real impact. "Frankly, this race should never have been competitive in the first place," Carolyn Fiddler, [olitical director for the Democratic organizing site Daily Kos, says in an email to Bustle. "Ossoff's success so far has Republicans frightened, regardless of the outcome of the special election on Tuesday."
Granted, future races won't have the same sort of national attention that the one in Georgia currently does — and the lack of an established Republican incumbent certainly increases the Democrats' odds. Kyle Kondik the managing editor of Sabato's Crystal Ball, a team of election experts at the University of Virginia Center for Politics, tells Bustle via email, "Realistically, the Democrats will probably need a few districts like GA-6 to win a majority, and it generally is easier to win an open seat than it is to beat an incumbent."
Nevertheless, activists are already trying to look forward from Ossoff's race, trying to figure out how they can use the things that made this race competitive to flip future Republican seats.
"The most important thing that we're learning is that every single race is in play today," Adrienne Lever, an organizer for Swing Left on the ground in Georgia, tells Bustle. "Regardless of the final outcome that we see this evening, the competitiveness of this race in Georgia has taught us that we cannot assume that any election is a given. Just because it's always been a traditionally safe Republican district doesn't mean we can't play there."
Lever admits that it will not be possible or Swing Left and other grassroots groups to devote the kind of resources to every race that they have in Georgia. But she thinks that the way they've organized people across the country to care about political can be replicable.
"Because, traditionally, so little money has been raised for these [House] races in comparison to Senate races, we can make a huge difference with a small amount of money," says Lever. "Right now, we've already raised 1.7 million for all of our district funds." She also points to the more than 200 phonebankers the organization has drafted around the country, which she hopes can be transferred to working on other races.
It's still very possible that the 6th won't go the Democrats' way. However, it is clear that grassroots activists are going to use this enthusiasm to pursue all sorts of other prizes around the country. There are going to be many more fights like this in the future, and it is clear they are just getting stared.