This Is The First Gerber Baby With Down Syndrome In The Contest's History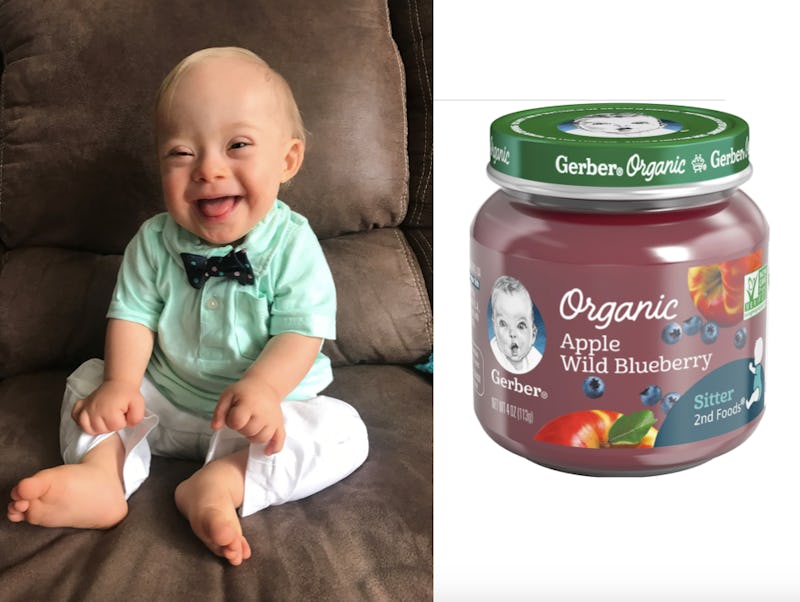 Courtesy of the Warren Family / Courtesy of Gerber
Baby food brand Gerber has been running its annual Gerber baby contest since 2010, and its 2018 spokesbaby is still breaking new ground. The brand announced Feb. 7 that its 2018 spokesbaby is one-year-old Lucas Warren, and he's the first Gerber baby with Down syndrome.
Lucas, who's from Dalton, Ga., was chosen out of more 140,000 entries, according to TODAY, after his parents posted a snap of him on Instagram with the contest's hashtag. The photo shows Lucas grinning at the camera, wearing a mint-green shirt, white pants, and a spiffy bow tie. His mother, Cortney Warren, told TODAY Lucas is just as extroverted in real life as he seems in his winning photo, saying he's "very outgoing" and "loves to play, loves to laugh and loves to make other people laugh."
Lucas's dad, Jason Warren, said he hopes Lucas's term as the Gerber baby will help other folks. "We're hoping this will impact everyone — that it will shed a little bit of light on the special needs community and help more individuals with special needs be accepted and not limited," he told TODAY. "They have the potential to change the world, just like everybody else."
Gerber CEO and president Bill Partkya told TODAY that Lucas's photo "captured the hearts of the Gerber team," and that, "Every year, we choose the baby who best exemplifies Gerber's longstanding heritage of recognizing that every baby is a Gerber baby."
"This year," he added, "Lucas is the perfect fit."
Though Lucas is a groundbreaker and though it's awesome for other kids with Down syndrome to see him as Gerber's spokesbaby, Cortney told TODAY she wants people to remember that "he's always Lucas first. He's got an awesome personality and he goes through milestones of every child."
According to the Centers for Disease Control and Prevention, around 6,000 babies are born with Down syndrome each year in the U.S., making Down syndrome the most common chromosomal disorder. But people with Down syndrome still face significant stigma. Activists and activists groups like the Canadian Down Syndrome Society (CDSS), with its recent "Anything but Sorry" campaign, aim to reduce stigma and make society more welcoming to folks with Down syndrome.
The "Anything but Sorry" campaign featured a series of videos offering people suggestions for what to say when an expecting parent reveals their child will be born with Down syndrome. Basically: People should say exactly what they would say if parents were expecting a child without Down syndrome.
Kirk Crowther, executive director of the CDSS, said the campaign was driven in part by feedback from parents of children with Down syndrome. "Parents are still contacting us saying that they just got out of hospital and they want some more resources or information from the CDSS but they've been home for two weeks and no one has said congratulations to them yet," he told Global News. He added that "congratulations from family and friends is the first step toward acceptance for new parents," the Global News reported.
Tammy Ives, the executive director of the Ability in Me program, told the Global News that a simple congratulations can have a huge impact. When her son was born with Down syndrome, the fact that people didn't know how to react was glaringly obvious to her. "They just didn't know how to respond, so I think it's an opportunity to say just be happy and congratulate us," she said. "I almost felt like I had to explain to people that it's OK, and we are excited about our son."
That's why Lucas being the face of such a major baby brand is so important. Yes, we get to spend a whole year being blessed with his adorable smile, but he's also increasing representation for people with Down syndrome and helping to break down stigma just by being himself.
Update: A version of this article misstated how long the Gerber Baby Photo Search has been running. It was updated on Feb. 7 to accurately reflect this information.