The Giant Lie The Trump Administration Is Telling About The Health Care Bill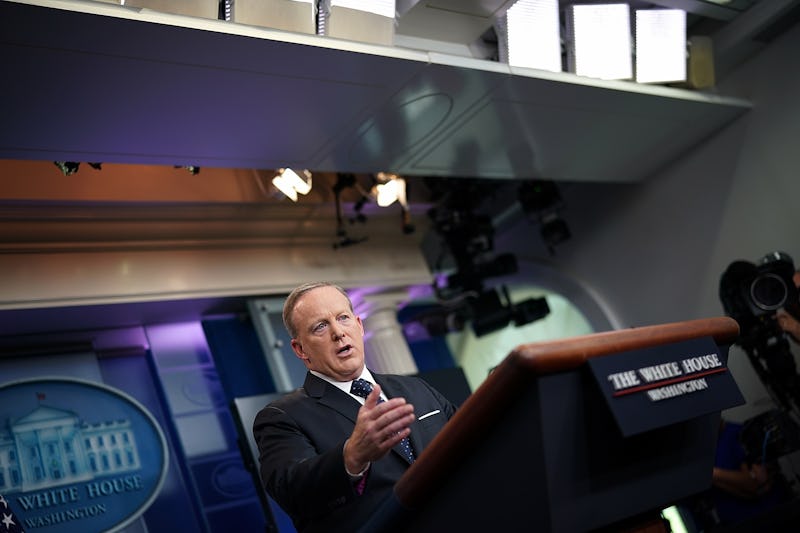 Win McNamee/Getty Images News/Getty Images
In an off-camera press briefing held Friday, White House Press Secretary Sean Spicer let slip what some have called the biggest lie the Trump administration has told about the Senate health care bill. Spicer told reporters President Donald Trump was "pleased" with how the Senate bill reflected his commitment to ensuring those on Medicaid are not affected "in any way" by health care reform legislation.
During a press briefing held at the White House on Friday, Spicer was asked if the Senate health care bill was the administration's "preferred vehicle" for pushing forward with Trump's campaign promise to repeal and replace Obamacare.
"I think the President is very supportive of the Senate bill," Spicer said. "He likes a lot of the reforms that have been in there. He's committed to making sure that no one who currently is in the Medicaid program is affected in any way, which is reflected in the Senate bill, and he's pleased with that. ... He wants to continue to push it forward."
Yet, contrary to what Spicer said, people currently enrolled in Medicaid would likely be dramatically affected by the Senate bill. In fact, many argue Senate Republicans' Better Care Reconciliation Act of 2017 makes even deeper cuts to Medicaid than the House's American Health Care Act by overhauling Medicaid spending.
Similarly to the House bill, the Senate bill calls for phasing out federal funding for Medicaid expansion by 2024. It also seeks to replace Medicaid's current system of open-ended entitlement funding with a per-capita cap that could have a major impact on coverage and benefits provided to Medicaid beneficiaries. Moreover, the Senate bill also outlines a plan to, beginning in 2025, tie federal funding for Medicaid to the nation's regular, or normal, rate of inflation rather than to the health care inflation rate, which is often much higher.
In essence, as the federal government reduces what it contributes to Medicaid, states will likely find it more difficult to finance the program. According to Kaiser Health News' Chief Washington Correspondent Julie Rovner, states may be forced to choose between cutting benefits to Medicaid beneficiaries, tightening eligibility requirements, raising taxes, or reducing reimbursements to health care providers.
While the Congressional Budget Office has yet to release an analysis of the Senate bill, similar Medicaid provisions outlined in the House bill were projected to result in more than $800 billion in federal funds being cut from Medicaid over the next 10 years. The CBO also estimated 14 million people currently covered by Medicaid would lose their insurance as a result of the House bill's changes.
Spicer isn't the only member of the Trump administration to claim the proposal to strip $800 billion from Medicaid outlined in the Senate bill is not actually a cut to Medicaid. "These are not cuts to Medicaid," White House Counselor Kellyanne Conway said Sunday during an appearance on ABC's This Week. "This slows the rate for the future and it allows governors more flexibility with Medicaid dollars because they're closest to the people in need."
But Democrats, many health care experts, and even some Republicans disagree. Republican Sen. Susan Collins, for example, disagreed with Conway's analysis of the Senate bill on ABC's This Week, saying the bill's potential impact on Medicaid was clear. "Based on what I've seen, given the inflation rate that would be applied in the outer years to the Medicaid program, the Senate bill is going to have more impact on the Medicaid program than even the House bill," Sen. Collins said.
Although it won't be made clear exactly how the Senate health care bill will impact those on Medicaid until the CBO scores the bill, there's little doubt that, as with the House' plan, millions of people stand to be affected.