You Might Get To Witness That Giant Trump Baby Balloon For Yourself Soon — Here's How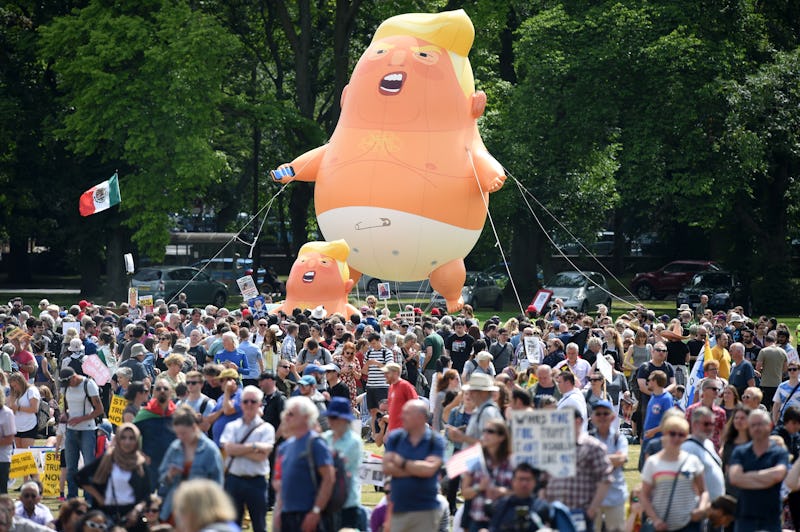 Jeff J Mitchell/Getty Images News/Getty Images
As the prank that officially refuses to go away, the giant Trump baby blimp from London just might make its way over to the States in the near future. A GoFundMe page has been created to raise money to buy an identical blimp to the one that was used to protest Trump's visit to London. In two days, it's surpassed its original goal of $4,500, reaching just under $6,000 in crowdfunded donations.
The GoFundMe page was created by a man named Didier Jimenez-Castro, who aims to bring the balloon to Bedminster, New Jersey, where Trump frequently plays golf. Jimenez Castro wrote,
I got together with local organizers and we agreed we need to bring Baby Trump to Bedminster where he plays golf on the regular. I contacted the manufacturer and now we are raising money to have one shipped to us. During an interviewed he mention he does not feel welcome with the Baby Trump in display and we need to get under his skin as much as we can. This account will be managed not just by me but by grassroots leaders who help put this together.
If Jimenez-Castro is looking to bother Trump, he might be onto something with an attempt to resurface the Trump baby blimp on the other side of the pond. In an interview with the British tabloid The Sun, Trump revealed that the blimp made him feel "unwelcome," though he didn't believe it to reflect the views of most Londoners.
He said to The Sun, "I used to love London as a city. I haven't been there in a long time. But when they make you feel unwelcome, why would I stay there? And when I say that I am talking about government because the people of the U.K. agree with me."
Trump continued, "Many people are delighted. I get thousands of notifications from people in the U.K. that they love the president of the United States. They want the same thing I want."
The Trump baby balloon almost didn't fly in London, as many suspected Mayor Sadiq Khan wouldn't approve of the unique form of peaceful protestation. But a week before Trump arrived in London, Mayor Khan approved of the blimp, and it flew above Parliament Square in London while Trump visited Britain.
Of the balloon, Leo Murray, an activist and the creator of the balloon, told The New York Times, "This is a victory. People love it, he hates it, and it's driven him out of London."
Adam Cottrell, another of the activists behind the protest, said to The New York Times, too, "He mocks and insults anyone who doesn't support him, so now he can see what it feels like."
Now, it's likely that the balloon could be making its way over to several cities in the United States, including Bedminster and even Philadelphia.
To The Philly Voice, Jimenez-Castro confirmed that the balloon is about to be made by the same manufacturer who made the one in London, and should be ready by about mid-August. Jimenez-Castro also confirmed that he's in talks with farm owners in Bedminser that live close to Trump's National Golf Club to fly it near the course.
After the balloon has been sufficiently flown over Bedminster, Jimenez-Castro said that he's been talking to several different groups and progressive candidates about taking the balloon on the road.
"We plan to go on tour to New York City and down the East Coast, [including a trip to Philadelphia]," he said. "We plan to reach out to progressive candidates there and down the coast."
Jimenez-Castro also took time to explain his efforts with the balloon. "At protests, we hope to engage in conversations with folks about how to combat the terrible policies enabled by Trump and how we can support new progressive candidates," Jiménez said to The Philly Voice, then added, "I believe I will get emails and threats about what I am doing, but I believe we need to have courage and stand up to fascism and hate."