The Girl Scouts Of America Sent A Letter Disapproving Of The Boy Scouts' Alleged Attempts To Recruit Girls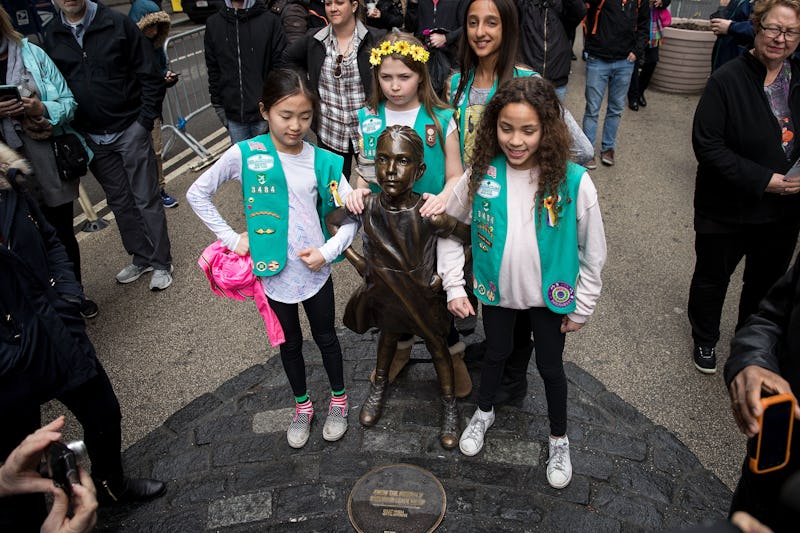 Drew Angerer/Getty Images News/Getty Images
In a strongly worded letter obtained by Buzzfeed News, the Girl Scouts has accused the Boy Scouts of secretly recruiting girls as a supposed means to increase membership and appease millennial parents. Bustle has reached out to both the Girl Scouts of the USA and Boy Scouts of America and has received confirmation of the letter from both organizations.
The letter, sent on Monday and published on Tuesday by BuzzFeed News, was sent by GSUSA President Kathy Hopinkah Hannan to Randall Stephenson, BSA's President, as well as the entire BSA board. "We were disappointed in the lack of transparency as we learned that you are surreptitiously testing the appeal of a girls' offering to millennial parents," Hopinkah Hannan wrote in the letter. "Furthermore, it is inherently dishonest to claim to be a single gender organization while simultaneously endeavoring upon a co-ed model."
Boy Scouts has seen a decline in membership in recent years, having dwindled by a third since 2000. Hopinkah Hannan appears to believe this is the motive behind the proposed programs writing: "Rather than seeking to fundamentally transform BSA into a co-ed program, we believe strongly that Boy Scouts should instead take steps to ensure that they are expanding the scope of their programming to all boys, including those who BSA has historically underserved and underrepresented, such as African American and Latino boys."
"The Boy Scouts of America believes in the benefit of single-gender programs," BSA's National Communications Director Effie Delimarkos said in a statement to Bustle. "But in evaluating the possibility of serving the whole family (something that has been reported on since April), we've been having conversations with our members and volunteers to see how to make Scouting accessible for families." Delimarkos clarified that "no decisions have been made" regarding programing that would include girls, adding that they are "disheartened to see the Girl Scouts pull away from the possibility of cooperation to help address the needs of today's busy families."
A Girl Scouts spokesperson explained that their organization "believes in maintaining an open and honest dialogue with other organizations in the youth serving space. ...To that end, we sent a professional letter to the national board of the Boy Scouts of America." The spokesperson continued, "As our letter makes clear, we have the utmost respect for the Boy Scouts' leadership and look forward to working out these issues with them in a mutually satisfactory manner."
As the Washington Post reports, there has been a recent push for inclusivity within the Boy Scouts organization. Earlier this year, Boy Scouts announced it would allow transgender children after a long history of excluding them. BSA's contentious history with the LGBTQ+ community also involved the exclusion of gay children until 2014. Women's advocacy groups like the National Organization for Women called for "equal opportunity access" earlier this year, asking that girls' to be permitted to gain Boy Scout membership.
While this letter from Hopinkah Hannan may seem in conflict with the Girl Scouts' mission to advocate for girls and young women, a GSA spokesperson described to BuzzFeed the Boy Scout's proposed programs as a "membership push" rather than an earnest effort to effectively serve girls interested in the program. Hopinkah Hannan alleges this push for membership has coincided with "aggressive posturing" from Boy Scouts leaders:
"This includes everything from disparaging and untrue remarks about Girl Scout programming, to subtle implications about the weakness of Girl Scouts' long term market strength. Starting off any program when people are feeling bullied is not in keeping with the founding ideals of either Boy Scouts or Girl Scouts."
While Girl Scouts of the USA has also seen membership decline in recent years, the organization has maintained some key differences in ideology from the Boy Scouts throughout its history. As praised by Advocate, the Girl Scouts inclusive policies regarding gay and lesbian people has "drawn the ire of right-wing groups." In 2011, a Colorado Girl Scouts troupe admitted a trans girl after initially rejecting her membership. The statewide organization said the initial rejection was caused by "an associate delivering our program [who] was not aware of our approach" and that they were "accelerating our support systems and training so that we're better able to serve all girls, families and volunteers."
Hopinkah Hannan explains in her letter that the Girl Scouts' "single-gender expertise" ultimately benefits the girls they are trying to serve. "Over the last century, GSUSA has adapted to the changing environment, always prioritizing the health, safety and well-being of girls," Hopinkah Hannah wrote. "For BSA to explore a program for girls without such priorities is reckless."
Her letter concludes with a request for Boy Scouts of America to "stay focused on serving the 90 percent of American boys not currently participating in Boy Scouts" rather than trying to recruit girls.