The Girl Scouts Go The "No-Comment" Route On Trump's Disastrous Boy Scout Speech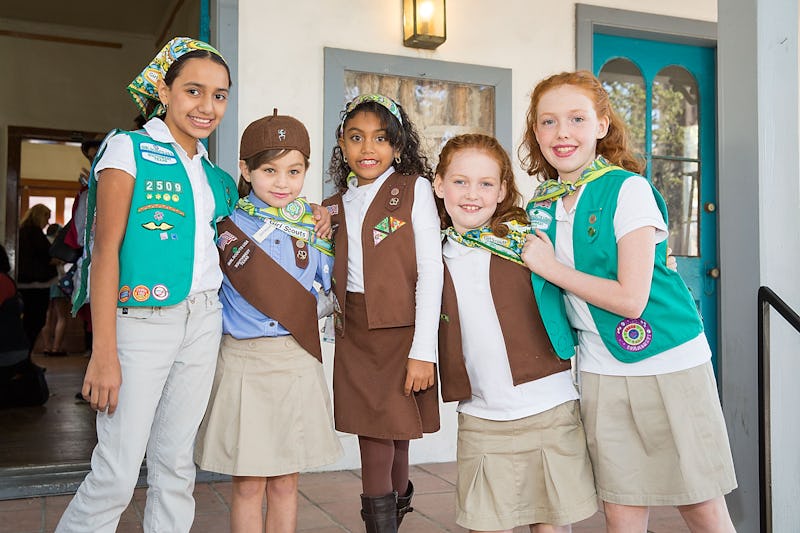 Rick Kern/Getty Images Entertainment/Getty Images
In the latest twist in the "What has our President done now?!" saga, President Trump delivered a highly contentious, politicized speech to Boy Scouts Monday evening at the National Scout Jamboree in West Virginia. While the President started his speech by promising not to talk politics, he instead instigated an all-out attack on his political rivals, from Hillary Clinton to "fake news," and even hinted at his desire to fire a Cabinet member.
In the aftermath of the speech, the Boy Scouts of America reiterated that they are "wholly non-partisan," and do not "promote any one position, product, service, political candidate, or philosophy." The organization, which marched in Trump's inauguration parade, emphasized their longstanding tradition of inviting the sitting president to speak, regardless of political party or stance.
But what do the Girl Scouts of America think of Trump's speech? After countless attempts, the organization released a tepid statement to Bustle:
"Girl Scouts of the USA (GSUSA) does not comment on other organizations' actions. We are focused on the bigger picture: the girls' leadership crisis in America. We at Girl Scouts are doubling down – we are investing more funds in creating the exciting, impactful, and proven programming girls need and are asking for. We are proud to be working with organizations and their key subject matter experts in order to curate content and provide new programming, adventures, and experiences faster. GSUSA is focused on our goal: supporting and encouraging every girl. Girl Scouts is about the girl she is and the woman and leader she has the potential to become. What we need now is more like-minded people and organizations to join us in supporting girls."
Their response completely ignored the president's speech. When pressed for more details on the topic, Bustle was told that the Girl Scouts were unwilling to comment any further.
In recent months, the Girl Scouts have garnered their own Trump-related controversy. 75 Girl Scouts marched in the president's inaugural parade, despite his history of anti-female rhetoric and the allegations of sexual harassment made against him.
In January, Sylvia Acevedo, CEO of the organization, made a statement that "the 2016 presidential election was one of the most polarizing in our history, and it elicited wide-ranging and deep-seated emotions. When people see your organization as an extension of themselves, they may claim a certain ownership of your brand. This means they can feel shocked and even betrayed by certain actions, such as, in this case, girls participating in the presidential inaugural parade, as if those actions were directed against them personally, rather than supporting girls eager to participate in a peaceful transition of power."
For an organization that, according to its website, includes 1.8 million girls and 800,000 adults who believe in the "power of every G.I.R.L. (Go-getter, Innovator, Risk-Taker, Leader) to change the world," it was a surprise for the group to remain silent on Trump's disastrous Boy Scouts speech.