There's Plenty Of 'Girlfriends' Guide' To Come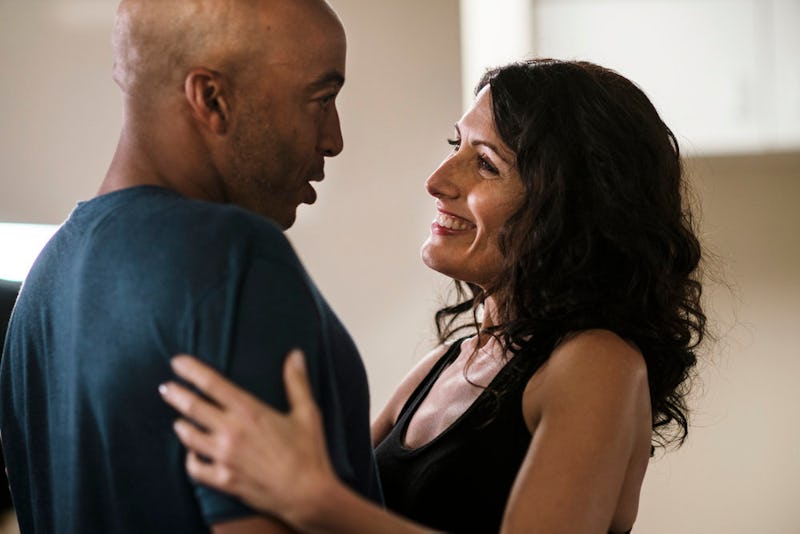 Ed Eraquel/Bravo
The third season of Girlfriends' Guide To Divorce is going to wrap things up for the year on Wednesday, Feb. 22. It's really not fair, since Abby, Barbara, Delia, and Phoebe are all in the midst of some life-changing events. And to give fans a cliffhanger without knowing whether to expect Girlfriends' Guide To Divorce Season 4 would just be cruel. Luckily, Bravo has saved us from such concerns, so we can rest assured knowing that no matter what happens in the Season 3 finale, it won't be the end.
Way back in April 2016, Deadline reported that Girlfriends' Guide To Divorce was renewed for Season 3, Season 4, and Season 5. So we won't have to worry about the series' fate for a while. At the time, Deadline noted that very few shows are picked up for three seasons at a time, with that honor usually going to mega-hits like The Big Bang Theory. That's pretty impressive, and it's not like Girlfriends' Guide didn't deserve it — Deadline reported that the Season 2 finale had 1.2 million viewers, the highest that season.
Tough the third season's ratings haven't been quite that high, according to TV by the Numbers, if you consider the amount of people who watch it within seven days of an episode's broadcast, it still earns impressive numbers. For example, the Feb. 15 episode brought in 812,000 viewers within a week of its premiere.
I hope more people continue to give Girlfriends' Guide a chance as it returns for more seasons. I'll admit, even I was skeptical at first about Bravo's first scripted show — could it be interesting if it wasn't a bunch of wealthy women screaming at each other about respect and then flipping a table? Turns out that yes, Girlfriends' Guide To Divorce is indeed entertaining, even if I think the main mantra of the show has changed.
Season 1 was about Lisa Edelstein's Abby separating from her husband, Jake, and figuring out how to navigate their relationship and her career (which is based on writing about her family) while they split. Now in Season 3, though, the show is first and foremost about how Abby and her friends support each other, and then about Abby and the gang's troubles and relationships. It just goes to show that you can always count on your best friends, even if you do want to rip their hair out sometimes (they keep you honest, that's for sure).
If Season 1 was figuring out how to get divorced, Season 2 was figuring out how to be divorced, and Season 3 was figuring out how to reinvent yourself after divorce, what will Season 4 bring? I would like to see Abby in a committed relationship, personally, not because she needs to be, but because it would open up a Pandora's Box of other issues with her family. How will her kids interact with her boyfriend? Is Abby the type to neglect her friends if she's coupled up? Will Jake think it's weird?
As for the other women on the show, I want to see Delia get back on top of her law firm and really shove it to Harvey, her boss and the man she cheated on her fiancé with; Phoebe to figure out her finances and be happy with J.D., her new husband; Barbara to get back in the dating saddle; and Jo to banish her alcoholic ex-husband and find out how not to be so caustic to potential loves.
Whatever happens in the Girlfriends' Guide To Divorce Season 3 finale, it's nice to know there's a Season 4 and beyond to look forward to and continue the tales of these strong, talented ladies.