The 'GLOW' Season 2 Trailer Teases A Twist That Could End The Gorgeous Ladies Of Wrestling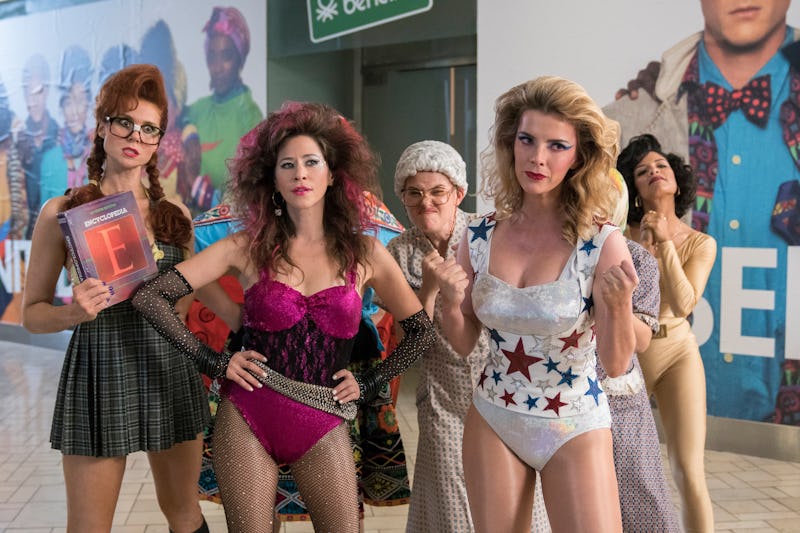 Erica Parise/Netflix
The Gorgeous Ladies of Wrestling are back, and they're kicking, ducking, and punching their way through Bonnie Tyler's "Holding Out for a Hero" in Netflix's new trailer for GLOW Season 2. But, as those familiar with the show's tough-as-nails characters could probably tell you, that certainly doesn't mean these women are waiting around for some kind of knight-in-shining-armor to swoop in and save the day. In fact, after watching the trailer, it seems pretty clear that the women of GLOW don't need a hero; they're about as heroic as it gets, all on their own.
Fans who've seen the show before know that heroism — especially as it relates to female empowerment — was a pretty central theme throughout GLOW's first season. Given its premise, that was kind of unavoidable. After all, writing a show about the bizarre world of women's professional wrestling (in the '80s, no less) without at least tangentially rebuking sexism is probably not an easy thing to do.
Per the contents of GLOW's Season 2 trailer, which Netflix dropped Monday morning, June 11, it looks like the series is going to continue grappling with the often unfair odds stacked against women existing in any professional arena traditionally dominated by men. Seems entirely fitting, since those odds are, ostensibly, a whole lot tougher when the professional arena in question is syndicated wrestling matches. It's no secret that professional wrestling has been something of a boys' club historically — and a pretty exclusive one, at that.
In part, that's why the Gorgeous Ladies of Wrestling (on television, but also in real life) were such trailblazers. As viewers saw during GLOW's first season, they brought visibility to a somewhat absurd, but seriously empowering, subsection of pop culture that hadn't seen much infiltration by women before. And in the aftermath of last season's victories, GLOW's Season 2 trailer opens on the Gorgeous Ladies of Wrestling after they've just come face-to-face with a particularly low blow.
"They gave a men's wrestling show our slot," reveals GLOW's producer, Chris Lowell's Bash Howard, at the trailer's start. (Just to set the record straight, Howard doesn't produce GLOW, the Netflix show, but GLOW, the semi-fictional wrestling series that the Netflix show is about.) The women, suffice to say, are pretty visibly distressed upon hearing the news. But in classic GLOW fashion, their immediate upset rapidly becomes fierce determination.
"What are we gonna do about it?" Melanie (Jackie Tohn) yells. Her fierce dynamism, coupled with the equally fierce response from her fictional teammates, seems to sum up the tone of GLOW's season 2 trailer pretty accurately. That, in addition to a follow-up comment by fictional GLOW director Sam Sylvia (played by Marc Maron): "I say we do whatever the hell we want to do. Set the weirdos free and see what happens."
GLOW fans will have to wait until the show's second season careens into Netflix queues on June 29 to find out exactly how the whole slot-swiping ordeal will play out onscreen. But in the meantime, feel free to get your female empowerment fix from the show's new trailer, which is chock-full of inspiring mantras that are bound to have fans rooting for the Gorgeous Ladies of Wrestling even more than they've been already. Some highlights from the trailer's empowerment reel include: Debbie Eagan (played by Betty Gilpin) asserting that she knows her worth, and Bash giving the women of GLOW what sounds like a much-needed pep talk. "Look, I know this is going to be hard," he tells them, "But I believe in miracles, and we are going to make this miracle happen."
In case there were any lingering doubts to the contrary, Alison Brie's Ruth is back to rally them toward the trailer's end. "We are the gorgeous ladies of wrestling!" she yells triumphantly, eliciting a chorus of "whoops" from her similarly costume-clad wrestling pals. If GLOW's new trailer is any indication of the fierceness ahead, it seems pretty safe to say there's going to be a lot more victory chants where that one came from during the show's second season.