Here's What You Should Know About The Golden State Killer Case Everyone's Talking About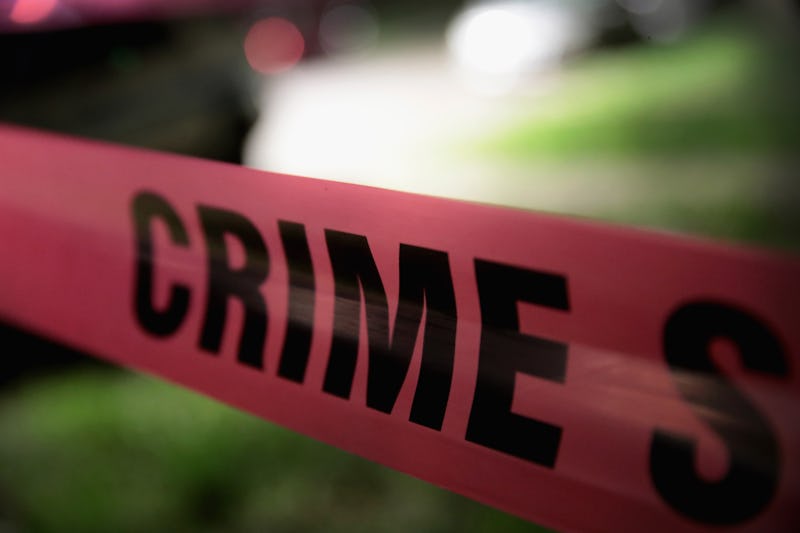 Scott Olson/Getty Images News/Getty Images
After evading authorities for more than 40 years, a notorious serial killer and rapist who terrorized communities across California in the '70s and '80s may finally have been caught. Authorities in Sacramento are believed to have arrested a suspect in the Golden State Killer case, the Sacramento Bee reported Wednesday. The suspect is alleged to have carried out at least 12 homicides, 45 rapes, and more than a hundred home invasions over the course of ten years. Here's what you need to know about the Golden State Killer case.
Although authorities have not confirmed the identity of the suspect, an FBI spokesperson confirmed to CNN that authorities had arrested a person believed to be the Golden State Killer. Billy Jensen, one of the writers who helped finish true-crime writer Michelle McNamara's book on the subject, also told The Daily Beast that a man arrested Wednesday by the Sacramento County Sheriffs Department on two counts of murder is a suspect in the decades-old case. According to NBC News, authorities have said the suspect in custody is a former police officer.
It is believed that the serial killer and rapist known to authorities across California as both the East Area Rapist and the Original Night Stalker — and then later dubbed the Golden State Killer by McNamara — managed to evade police for years by moving from one county to another. But eventually, advances in DNA technology helped investigators link his crimes together, and may have ultimately led to his recent arrest.
The Crimes
The FBI has characterized the Golden State Killer as "a violent serial burglar, rapist, and murderer who terrorized multiple communities in California." His decade-long crime spree began with a series of burglaries and rapes in the Sacramento area in 1976. According to the FBI, "burglaries in a neighborhood tended to precede clusters of sexual assaults."
In her book, I'll Be Gone in the Dark: One Woman's Obsessive Search for the Golden State Killer, McNamara reportedly describes residents in the 10-mile corridor of Sacramento County as having felt like they were "under siege" when, by 1977, 20 woman had been attacked and raped.
According to the Island Packet, Jane Carson-Sandler, one of the Golden State Killer's early victims, described a similar sense of widespread fear in her book Frozen in Fear, writing that "citizens were scared, frustrated, and angry that he could not be caught." But it wasn't for lack of trying. "This one man prompted what is believed to have been the most intense manhunt in the county's history," the Sacramento Bee reportedly wrote of the Golden State Killer in an article published in 1981.
In February of 1978, the Golden State Killer is alleged to have shot and killed a couple out walking their dog. The crime is believed to have been the first of at least 12 killings he committed. According to the FBI, the Golden State Killer eventually began to target victims outside of Northern California in 1979, committing crimes in Goleta, Ventura, Laguna Niguel, and Irvine over the course of the next few years.
Although no crimes linked to the killer are know to have been reported to police between the summer of 1981 and 1986, he is alleged to have raped and murdered an 18-year-old girl in 1986 in Irvine. No crimes have been linked to him since.
DNA Technology
When the Golden State Killer began targeting victims in Southern California, authorities in the various jurisdictions where crimes had been committed couldn't make a clear connection between the crimes despite their suspicions. "Over the years, we heard of homicides down in Southern California, and we thought it was the East Area Rapist," Larry Crompton, a retired Contra Costa County Sheriff's Department detective, told CNN. "But he would not leave fingerprints, so we could not prove, other than his M.O., that he was the same person. We did not know anything about DNA."
According to CBS News, it wasn't until 1996 when, thanks to advancements in DNA technology, investigators connected the 1986 murder in Irvine to one committed there in 1981 and then later to homicides committed in Goleta, Ventura, and Orange County. In 1997, DNA testing on samples preserved in rape kits collected in Northern California in the 70s linked dozens of rapes to the same attacker. However, according to CBS News, it wasn't until 2001 that investigators confirmed the East Area Rapist was also the man Southern California had dubbed the Original Night Stalker.
And ultimately, it was DNA technology that helped authorities identify the Golden State Killer. "As information started to point towards this individual, we started some surveillance, got some discarded DNA, and we were able to confirm what we thought we already knew — that we had our man," Sacramento County Sheriff Scott Jones told reporters Wednesday.
Resurgence In True Crime Genre Renews Public Interest In Case
Although authorities have never stopped investigating the crimes alleged to have been committed by the Golden State Killer, public interest and attention in the case was renewed earlier this year by the publication of McNamara's book, I'll Be Gone in the Dark: One Woman's Obsessive Search for the Golden State Killer. While McNamara passed away unexpectedly in 2016 before she'd completed her book, her husband, actor and comedian Patton Oswalt, prevailed upon McNamara's lead researcher and a close friend to help him finish it.
However, authorities have said McNamara's book isn't what led them to the suspect arrested Wednesday. "There was no information extracted from that book that led to his identification, other than that it kept [the case] in the media," Daily Beast reporter Olivia Messer reported the Sacramento County sheriff said Wednesday.
But while McNamara didn't uncover the Golden State Killer's identity, her book, which was published in February, certainly drew widespread media attention to the decades-old cold case, potentially keeping investigators motivated to solve it. "The cops will NEVER and HAVE NEVER credited a writer or journalist for helping them solve a case," Oswalt, McNamara's husband, tweeted after the press conference Wednesday. "But every time they said #GoldenStateKiller they credited the work of #MichelleMcNamara and #IllBeGoneInTheDark."