The GOP Cabinet Literally Takes Turns Sucking Up To Trump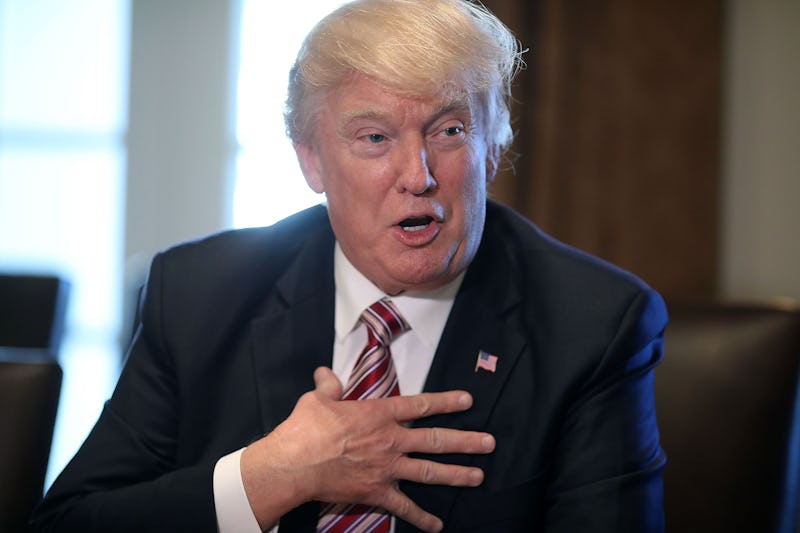 Chip Somodevilla/Getty Images News/Getty Images
It seems that no matter the occasion, the Trump administration can provide meme-worthy material. The latest example came on Monday during the White House's first full cabinet meeting when members were filmed praising Trump so enthusiastically that the internet had a hard time taking it seriously.
"It's the greatest privilege of my life to serve as a vice president to a president who's keeping his word to the American people," said Vice President Pence who kicked things off. "I am privileged to be here — deeply honored — and I want to thank you for your commitment to the American workers," said Secretary of Labor Alexander Acosta.
One person's comments stood out, though — that of White House chief of staff Reince Priebus. "On behalf of the entire senior staff around you, Mr. President, we thank you for the opportunity and the blessing that you've given us to serve your agenda and the American people," Priebus said. "And we're continuing to work very hard every day to accomplish those goals."
His choice of words notably stood out among other cabinet members' ravings about the president. Jokes on social media took shots at the chief of staff by pointing out that "blessings" are usually said to come from deities and mocking his high level of brown-nosing.
Senate Minority Leader Chuck Schumer got in on the fun, too. Following the cabinet meeting, Schumer took to Twitter to post a video of his staff praising him, with one of his aides quoting Priebus' "blessing" line and Schumer breaking into laughter. The caption accompanying the video also had an undeniably Trump-ian feel: "GREAT meeting today with the best staff in the history of the world!!!"
Priebus has reportedly been of the administration's biggest targets for criticism and blame among staff. A POLITICO report from March stated that more than a dozen of the president's aides and allies had pointed the finger at Priebus for the administration's struggle to run smoothly. He was described as a micromanager and charged with being incompetent.
Following his declaration of feeling "blessed" to work for President Trump, some suggested that a fear of being fired was behind his effusive gushing, and if the rumblings are true, his fear might not be baseless. On Sunday, POLITICO revealed that three advisers and two outside officials told the news outlet that the president allegedly gave Priebus a July 4 deadline to "clean up shop" in the White House, putting his continuing role as chief of staff at stake if he fails to deliver.
Press secretary Sean Spicer denied the claims in a statement, saying, "Whoever is saying that is either a liar or out of the loop." But after his show of love for Trump on Monday, Priebus must undoubtedly be hoping Spicer's assertion is true.